NBA Draft Diary
I managed to do a running diary of the entire NBA draft, 5 whole hours, 2 rounds, 7 cups of coffees, and 1 diary.  Here is the first part as I will release it in 4 parts, it's very long.  Check out Freaknick and I go at it right after the first round ended on the podcast.
Hello World this is your resident hoopologist Slam checking in with his first of many running diaries.  I'm going to be you analysis on the 2009 NBA Draft, also known from this point on of Draft de Complementary Players.  If you're looking for a stud in this draft outside of the top 5, then you might as well move along, this draft is tailor made for teams looking for role players.  Now let's get into some pre-game talk, Stu Scott takes us away.
7:02 p.m. - We just got word the Dick Vitale is going to be making an appearance, everyone get your earplugs out.
7:03 - Who has more hair gel Andy Katz or Rick Bucher?  I say tossup.

OR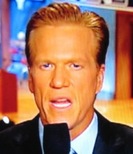 7:06 – John Barr tells that there is "tons of excitement" around the Shaq trade, then why does he sound so unexcited?  Between Shaq, Richard Jefferson, and Vince Carter getting traded I think the most valuable guy is Richard Jefferson.  Shaq won't be able to have back to back monster seasons and Vince Carter's greatest achievement is winning the Dunk Contest
7:11 – All the analysts are praising Orlando for getting Vince Carter but doesn't this mean they can't sign Hedo Turkoglu?  Hedo was their ball handler in the clutch last year and isn't he more valuable to the team than Vince "I need my shots" Carter, let's think big picture here.
7:13 – A camera in the Clippers war room: an inside look on how to screw up an NBA team.
7:21 – Some Ricky Rubio talk FINALLY. We even have an interview EUROLEAGUE BABY.  Let's rate Ricky: English- C- Style- D Nose- A+.  Ricky loves the beaches in California, is that an open petition to try and be a Sacramento King?  I hope not but Rubio is going to be the funniest point guard to watch for the next 10 years so let's hope he doesn't end up in purgatory in Sactown.
7:32 – "New York home of the Knicks and Liberty" thanks David Stern but I think we all agree you can shorten that statement next year. But HERE WE GO, some NBA Draft.  I say Blake Griffin goes one, call me crazy.
7:35 – OO yes a montage of Clippers #1 draft picks, the Kandi-Man made a jump hook, really? They can do anything with video nowadays, the Clippers can't mess up Blake Griffin, I think.
7:38 – Blake Griffin first pick what? Who? When?  Yes this was a can't miss pick; he scored at will in college and grabbed rebounds from all over the place.  If Griffin can get a go-to post move and he can be a killer on the fast break, look out.
7:43 – Exclusive Mike Dunleavy interview.  He says "We're going to look and see what's the best decision for our team." I'm going to go with that's the opposite of what he has been doing since he's gotten there.
7:45 – Hasheem Thabeet is our 2nd pick, do I have to wait or say it now: BUST.  As a Syracuse fan I watched UConn all year and Thabeet has zero offensive game.  Yes he can change the game defensively but he is abysmal offensively, think Ben Wallace but with injury concerns cause he's so big.
7:52 – NOOOOOOO… James Harden goes 3 to the Thunder and the dream of having Rubio on OKC is over.  This could have been the most exciting team in the NBA, I'm disappointed Sam Presti.
7:54 – This all lines up Sacramento to take Rubio, if they draft someone else I will be shocked.  Not shocked, I may go mentally crazy.  Ricky Rubio is a generation changing point guard; Tyreke Evans is combo guard who doesn't compliment Kevin Martin.  Pick Rubio, okay I'm happy to get that off my chest.
7:57 – WOW, WOW, WOW, I'm going to need a few minutes… Evans over Rubio this my friends is a moment in history when we all will back on and say REALLY? That actually happened, Tyreke Evans was taken over Ricky Rubio and Sacramento basketball is lost for the next decade.
8:00- The Wolves now have to take Rubio, and Ricky gets to live in Minneapolis, have fun.  The Wolves were going to take Rubio with a trade up to 2 and now he slides to them at 5, that s a win.
8:03 – Ricky Rubio started in the Gold Medal game in the Olympics and held his own, do we not remember this.  The Wolves have the steal of the century here.  I say next we see Derozan and watch Rubio throw him alley-oops for the next few years.  Man I love Ricky Rubio and my heart goes out for him having to play in Minnesota, I demand a trade just for his sake.  Ok I'll try and get over this and move on with the draft, but everyone needs to know how big of a misstep this is, Bowie over Jordan, Bogut over Paul, Evans over Rubio.  Good day
8:10 – I'm doing a complete 360 GO WOLVES.  Rubio and my fellow Syracuse student Jonny Flynn on Minnesota, should I order my jerseys now or later.  Wow 2 point guards doesn't make any sense but I love both players so much that I am now Timberwolves fan.  There has to be a trade, right?  What an emotional rollercoaster: your NBA DRAFT 2009.
8:14 – Steph Curry to the Warriors. I would say when you sink your head into your hands and then can barely smile you really didn't want to be drafter there.  Curry wanted to be a Knick, too bad.
8:20 - Freaknick:  I wonder what Stu Scott's next Super Cool Draft Fact will be!!!!!!  Yes the Freaknick is shelling out words of wisdom as well.
8:23 – Jordan Hill to the Knicks at #8, yes I called this two months ago in our mock draft podcast.  An athletic big man who can run and block shots will flourish in D'Antonio's offense.  Develop a jumper and we got an all-star.
8:27 – Demar Derozan to the Raptors at #9, another called pick.  Back to back picks that make sense, this can't be the NBA draft.  And the end of Anthony Parker as a starter and everyone wins. Sorry Euroleague fans but he just can't hack it in the NBA, hopefully he returns to the Euroleague.
8:31 – The Bucks have to take Jrue Holiday or else Scott Skiles will have a panic attack.  He has too much defensive potential for Skiles not to love him.
8:32 – Someone find Skiles and make sure he is still breathing.  Brandon Jennings is a great playmaker but I've never heard defense when someone describes his strengths.  Someone call Jennings as he goes from LA to Rome to Milwaukee, ouch.
8:36 – Jennings didn't have a lottery guarantee so he stayed in his hotel room with his family.  I call wussy.
8:38 – Terrence Williams to the Nets, this is a great pick.  TWill is going to be a very good player in this league and a great compliment to Devin Harris.  He wore a Barbie backpack during college and now he is on a team with Brook Lopez were going to get some high class comedy.
8:43 – What happened to Earl Clark?  Who would of though his teammate Terrence Williams would have been drafted ahead of him, not me.  He has guard skills at 6'10" and he is a very good rebounder.  Yes his motor is in question but he can play and has top 10 talent in this draft, he's the sleeper.
8:45 – Gerald Henderson gets drafter by the Bobcats.  He's a Duke guy and Freaknick is a big  fan so what does he think: Freaknick:  sixth man it, let raja teach him how to shoot and play dirty, trade felton and then let him go.
8:50 - I though Tyreke Evans would be the worst pick in the draft, I might be wrong.  Tyler Hansborough getting picked 12th is awful.  Yes he can contribute to a contender, but only at 15-20 minutes a game max with his playing style.  Tyler will be the most blocked player we have seen in a while.  Anyone thinking MJ made this pick, take this quite from a blogger Derek: "But I think Jordan made the call on Sean May a couple years back, and now they don't let Jordan into the war room."
8:55 – Were getting a trade announcement, oo wait put that on hold.  Brandon Jennings getting introduced is one of the most aqward moments ever.  That was weird.  In other news the Suns get Earl Clark, let's say 2 years late.  Too bad he wasn't on the team  when they were good, but still a great pick.  Clark could start right away for the Suns, great pick.  He could play the 3 or the 4 in there system, great pick.  Can you sense a theme here?
8:59 – Yes Brandon get the Euro word out, tell those high schoolers to come over to the Euroleague. WE NEED EXPOSURE! And that's the end of the lottery
Part 2 will be coming at you Friday, stay tuned