By: Freaknick/@euro_adventures
One's a dysfunctional former power who traded an elixir for a cancer, another would have been championship contenders if it were 1957, the next is thinking about mandating hi-top fades for the entire team while the last two are in engaged in a tug-of-war for the NBA's least creative dunker. Welcome to the Central Division. Let's get it.
And when you're done, don't forget about the Atlantic.
Detroit Pistons
2009-10 record: 27-55, 12th place in Eastern Conference
Draft Picks: #7, #36

What they need: Two games into the 2008 season, the Pistons made a trade for Denver Nugget Allen Iverson. In return, the Pistons jettisoned Chauncey Billups, Antonio McDyess, and the winning culture that made them so frustrating to watch for the better part of the decade. The recently deceased have had trouble reviving any kind of unity since, and seeing Kwame Brown on their roster bolsters neither my nor Michigan's hope. Plus, it turns out giving Ben Gordon $10 million doesn't magically bless him with efficiency. Weird.
Pray he's available: DeMarcus Cousins (7). Guys who dig buzzwords can talk about 'red flags' until the bulls come charging, but Cousins won't slip through the Nets, Timberwolves, Kings and Warriors, who could all use his girth. The Pistons would be happy to foot the bill for anger management classes. Solomon Alabi (36). In most drafts an athletic 7-footer like this flies off the board and there's a strong chance he'll never matter again. Imagine those same delights without guaranteed salary.
Still happy: Greg Monroe (7). If there's room in their prayers for one more wish, the good people of Detroit should ask the man upstairs to send them a Hoya with low-set ears. Though his post-to-post passes might catch Villanueva by surprise at times—Charlie is reportedly not a member of the "I like to pass to my teammates!" club on Facebook—he'd be a veterookie (A rookie whose effect on a team is that of a veteran. Just made it up.) on a team that desperately needs to slow down, take stock, and start from the suburbs of scratchville. I understand that last sentence must have been Hell to read. My condolences to your patience with my writing. Jerome Jordan (36). The Tulsa big man's averages of 15 and 9 were about as solid as any big man in the country. I can see his ceiling as a post-All Star Jamaal Magloire. But not too far removed from those All Star days, because then it just got disgusting.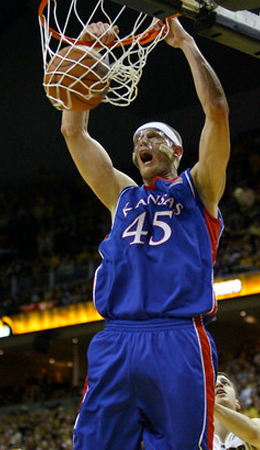 If all else fails: Cole Aldrich (7). Detroit sports personality and good friend Wade Fink over at The Honolulu Blue told me I was an idiot for liking Aldrich. Once the tears dried (OK, not entirely), I defended Mr. Aldrich's merits versus, let's say, Ekpe Udoh (somebody both Wade and Slam prefer over Cole). Just because Udoh has an African-sounding name and he's an athletic big from a smaller market school, everyone wants to chuck him into the 'intrigue' bin. Cole is a hefty, Caucasian, buzzheaded Jayhawk which lands him in the less cachéd 'Greg Ostertag' bin. But note these two things before looking at their stat comparison from their '09-'10 college campaigns: A) Aldrich is 17 months younger than the suposedly raw Udoh, who was redshirted after two years with Baylor and B) Aldrich compiled these numbers in 26 minutes per game vs. Udoh's 35 per.
Ekpe Udoh, 6'10" Junior C, Baylor: 49% FGs, 13.9 points, 9.8 boards, 3.7 blocks 2.7 assists
Cole Aldrich, 6'11" Junior C, Kansas: 57% FGs, 11.3 points, 9.8 boards, 3.5 blocks, .9 assists
So should Cole be punished because his team needed him to play a lesser role (his averages were 15 and 11 the year before with 30 minutes per game)? Or should Udoh get the nod just because his flukey year was so many miles ahead of his past performances—Udoh averaged 6 and 5 in 26 minutes his sophomore year—which were weaker than Austin Daye's biceps? The floor is yours, Honolulu Blue.
Got so worked up I almost forgot about their 36th pick. I'll go with Dexter Pittman (36) because I'm pulling for the big guy, who's been going through a lot lately with the death of his little brother. Whoever gets him in the second round might end up with the steal of the second if he stays in shape and plays with the fire that made him shoot up draft boards during his first 20 games for then-top ranked Texas.
Indiana Pacers
2009-10 record: 32-50, 10th place in East

Draft Picks: #10, #40

What they need: T.J. Ford can't stay healthy long enough to make it through a road trip and his assists were down for the fourth straight season to 3.8 in 2010, and Earl Watson is Earl Watson: a small, quick, do-it-all kind of guy who has made and will always make his home on NBA benches. But instead of enjoying last year's bountiful point guard crop, the Pacers passed on Jrue Holiday, Ty Lawson, Jeff Teague, Eric Maynor, Darren Collison and Rodrigue Beaubois (the six first round PG's selected after the Pacers at 13. Five were also taken before they picked), and took Tyler Hansbrough. As much as it pains me to say this, Hansbrough was one of the best college players ever so the media backlash was minimal.
Whew. That was tough to type. My fingers were doing everything they could to develop arthritis before I could finish that sentence. Where was I? Oh yeah, the Pacers have no point guard but it deoesn't matter because there aren't any in this draft worthy of a top-10 selection. So what next? If Mike Dunleavy is healthy then the perimeter is iced up with him, Granger and a defensive-minded Dahntay Jones, but counting on Dunleavy's health is like…well, it's like counting on Dunleavy's health. So it wouldn't hurt to patch up the perimeter. And down low Troy Murphy is a statistical marvel at times but not the most physical guy in the world, Hansbrough is a horse with no outstanding abilities, and Roy Hibbert is an abnormally large person and that's about it. Granger is the lone dynamic name on this roster. They should probably fix that.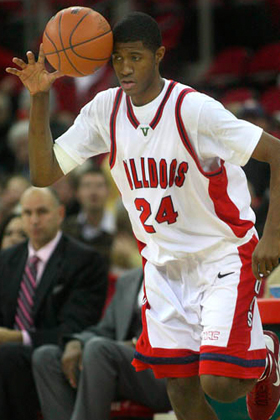 Pray he's available: Al-Farouq Aminu (10). The lanky double-double machine out of Wake Forest can't shoot a lick, but with Granger only a skip pass away he won't have to. Terrico White (40). Last season the Pacers spent a second rounder on A.J. Price out of UConn who played pretty well in stretches, so the same hopes would apply to combo guard White.
Still happy: Paul George (10). Since our mock draft podcast, I've grown increasingly fond of the gangly small forward out of Fresno State that I once maligned. Most importantly I like what he'd represent to an organization that has come to personify the state it plays in: sound, solid, and hardworking. And what he represents is a deviation from the norm, a pick based on what he might become yet defensible becasue of what he showed during his sophomore year: 17 points, 7 rebounds, 2+ steals with 2 3's per game and 90% from the free throw line. Darrington Hobson (40). The not-quite-Paul George of this draft might just end up being Rasual Butler.
If all else fails: Ed Davis (10). They already have three Duke guys on the roster (Jones, Dunleavy, Josh McRoberts), so they might want to get another Tar Heel to keep Hansbrough company. Aleksey Shved (40). Larry Bird made the trip to Treviso so maybe he's feeling Euro vibes this June.
Milwaukee Bucks
2009-10 record: 46-36, 6th place in East
Draft Picks: #15, #37, #47

What they need: I think Brandon Jennings was even surprised with how well Brandon Jennings played this season, so the point guard situation is under control with Luke Ridnour playing the part of serviceable backup. The rest of the Bucks' luck rises and falls with the injury situations of Michael Redd and Andrew Bogut. This draft should be about getting a starter-quality guy at #15, a second stringer at #37 and a fringe rotation player at #47. Maybe some needle and thread for Redd's knees. Or is it spelled kneedle and thredd?
Pray he's available: Xavier Henry (15). This would be a dream come true for the Bucks. An athletic wing to run the break alongside Brandon Jennings without interfering with Redd's swag. Very important to never underestimate the volatility of the swag. Gani Lawal (37). A slight upgrade from Dan Gadzuric. Craig Brackins (39). With Lawal's devotion to staying inside and Brackins' ability to hit shots out to 20 feet, this rookie tandem would give the Bucks a lot of post options with Ersan Ilyasova getting better every night.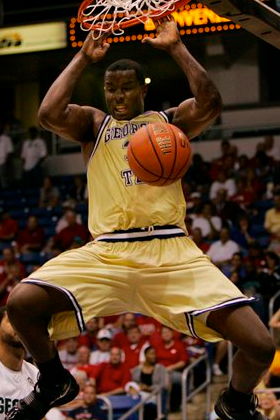 Still happy: Gordon Hayward (15). The offensive Yin to Mbah a Moute's defensive Yang. Jarvis Varnado (37). Considering Scott Skiles helped get Luc Richard Mbah a Moute votes for the NBA's All-Defensive team, he'd love to get his hands on the guy who gets his hands on shots as well as anyone. Artsiom Parakhouski (47). He's big and his name is fancy.
If all else fails: James Anderson (15). Two words: Sco. Rer. (See what I did there? It's the word 'scorer' divided in half.) Dwayne Collins (37). As long as it's not Samardo Samuels. Miroslav Radujlica (47). Artsiom and Miroslav? With those two plus Ilyasova and Gadzuric, the guy who stitches the jerseys is in for a wild offseason.
Chicago Bulls
2009-10 record: 41-41, 8th place in East
Draft Picks: #17

What they need: While Ben Gordon couldn't get the Pistons to the playoffs, his firepower sure was missed in Chitown. The Bulls needs to find a grape-a-licious guard. You know, one who scores in bunches.
Pray he's available: Avery Bradley (17). I'm a major Xavier Henry supporter, but it's insane how the lack of star-level guards in this class makes Henry seem like the prize of the late lottery. A huge beneficiary of this attention is Bradley, who will be hanging around once teams miss on Xavier and then think to themselves, "Man, I guess we really do need another guard. Who else is on the board?" And there's AB to pick up the pieces.
Still happy: Jordan Crawford (17). Conventional wisdom might call this the reach of the draft, but the guy in charge of those conventions also thought Marvin Williams had more 'upside' than Chris Paul and Deron Williams. And any man who can expose LeBron's insecurities is a friend of the site.
If all else fails: Elliot Williams (17). Elliot and Jordan have been inexorably linked in my brain ever since the ping pong balls settled in their final resting places. Last week I liked Williams better, this week it's Crawford. Check back in a few to see if Dominique Jones leapfrogs them both.
Cleveland Cavaliers
This will be easy. Watch now: Are you ready? The Cleveland Cavaliers have no picks. Dunzo. I'm gone.