By: Freaknick
Cleveland 112-102 Chicago: At the season's halfway point, the Cavs employed two of the league's most visually recognizable international players. With his Sideshow Bob hair-do, Anderson Varejao was disproportionately popular (if we're comparing with production). And then with those hunched, ogre-like shoulders was our balding giant Zydrunas Ilgauskas. Well the Cavs decided they were better off without their all-time leader in games played and they shipped him off to the Wiz in the Antawn Jamison deal.
Aside from making me very sad, it also makes the Cavs a very homogeneous, American bunch and gives me one more reason not to like them. I was tempted to count Anthony Parker as one of their internationals but I skipped him over out of spite for his organization. Meanwhile Joakim Noah has been spouting off about anything that comes to mind-how Cleveland is a crappy town (it is) and how KG is a dirty player (he is)-and all eyes were on him as he took the court on Monday. And that just leaves Luol Deng, who's nothing more than a straight hooper. Let's see how he did. Oh, and since you would probably go YouTube it at some point in the day, I've also added LeBron's dunk on poor James Johnson.
Cleveland
Anderson Varejao: 3-5, 7 pts, 5 rebounds, 1 block
Chicago
Joakim Noah: 10-18, 25 points, 13 rebounds, 1 block, 1 steal
Luol Deng: 7-15, 20 pts, 6 rebounds, 5 assists (like I said: straight hooper)
Denver 111-114 Utah: Perhaps the most far-reaching international news from these playoffs is the announcement that Mehmet Okur will miss the playoffs and maybe even the beginning of next season with a ruptured achilles. Does anybody remember what comes between the end of the playoffs and the start of next season? That's right: the World Championships. This is not good news for the host country, as Turkey's chances of winning or at least medaling take a huge hit with Mehmet hitting shots and cleaning the glass. Judging by Hedo Turkoglu's performance last summer in Eurobasket, he could use another scorer to pick up the scoring slack. I don't know if Ersan Ilyasova is a suitable second option yet.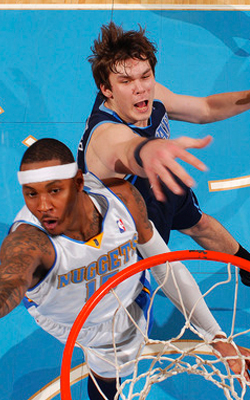 As for the Jazz, this makes the second international player to go down with injury, AK47 being the first. Well as one man hits the sideline, another steps up to fill his shoes, and in this case it's 300-pound Russian Kyrylo Fesenko and former Buckeye Kosta Koufous. Fesenko got the start and played a relatively mistake-free 20 minutes as Paul Millsap came off the bench and played 34 minutes. But check out the video at the bottom around the 0:42 mark to Kyrylo say hello the world. As Steve Smith exclaims, "He is in the highlight!" Damn right he is.  As for Kosta, he didn't even log a full two minutes. The stats:
Denver
Nene Hilario: 7-10, 18 points, 6 rebounds, 2 steals
Johan Petro: 2-2, 4 points, 0 rebounds, 1 block
Utah
Kyrylo Fesenko: 2-2, 4 points, 2 rebounds, 1 assist, +10 (highest +/- on team) in 20 minutes
Kosta Koufous: 1-2, 2 points, 1 rebound in 1:37
Andrei Kirilenko: DNP - Left Calf Strain
Mehemt Okur: DNP - Ruptured Achilles (but you knew that)