By: Freaknick/@euro_adventures

The fragrance of untalented wingspan dances through the summer skies while old men in suits gaze in admiration as sneakered youngsters in their early twenties leap in the air and slap at spinny plastic things and dash around orange cones purely for exhibition's sake. Present in all of their minds is the shared dream of tossing inflated rubber through orange circles suspended ten feet above the ground for millions of dollars. Yes, the draft is near; the one chance each year for NBA executives to go speed dating with college and international hoopers hoping to find the perfect fit. Sometimes it's love at first sight and sometimes it takes work, but the key for all parties is simple: keep your options open. In our Draft Targets series, we'll try to predict each team's best case, worst case, and medium-kind-of-goodish case for June 24th. We'll start with the division that's the closest in proximity to Europe, the Eastern Conference's Atlantic.
2009-10 record: 27-55, 13th in the East.

Draft picks: #2
What they need: Andre Iguodala had one of his best years shooting the ball but his best work is still done en route to a rim job—you know, as in finishing at the rim. To get him the open lanes he sees closing in his nightmares ("Elton, why is your Achilles tendon sliding around in the lane?! It's so…slippery! I…can't…cross…over! Nooooo!"), the Sixers need to get him better running mates than Rodney Carney, Willie Green and Jodie Meeks (No offense, Jodie, we like you Georgia boys. Rodney and Willie, on the other hand, you should feel offended). If Dalemebert goes elsewhere Thaddeus Young will be spending some more time near the hoop so ideally they'll grab somebody who can start immediately at small forward. The Dalembert thing reminds me though: another big guy wouldn't be the worst thing in the world.
Pray he's available: John Wall

Still happy: Evan Turner
If all else fails: Derrick Favors? DeMarcus Cousins? Wesley Johnson? They'd all be justifiable in most other drafts—2005, '06, even last year—but don't expect them to steer clear of Turner/Wall, this year's version of Oden/Durant or Rose/Beasley.
New Jersey Nets
2009-10 record: 12-70, 15th (last) place in East.
Draft picks: #3, #27 and #31
What they need: An athletic big to play off Brook Lopez, a point guard capable of defending 2's and co-existing with Devin Harris, a solid perim—OK, enough with the charades. They won 12 games; you name it, they need it.
Pray he's available: Evan Turner (3), Avery Bradley (27), Kevin Seraphin (31). With three picks in the top 31, this crop should be a little more ready to perform off the bat, right? If Rod Thorn and Mikhail Prokhorov can communicate effectively enough to convey actual ideas to one another, they should figure out a way to package #27 and #31 to move up into the teens and select Hassan Whiteside. He might not be a surefire star, but keeping another first rounder off the books keeps cash free for Wade, Bosh, Johnson and Co.
Still happy: Derrick Favors (3), Eric Bledsoe (27), Jordan Crawford (31). This threesome is arguably better than the prayer group. But last time I argued with myself I got strange looks from the people that were on the elevator with me, so we'll move on.
If all else fails: DeMarcus Cousins (3) just because it's the only other way they'll go. This category is a little different for top 5 picks. Armon Johnson (27), Jarvis Varnado (31).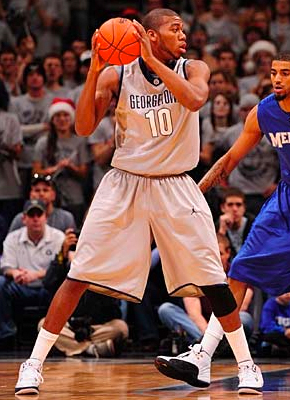 Toronto Raptors
2009-10 record: 40-42, 9th place in East
Draft picks: 13

What they need: What they really need is for Bosh to re-sign, Hedo to stop sucking, Demar DeRoazan to turn into Vince Carter and Jose Calderon to hate defense less. But since they can't draft a wardrobe to Narnia, a large human being to fill the gap Bosh will inevitably leave is a step in the right direction.
Pray he's available: Greg Monroe. Maybe he can teach Bargnani how to pass.
Still happy: Cole Aldrich.
If all else fails: Hassan Whiteside. Let me make a guarantee that the pick here will either be Aldrich, Whiteside or Baylor's Ekpe Udoh, so all three could technically fall under the 'Still happy' category. If they could spin a deal with a team with multiple first rounders (Timberwolves, Grizzlies) they could reel in another big fella a la Larry Sanders, Gani Lawal, Kevin Seraphin, or Daniel Orton. No, I'm just kidding about Daniel Orton. Drafting him in either round would be silly and ridiculous.
Boston Celtics
2009-10 record: 50-32, 4th place (one spot behind the Atlanta Hawks. Who swept them in their 4-game season series this year. Just for the record. Yeah.)

Draft picks: #19, #52

What they need: As I sit here watching Pau Gasol demasculate the rickety KG, I'd say the homogeneous C's could use some diversity. Positionally speaking though, a bench wing who can score more effectively than the trio of Tony Allen, Marquis Daniels and Michaelfinleysaurus Rex.
Pray he's available: Xavier Henry (19). Again, this would tragically mean one more player I love is un-rootfor-able.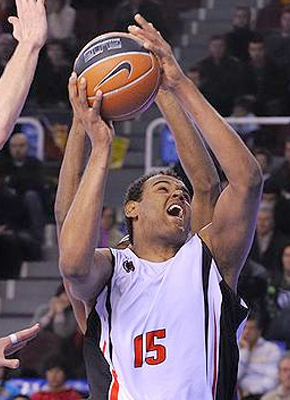 Still happy: Luke Babbitt (19) By signing another white player, the Leprechaun's curse would be broken and Brian Scalabrine could be set free. Luke Harangody (52). The white Glen Davis.
If all else fails: Elliot Williams (19). They couldn't sign Corey Maggette last offseason, but Williams would give them another athlete with a year of Duke schooling under his belt. They're all interchangeable. Denis Clemente (52). I just have a feeling they would pick Clemente if he were there, although I have no clue why.
New York Knicks
2009-10 record: 29-53, 11th place

Draft picks: #38, #39

What they need: I am searching my body high and low for religious fibers. Once located, I will use them to pray that the Knicks have only Tony Battie, Francisco Elson and Yakhouba Diawara to show for their "huge" offseason. Luckily, their not having a first rounder means we won't have to listen to ESPN spend a disproportionate amount of time bubbling about one of the NBA's most mismanaged clubs. I could go into more detail about why they're unwatchable, but since they're not getting into the action until the middle of the second round I won't bore you.
Pray he's available: Quincy Pondexter (38), Jordan Crawford (39). Clearly I think Pondexter is like, way better than Crawford.
Still happy: Gani Lawal (38), Terrico White (39). Seeing as I really like both of these players, this would be my worst nightmare.
If all else fails: Paulao Prestes (38), Charles Garcia (39). When he shows up for camp, D'Antoni will be distressed to find that Garcia is actually American.