By: Freaknick/@euro_adventures
Kobe. Beyoncé. Pretty much half of the Brazilian fútbol team. Heightened performance in one's area of expertise sometimes leads to single-name status. When success doesn't do the trick, others use notoriety to garner an invitation to this exclusive club. Nixon. Osama. O.J. But to sports fans near and wide, one name trumps all others.
Darko.
Just saying it out loud invokes memories of…well, that's the thing. He hasn't really made many in his seven NBA seasons. Memories, that is. Or shots. But he has made some decisions the past few summers, and this year the result is no different: Darko Milicic will not represent Serbia in the World Championships.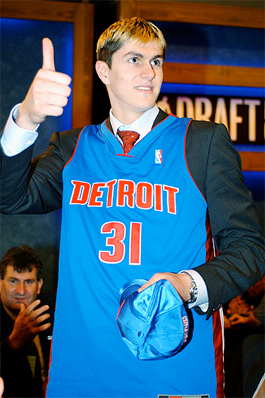 The 7'1″ , 275 lb. center from Novi Sad, Serbia (Yugoslavia at the time of birth) has had a busy—if unimpressive—campaign in the states. The workout wonder impressed Pistons GM Joe Dumars so much that they passed on Carmelo Anthony, Dwyane Wade and Chris Bosh to grab the bleachy-haired big fella in 2003. He responded with a Rookie of the Year trophy and an NBA Championship in his first year with Detroit by riding the pine for two seasons before getting shipped to Orlando in his third year. A season and a half there, two in Memphis before splitting this past year with the Knicks and the Timberwolves.
And just as Europe was ready to welcome back their big friendly giant, Minny GM David Kahn got a crush on him—something about European men intrigues him; Rubio, Pekovic, drafted Henk Norel last year—and begged him to stay on another season. Fine. Darko knows his name in English translates to 'bust', and I guess he'd like to change that. I get it.
But he has Serbian citizenship. And he plays basketball fairly well. But does anyone believe that anymore (the basketball part)? His failure to produce, especially when compared to his fellow draftees who colluded and then collided in Miami, will land him many a blogger's 'Top Ten Bust' lists long after Euroleague Adventures goes under due to a lack of funding (which may turn out to be a matter of weeks; months, if we're lucky). If Darko wants to 'Wow!' his new suitors back in Minnesota, howsabout doing work in the World Championships? Pretty sure averaging 16 and 11 and leading the Serbs to the medal stand would impress coach Kurt Rambis more than knocking down some midrange jumpers in an empty gym this summer.
So why is he choosing Minneapolis-St. Paul instead of Istanbul? An article on FIBA.com claims that "the Minnesota Timberwolves, did not want him to play for the national team this summer despite his desire to do so."
I'm calling you out on that one, Darko. I love that you're committed and the T'Wolves must, too. So go out and prove it. Your whole career has been talk and unfulfilled hyperbole. Show David Kahn know that you are committed; but to the sport of basketball more than just an organization, and to the red, white and blue (no, the other one). Serbia leads the world in hoop fandom per capita and those good people have taken some heat for your poor play the past few seasons. All they're asking for is one summer. A month or two where you get to speak in your native tongue, wear the Serbian threads and play free flowing hoops without looking over your shoulder or losing sleep over your next contract. Like handfuls of your NBA colleagues, this summer has seen you earn more than market value. Good for you. Now fly on out to Turkey, give a little back, and shut everybody up.
We love you. Always will. See you there big man.