By: Nick Gibson / @euro_adventures
It's not easy to quit hoops cold turkey, so Deron Williams and Zaza Pachulia are opting for Cola Turka. Besiktas, that is.
With the NBA Lockout in full swing—if you consider stubborn inactivity a "swing"—players have begun dipping their toes into the European free agency pool and seeing what grabs hold. Sonny Weems has made his play with Zalgiris and Real Madrid has threatened to make Rudy Fernandez the highest paid dribbler on the continent.
Williams, however, is the meatiest and most tantalizing bait to dangle across the ocean yet, and it looks like Besiktas had the sturdiest rod. [That sturdiest rod was a softball. Don't disappoint in the comments area.] The only regret I have for European basketball fans, however, is that they won't see him play against the creme de la creme, as Besiktas is still a qualifying round away from playing in the Eurocup's regular season, and might end up in the EuroChallenge. Barring some miracle, there'll be no Euroleague for the Turks this season (thanks a lot, Iverson). D-Will vs. Diamantidis, vs. Navarro, vs. Jeremy Pargo even, will have to wait.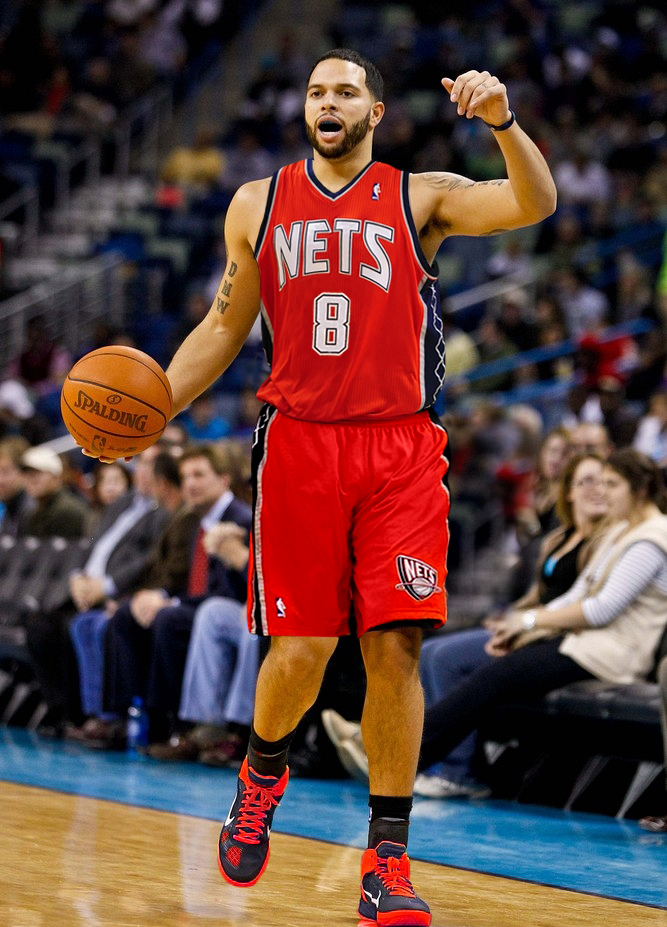 If you're Mikhail Prokhorov, you're worried sick. Here's why:
-For starters, you traded away Derrick Favors and former All-Star Devin Harris along with first round picks in 2011 and 2012—the former turning into Enes Kanter, who went to the Jazz with the third pick in this year's draft—for a guy who might not ever register an assist in Brooklyn.
-But that was yesterday's headache. Today, you wake up to news that a second-tier Turkish club has put your headbanded point guard on layaway in the case of a lockout, which most agree looks inevitable.
-It'll take you about half a quarter of one Besiktas home game to remind you that Oh yeah. Our fans are almost as bad at being fans as we are at winning basketball games.
-Contractually obligated to return to your Ed Hardied shores when the lockout comes to a halt, he could be in perfect condition. Or he could be beaten, bruised and badly bandaged. In the first scenario, you're down $16.4 millie. In the second, the guaranteed money isn't protected (for an injury suffered outside of the bounds of the contract), but you're still down a franchise point guard. And if you decide not to pay him due to injury? Well, then good luck talking Deron into picking up the player option on the 2012-13 year of his deal. Extension? Forget about it.
-You own the Nets. Still. Regardless of what Deron does.
-You're not allowed to talk to Deron. You know who is? Every other player on your payroll. What's to stop Brook Lopez, Anthony Morrow or Travis Outlaw from sending D-Will a text? A simple yo homie they got ne spots fr me? is all it takes and your Nets could be cast all over Europe.
-About that last one: If Travis really wanted to walk, you should probably just…let him.
And let's not forget about Zaza Pachulia. He fits the mold of this lockout's Why not Europe? guy. He's in his prime (Zaza's 27) and isn't studly enough to ensure a payday forever, though he is well paid now, $10 million total over the next two seasons, considering his role as a physical low-post back-up who eats up minutes and dishes out fouls that would make Bill Laimbeer misty eyed. The fact that he owns a Georgian passport (country, not state) just gives him bonus points.
Stow your criticism for now, NBA fans. These players  aren't turning their backs on anyone. If anything, they're turning forward the hands of the lockout clock, putting pressure on the suits who sign the checks. They should both be applauded, and are sure to be copied.