By: Sam Meyerkopf / @euro_adventures
If you find yourself staring at the Euroleague schedule and wondering why all the games are at the same time slot, well then…continue wondering. I don't have an answer. With so many games packed into two days (and now one stray game randomly sheduled for a Monday, Tuesday or Friday), it can be challenging to know into which match up you'd really like to invest your time.
Have no fear: I'll be here every week to tell you which game deserves your full attention. Whether it's a possible Final Four preview or a young stud you can't miss out on, we won't lead you awry. This week's installment: Madrid vs. Milano.
I'm a little too excited for this game, but you should be too and it's on ESPN3.com for all you Americans not willing to buck up for the Euroleague TV package. Milano comes in after slapping down Maccabi Tel Aviv at home (the team that beat Madrid in the Final Four last year, mind you) and looks hungry for more wins.
They heavily revamped their team this offseason, but many questions remained as to how quickly they could all gel together. Mailk Hairston and Danilo Gallinari answered those questions pretty quickly, combining for 48 points in the win, and so far talent has won out over chemistry.
The entire Milano starting lineup (Cook, Nicholas, Gallinari, Fotsis, Bourousis) was not on the team last year and that doesn't even include Hairston, whose 25 points and 33 RKG were tops on the team against Maccabi. Whether you want the most efficient big man in Europe handling the scoring in the post in Bourousis, maybe the best scorer currently playing basketball in Gallinari, or an absolute bruiser in Hairston, the Milano weapons chest is fully stocked.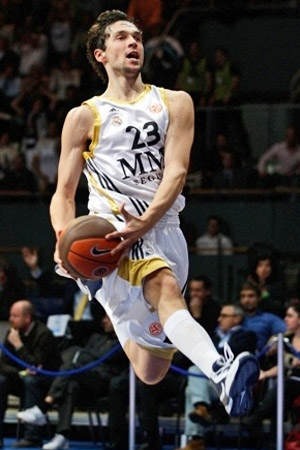 On the Madrid side of things Novica Velickovic getting sidelined for six weeks is a real bummer to a team that could really compensate for their shaky point guard play with some great chemistry. We've seen new signs of life out of Felipe Reyes this year, as he's been a rebounding machine. Ante Tomic has yet to get rolling, but Nikola Mirotic already has that pretty jumper locked in. To spice thing up even further it looks like Serge Ibaka has been cleared to join the party today.
Going score for score with the likes of Gallinari, Nicholas and Hairston will be Rudy Fernandez, Sergio Llull and Jaycee Carroll. When you combine an NBA marksman with an All-Euroleaguer an ACB scoring champ you're sure to have some scoring stretches that would make Mike D'Antoni salivate. Llull and Fernandez thrive even more in an open court setting, which Madrid will have to rely on a little more with a shorter-than-usual post rotation (unless Ibaka is ready to handle big minutes).
Last week Madrid dropped 100 on Spirou (who would have ever predicted their offense would be that good?) and Milano put 89 on Maccabi. Defense will be optional at points and a three point shot from almost anywhere on the court will be acceptable, if not expected. I picked this game as my "must watch" because it's got a chance to be a run and gun outlier in a league where defense and execution is heralded over everything. When coaches are the stars, fun sometimes gets lost in the shuffle.
This game gives us a chance to say, Let's not bench that guy for the rest of the game just because he wanted to play a little one-on-one for a possession or two. If Danilo wants to put up five straight three balls from half court, do your thing Gallo. If Llull says Screw it, I'm going straight down the lane to jam this over you, go ahead young Sergio.
So sit on your futon or balcony, grab the cheapest bottle of Dia wine you can get your hands on, embrace silly turnovers and watch the fireworks.
Enjoy, folks.