By: Freaknick
Dallas 100-94 San Antonio: The Mavs got their title run off to a flying start with an impressive W over the San Ant-old-io Spurs. Tough shot after tough shot. That's what Dirk Nowitzki was hitting. Check his ridiculous shot at 1:01 in the highlights below. Filthy. The international players involved:
Dallas
Dirk: 12-14, 36 pts, 7 rebs, 1 assist (told you he was strokin'. )
Jose Juan Barea: 0 pts, 3 assists in 15 minutes
Rodrigue Beaubois: DNP (Coach's Decision)
Eduardo Najera: DNP (Coach's Decision)
San Antonio
Manu Ginobili: 10-17, 26 pts, 4 rebs, 6 assists
Tony Parker: 7-15, 18 pts, 4 assists, 2 steals in 34 minutes of the bench. G-Pops should be pleased with that.

LA Lakers 87-79 Oklahoma City: Damnit. The Thunder almost had this one, they just couldn't hack into that lead any in the second half, tying the Lakeshow 40-40. If the Thunder want to take a couple of games they need to get that score up in the mid-90's at least. He's not foreign, but it should be noted that The Durantula went 7-24 from the floor in his first playoff game. I'd like to convince myself that Ron Artest had nothing to do with that.
Oklahoma City
Thabo Sefolosha: 0-4, 2 points, 3 rebounds, 1 block. Oh well, he's in there to guard Kobe which he did admirably (Bryant shot 6-19 from the field)
Nenad Krstic: 3-5, 8 points, 7 rebounds, 1 steal. Nenad got the start along with Thabo. That's 40% Euro for the Serb-Swiss combo.
Serge Ibaka: 2-2, 5 pts, 5 rebounds, 1 block. This dude is useful off the bench. Wish the Hawks had him…
Lakers
Pau Gasol: 7-14, 19 points, 13 rebounds, 3 assists, 3 blocks. Hell of an effort.
DJ Mbenga: DNP (Coach's Decision). Great decision, coach.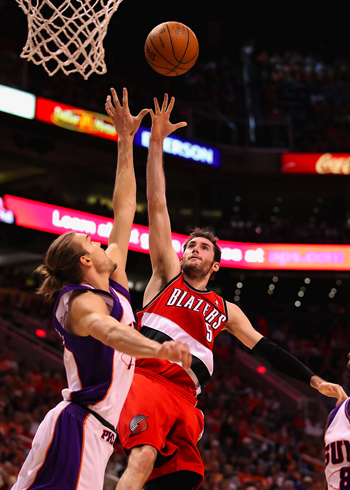 Phoenix 100-105 Portland: After a season full of complaining about his playing time, Rudy Fernandez got the start in place of the injured Brandon Roy. He did not make the most of it, only scoring 5 points on 2-7 shooting (1-5 from 3-pt), 3 boards and 2 assists in 29 minutes. Martell Webster also played 20 minutes at the SG/SF slot, scoring 5, but Jerryd Bayless is the man to watch. J-Bay scored 18 in only 23 minutes from both guard spots, sliding to SG when he and Andre Miller (31 points) were on the court at the same time. We'll see if he gets the start in Game 2, but I think they'll continue to use him as a spark off the bench and keep Rudy's fragile confidence intact. Other internatties:
Portland
Nicolas Batum: 7-13, 18 points, 5 rebounds. I might go ahead and cast my vote for next year's Most Improved Player Award. Batum is blossoming, and it will be fun to watch him in the World Championships.
Patrick Mills: DNP-CD
Phoenix
Steve Nash: 10-18, 25 points, 9 assists, 2 turnovers
Goran Dragic: 2-5, 6 points, 2 assists. here's another guy who took a huge step forward this season.
Leandro Barbosa: 5-8 (3-6 from 3-pt), 13 points, 1 block
Orlando 98-89 Charlotte: Jameer Nelson had 32 points and Dwight Howard had an insane 9 blocks. Nine. As in almost ten. Anyways, there were still minor contributions from the foreign department.
Orlando
Mickael Pietrus: 4-7 (all 3's), 14 points, 2 assists, 1 block
Marcin Gortat: 1-2, 2 points, 5 rebounds. I bet the trade talk starts again this offseason.

Charlotte
Boris Diaw: 3-6, 6 points, 4 rebounds, 2 assists, 2 blocks
Alex Ajinca: DNP (Coach's Decision)