By: Nick Gibson and Sam Meyerkopf / @euro_adventures
Picking a winner in EuroBasket is easy. Just count up the NBA guys and stack that podium accordingly. Teams with little or no Association representation might as well stay home, considering the alternative is certain embarrassment. That means a team like Greece could never expect to medal, like the Bronze they took home in  2009. Or the Gold they hoisted in 2005.
Well then.
Maybe it's a little more complicated than that. Maybe this is still a game played by 12 large men of a single mind, on a slab of paneled wood flooring. Maybe several of the NBA names count for more on paper than they ever will once EuroBasket rolls around. Maybe these are ten of those guys.
1. Darius Songaila | PF | Lithuania
With Linas Kleiza on the mend with a bum knee, the idea of a little NBA representation sounds comforting. Maybe it shouldn't. The former Wake Forest Demon Deacon has passed through five cities in an eight-year NBA career, posting career highs of 9 ppg and 4 rpg in 2006 with the Bulls. After appearing in just 10 games for the Sixers last year, Darius is ready to make his European comeback both on the international stage and the club side of things with Galatasaray. But without any particularly marketable skill besides being large and mildly effective, Lithuania would be better off giving his minutes to a steady rotation of guys who've been steeped in the European game: Paulius Jankunas, Robertas Javtokas, Simas Jasaitis and the Lavrinovic Bros (minus Darjus, if I controlled Kemzura's line up card). What's more, Donatas Motiejunas and Jonas Valanciunas shouldn't be made to sit on the sidelines—if they're not cut entirely—while their fans watch some 32-year-old usher in the supposed new generation of Lithuanian hoops.

2. Kevin Seraphin | C | France
If counting NBAers could reliably predict medal winners, France would coast to the Gold. Their final 12-man squad could include as many as nine members of the Association, and none would matter less than Seraphin. If he makes the team at all, he'd likely fall in behind Joakim Noah, Ronny Turiaf, Ian Mahinmi and even Ali Traore, waiting on either a rash of injuries or a Joakim Noah failed drug test before factoring into France's EuroBasket run.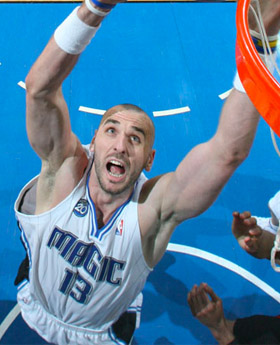 3. Mickael Pietrus | SF | France
Remember that thing about France having an excess of NBA guys? Well, Florent's brother might be one of the guys feeling the repercussions of skipping French summers. Nicolas Batum has already soared past him on the depth charts and the other Mickael, Gelabale that is, has the edge on Pietrus after developing into one of the more complete players in the French League with Asvel and posting 11 ppg in last year's World Championships. Pietrus is an asset, but he wouldn't be missed.

4. Marcin Gortat | C | Poland
The Polish Hammer has never been accused of being unjustly nicknamed. He's an animal in the paint, a ferocious competitor and the unrivaled face of basketball in Poland. Those qualities would face more yielding opposition in a Lithuanian city not called Panevezys. That's where Group A will set up shop, including two-thirds of the World Championships' medal stand in Turkey and hosts Lithuania, the defending EuroBasket champs Spain and the highly motivated and revamped British squad, all of whom I foresee advancing to Vilnius. It's not that Gortat will personally disappoint—put him down for 20 and 10—but his efforts might be in vain.
5. Nenad Krstic | C | Serbia
Hide your kids, hide your wife; Nenad's got a chair. He's also got a starting role on one of the best teams in the world for one of the galaxy's best basketball minds in Dusan Ivkovic. Still, his absence would be blunted by the emergence of Milan Macvan as a legitimate low post threat, Kosta Perovic's general underratedness, Dusko Savanovic's awkward efficiency and Boban Marjanovic being a monstrosity of a man. But he'll be there. And Serbia will be better for it.

1. Boris Diaw | F | France
It has been a very nice run for Boris with the French National Team, but now is when the decline begins.  With each pound he packs on, Diaw becomes just a little less effective.  With a flurry of other NBA guys and solid Frenchman deciding to team up in Lithuania, Boris loses importance.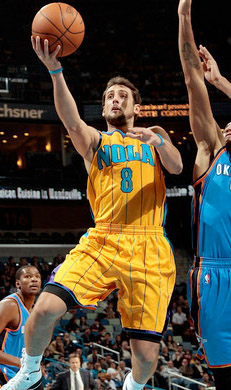 2. Marco Belinelli | G | Italy
Italy is loaded with scorers but lacks depth at the point position, so Belinelli might be forced to take over PG duties.  With his shoot-first, shoot-second mindset, this might not be the best fit.  I would rather see a young Italian, already cutting his teeth in European competition, take the reigns.
3. Rudy Fernandez | G | Spain
Don't get me wrong, Rudy might be the best athlete on the Spanish team, but he is not a necessity.  Spain has the always-tough Fernando San Emeterio starting down at that starting small forward spot and both Carlos Suarez and Victor Claver behind him licking their chops.  There is plenty of depth here and it would be a great time for Spain to finally start developing their next generation.
4. Hedo Turkoglu | F | Turkey
I hate to do this because of what he's meant to Turkish basketball, but has the time finally come for Hedo to pass the torch along?  Yes. Yes it has.  He strung together all his might last summer to lead Turkey to a silver medal at home, but the fact is he's a half step slower every year.  Now Turkey's future is focused on their big men, and EuroBasket would be an opportune time for growth.
5. Chris Kaman | C | Germany
You are an American, you never played in Germany, and you are not German. USA tryouts are next summer; feel free to try your hardest then.