A new sponsor, meaning a new name, a new-look squad and an opportunity at playing a Final Four in their own backyard—these are exciting times for Anadolu Efes of Istanbul.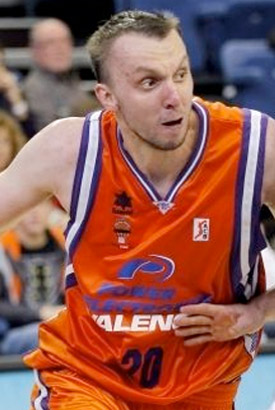 No nation has been quicker to sign up NBA talent like Turkey have done, and Efes have grabbed two of them in Slovenian Sasha Vujacic from New Jersey and Ersan Ilyasova from Milwaukee. Their spree didn't end there though, as one of the heroes from Macedonia's surprise run at EuroBasket, Vlado Ilievski and Serbian Dusko Savanovic join former Fenerbahce forward Tarence Kinsey and ex-Caja Laboral big men Esteban Batista and Stanko Barac, as the Turkish giants stake their claim for a spot in the final round in early May.
Veterans Kerem Tunceri and Sinan Guler remain loyal to the cause as expected—but make no mistake—this will be a different Efes team to the one seen last season, with questions being asked about how Vujacic adapt to coach Sarica's methods. But then again, with the exception of Deron Williams, you wonder: how well are any of these NBA players going to adjust? I suppose you could even include Ilyasova in this category.
Domestically, Efes will have one eye on the Turkish League championship, a year after they finished a disappointing fourth with a record of 22-8, ending their two-year reign at the top of Turkey's premier division.
The road to Euroleague success will be a difficult one; they will have a banana-skin like encounter with a Spirou side that have nothing to lose really, having advanced to the Euroleague from the qualifying round for the second year running. But with teams like Real Madrid, Partizan, Maccabi Electra and the fashionably stylish Emporio Armani Milano, life will certainly not be easy for Anadolu.

Biggest Acquisition: Bringing Ersan Ilyasova to the club was a major plus point and with the forward's knowledge of European basketball, how to adapt to the more methodical and tactical side of the game and time spent playing against European opposition for Turkey, this move bodes well for Efes.
Biggest Loss: Hard to say, as Efes have virtually improved all the spots that were left to fill. If there was one man though, it would be Igor Rakočević, even though he is a free agent and you never know in the sporting world. What we do know is that last season's Alfonso Ford Scoring Champion was a dangerous presence throughout Efes' run to the Top 16.
Swingman: With deadly range from three-point land, Sasha Vujacic will look to light-up from downtown this season. His ability to create his own shot is incredibly underrated, and when left open, he can hit from anywhere. He's got a naturally quick first-step and will be one of Europe's more offensive-minded players from the jump.
Best Drinking Buddy: If Turkey had authentic British pubs that served warm ale and a packet of steak and onion crisps, I think that Kerem Tunceri would enjoy it. How I came to this conclusion? Honestly, I have no idea, but Tunceri seems to be the type of guy that likes to enjoy himself after games or practice. The veteran point guard has been around the basketball block and I'd imagine he would have a few locker room tales to tell over a pint of London Pride and a packet of pork scratchings.
Drink of Choice: Thinking about it, Tunceri would probably have to drink Efes, so we'll go with Efes. So much for my "British pub" idea.  Damn sponsors.
Most Likely to be Found in the Weight Room: Vlado Ilievski, probably one of the hardest working players that I saw at a team practice in Lithuania.
Prediction: I see this side reaching the quarter finals; they have the roster to do it. Anything more than that will be quite the achievement.