By: David Hein / @heinnews
What do you do when you win back-to-back league and cup doubles—and do it in dominating fashion? Well, if you're Wolfgang Heyder, you try to find new players to replace those who leave your club for the bigger bucks elsewhere.
Welcome to world of Brose Baskets Bamberg's general manager.
It seems every season Heyder and head coach Chris Fleming—who is in his fourth season in Bamberg after replacing Dirk Bauermann—have the same offseason game plan of replacing players who left for bigger money which Bamberg couldn't afford. And it was no different this year as Bamberg had to watch power forward/center Kyle Hines—one of the absolute revelations from last season after his arrival from Italy's second division—walk for a big deal with Olympiacos.
Bamberg also lost small forward Reyshawn Terry to the Ukrainian club Khimik and appeared to lose Brian Roberts, who Heyder tried his best to keep.
Then came the crushing news that playmaker and heart-and-soul John Goldsberry would miss about eight months with cartilage damage in his left knee. Just days later, Roberts had suddenly agreed to return to Bamberg; the young man had pokered a bit too high in France and was unable to lock up the big bucks.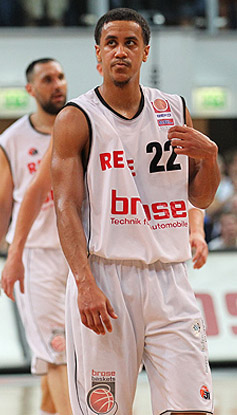 Now Roberts is the main man in Bamberg with Goldsberry on the shelf. Heyder and Fleming knew they had next-to-no chance to find a point guard at such short notice who could run the offense. So Fleming will be handing the keys to Roberts.
And once again, Fleming and Heyder found a couple of gems as new acquisitions – bringing back Roberts while adding combo point guard Julius Jenkins (originally as the replacement for Roberts but now will help out with filling in for Goldsberry), versatile big man Marcus Slaughter (as a solid, if not better version of Hines) and PJ Tucker (a great replacement for Terry at small forward).
Look for Tibor Pleiß to be on a mission to prove any doubters wrong after being banished to the bench for Germany at EuroBasket 2011, playing five minutes or less in six of Germany's eight games in Lithuania, including two DNPs.
(Editor's Note: Read David's piece on Tibor's EuroBasket disappointment here.)
Still with all those pluses, Bamberg face a huge challenge in the BBL, with Alba Berlin revamping their team with new coach Gordon Herbert, 2011 league MVP DaShaun Wood, Torin Francis in the paint and former NBA guard Kyle Weaver while Bayern Munich head coach Dirk Bauermann has taken club president Uli Hoeness's money and put together a title contender.
There will be so much focus on the league, it remains to be seen just how much can be expected from Bamberg in the Euroleague. As always they will defend tough and stay in games and could spring an upset at home in Freak City (see Olympiacos and Real Madrid in 2010) or even on the road (they lost in the last second at Real and beat Unicaja in Spain).
But it will be tough to finish ahead of at least two out of these five: of Panathinaikos, CSKA Moscow, Unicaja, Zagiris and KK Zagreb.

Biggest Acquisition: Since Roberts never officially left we can't say him. So let's go with Marcus Slaughter. The 26-year-old Slaughter knows the German league from his short stint with Bremerhaven and he has experience of playing in big leagues—Turkey, Israel, France and Spain—as well as three seasons of Eurocup exposure. At 6-foot-9, Slaughter is three inches taller than Hines and will be even more of a presence in the paint – on offense and defense – than Hines, both of whom are very athletic and quick-handed, but undersized big men.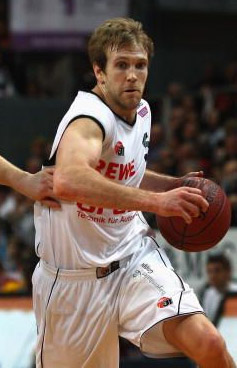 Biggest Loss: Even though he is actually still on the roster, the injury to Goldsberry for at least eight months is the biggest loss. Goldsberry has been Fleming's floor general for the past four seasons and knows the system like the back of his hand. And him going down threw a big wrench in the offseason planning, as Bamberg had accepted losing Roberts with the signing of Jenkins but then had to struggle to come up with the extra funding to bring Roberts back to Bamberg.
Swingman: The X-Factor. Roberts. The 25-year-old Toledo, Ohio native has shown in the past that he is a big-time player who wants the ball in his hands in the decisive moments. If he can step up his game throughout the season then Bamberg could become a force, maybe even outside of Germany.
Best Drinking Buddy: Casey Jacobsen. A dedicated family man from a basketball family with NBA experience—and probably some good stories—who has also played in Spain; been on both sides of Germany's biggest basketball rivalry (Bamberg v. Berlin); and chosen to stay in small Bamberg over plenty of other offers.
Drink Of Choice: Would have to be lemonade or a juice box since he doesn't drink alcohol. Plus, that's what his kids are drinking.
Most Likely To Be Found in the Weight Room: Tibor Pleiß. With pictures of Dirk Bauermann and Chris Kaman in front of him.
Prediction: Would love to see Top 16…but, not advancing.
David Hein is the founder of heinnews, where he interviews and writes about the folks making headlines in international sports. He lives in Germany and you should follow him on Twitter @heinnews.