By: Rob Scott / @robscott33
Editor's Note: Rob will be covering the semifinals and finals live from Charleroi, Belgium right here on Euroleague Adventures. Get yourselves acquainted.
Vilnius Bracket
Lietuvos Rytas 84 - 63 KK Budocnost
Lietuvos Rytas started slowly but eventually overwhelmed KK Budocnost of Montenegro. A sleepy first quarter from the home team and a hot start by Sixers first round pick Nikola Vucevic saw the Montenegrins out in front but Jonas Valanciunas came off the bench to immediately swat away a shot and his tip-in at the first quarter buzzer put his team ahead 23-22. A 19-10 second quarter saw Tyrese Rice really show what he can do, getting to the rim with ease, not unlike some guy called Borche from Macedonia. Maybe a bit premature for that, but the comparison right down to the awkward jumpshot was impossible to ignore.
An even third quarter kept Budocnost in with a chance of the upset but a 27-15 fourth period saw Rytas right at home, frustration getting the better of the visitors as they racked up three technical fouls leading to a procession of easy points from the charity stripe for Rytas.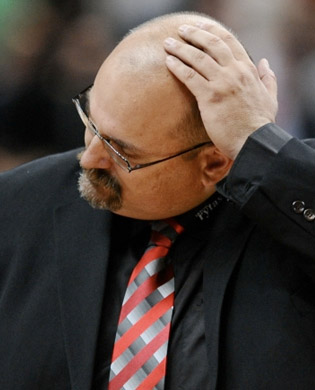 Renaldas Seibutis led Rytas with an efficient 17 points but all attention was paid to Rice. Not just a slasher, he ran a tight pick and roll with Pedrag Samardziski and expertly controlled the offense. Samardziski and Valanciunas were solid defensively, but big JV was sloppy on offense, and was visibly frustrated with himself. He still dropped 11 points to go with 8 rebounds, benefitting from the refs' quick trigger with the T's. Valanciunas didn't really share the floor with Rice very much, and could have easily scored more points benefitting from Rice's penetration rather than Goran Jeretin's less explosive style.
Nikola Vucevic showed off a smooth set of post moves and a nice jumpshot, but he didn't get much help from his teammates. One who did shine was 17 year old Nikola Ivanovic, putting up 14 points in only 14 minutes off the bench at point guard, as well as zipping some awesome passes in pick and rolls. He's someone to watch in Eurocup play for sure.
Cibona Zagreb 77 - 70 Cholet Basket
23 points from Talor Battle, fresh out of Penn State, wasn't enough to stop keep Cholet from the Eurocup, as Cibona held their opponents without a field goal for 13 minutes but were only down four points with 1:05 to play. I didn't see this game, so won't pretend to comment further on it, but have added Battle to my list of players to watch in the Eurocup. Cibona will take on Lietuvos Rytas on Saturday for a spot in the final, but the home side must be favourites.
Charleroi Bracket
Spirou Charleroi 61 - 59 BC Donetsk
Trying to find something good to say about this game. It's not easy. Maybe that Charleroi stuck at it and didn't let their heads drop when they were down 10 in the third quarter? That's about it. Charleroi missed 18 free throws, shot 32% from inside the arc, 35% from beyond, and still won. Only Jiri Welsch (13) and Justin Hamilton (10) got into double figures for the winners, the latter's pull up three pointer with 41 seconds left ended up being the difference after Welsch had put the team on his back in the fourth quarter, handling the ball and scoring in the post.
Missed shots, turnovers, missed free throws, poor defense…it was Good News For People Who Like Bad Basketball, but it was also close and dramatic right to the end, which none of the other games had been. To be fair to Spirou, they were expecting Mickael Gelabale to give them the shooting they so badly lacked, but his absence is probably going to kill any chance they had to make it back to the Big Show.
It's accepted orthodoxy in Europe to foul when up three down the stretch, to prevent the game-tying three, but it nearly backfired on Spirou coach Giovanni Bozzi. When they put Ramel Curry on the line with Donetsk down 3 with eight seconds left, Charleroi had already missed 16 free throws and were certain to be fouled again. As it was, Curry made the first to make it 61-59, missed the second on purpose and Demond Mallet grabbed the loose ball and was fouled. Sure enough, he bricked them both and Vule Avdalovic had a pretty good look to win it at the end, but his three was way off. Spirou survived, but will need to play a Hell of a lot better to even keep it close against Alba Berlin on Saturday.
Another game that wasn't that close, as ALBA Berlin cruised to an expected win over their Latvian foes. This one was never really in doubt, as Berlin led by 12 at the half and 20 after three quarters. Lucca Staiger hit 4/7 from downtown in his game-high 15 points as Berlin shared the ball and the minutes around. Sandis Valters and Kristaps Berzins were the only Riga players in double figures with 10 each.
Day One MVP
Hard not to go with Tyrese Rice. Still early days, but showed that he doesn't need much time to settle and should be everything Coach Dzikic was hoping for.
Must Do Better
Andre Riddick's block on Michael Lee was big for Spirou in the final minute, but he has to play better post D against Berlin, or the likes of Derrick Allen and Marko Simonovic could be laughing all the way to the final.