By: Rob Scott / @robscott33
Caja Laboral made the Euroleague playoffs last season and were a Jeremy Pargo cold-blooded dagger away from going up 2-0 in their series with Maccabi. Then it all went horribly wrong as they lost the next two games in blowouts and their season eventually pancaked in a meek 3-0 surrender to Barcelona in the ACB playoff semi finals. Now it's a new roster, a new arena (for one year), and a new pink jersey (hopefully also for one year).
Last season was their first without Tiago Splitter, and now they face the future without the other half of their Brazilian pick and roll machine, after Marcelino Huertas was swallowed up by the all-consuming empire that is FC Barcelona. Stanko Barac never really adjusted to the presence of Esteban Batista, and now that's Ufuk Sarica's problem, as they followed each other over to Anadolou Efes. David Logan was punted to Panathinaikos, Brad Olseon is rumoured to be not long for the Iradier Arena, and it's been an offseason of many question marks and some surprising answers in Vitoria-Gastiez.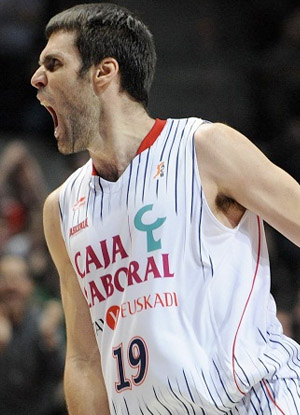 So who will be shaping the new look Baskonia? In come Kevin Seraphin (Washington Wizards), Joey Dorsey (Toronto Raptors) and Milko Bjelica (Lietuvos Rytas) upfront, Reggie Williams (Golden State Warriors) on the wing, one new point guard in Thomas Huertel (Meridiano Alicante) and one slightly older point guard in Pablo Prigioni (Real Madrid). Nemanja Bjelica should get more PT and of course the core of the team remains in All-Euroleague wing Fernando San Emeterio and All-Shooting-All-The-Time forward Mirza Teletovic. Of course, the major signing of the summer for Baskonia was Polish big man Maceij Lampe, but his hip injury will keep him out for at least the Regular Season, if they bring him back at all, which brought about the addition of Seraphin as a temporary replacement.
So, they added three NBA rotation players. That's good, right? Well, Seraphin and Williams will only be sticking around until the NBA lockout ends, and estimates on that range from soon to not-very-soon. Dorsey signed as a free agent and has no 'out clause', but even if he and Seraphin both stick around through the season, neither is a true centre, and with Teletovic's predilection for perimeter-dwelling, there are gaps in their frontline. Having said that, Dorsey can definitely clean the glass, as can Mirza if he is so inclined, and he'll probably have to if Caja Laboral is to maintain its eight year streak of making the quarter finals.
On the positive side, if Williams sticks around, he is a massive upgrade on David Logan and Brad Oleson at the off guard spot. He shot over 40% from three in the NBA last season, and a lighter rotation in the backcourt should allow Pau Ribas to get the minutes he deserved but didn't always get. On the other hand, Williams could be gone at any time, and it's surprising that a team with such a highly regarded General Manager as Josean Querejeta is placing so much stock in NBA rentals.
If Seraphin can keep Lampe's spot warm and help the team through the Regular Season, maybe the transition will be seamless, and if the NBA lockout does continue well into the new year, then that's some impressive depth upfront. The team as currently constructed should have enough to make it to the Top 16, but anything after that is a huge question mark without knowing who will be available. Last winter Querejeta grabbed Esteban Batista - he may be faced with filling a similar hole in the lineup if David Stern and Billy Hunter can make nice this side of Christmas.

Biggest Acquisition: It would have been Maceij Lampe, but for now, Joey Dorsey should replicate Batista's toughness and swagger in the paint. He had to scrap hard every step of the way to make it onto an NBA roster and it's difficult to see him pouting or playing prima-donna - Ivkovic should love his attitude on defense. He's listed at 6'9″ but had the seventh best total rebound rate in the NBA last year (third best offensively) and in a lineup where Teletovic and San Emeterio are going to dominate the rock, a pure rebounder and defensive presence could be just what they need, undersized or not.
Biggest Loss: Marcelino Huertas. Who wouldn't miss him? The best pure point guard in the continent just made Barcelona prohibitive favourites for the title. There wasn't a better playmaker on the move this summer, so this was always going to be a downgrade once he headed over to Palau Blaugrana.
Swingman: If Thomas Huertel can play well enough to limit Pablo Prigioni to the 15 minutes a game his legs can handle, they might have Huertas' long-term replacement already. That's a big 'if'. The young Frenchman has all the skills, but it's a huge ask to expect him to run an offense at the level needed to make it to the later stages of the competition.

Best Drinking Buddy: As the recipient of my #1 Euroleague man-crush, I would say Mirza Teletovic. But he'd end up taking everyone else's shots. Screw it, I'm still saying Mirza.
Drink Of Choice: For the reason outlined above, only beer, no spirits.
Most Likely to Start a Tumblr Filled With Pictures of People Being Sad: Nemanja Bjelica, if he doesn't get any more burn. Luckily for him, I think he will.
Prediction: Top 16.
Rob Scott is a British-based Euro hoop addict who writes for The Basketball Post, Talkbasket, Euroleague Adventures and anywhere else that will have him.  He can be followed on twitter @robscott33.