By: Cem Pekdogru / @pekdogru
Back in the autumn of 2001, each member of Turkish national basketball team was feeling like a rockstar after their band The 12 Giant Men had broken the heart of a young Dirk Nowitzki on its way to the final game. But when the days were over and they returned to their club teams, they found a cruel reminder of the cold reality: empty arenas. The more experienced ones on the Fenerbahçe Ülker roster could only hope that it wouldn't be the same after Kerem Tunçeri's last second heroics in the Worlds semis. Clearly it was nothing close, when they saw a packed house before the game against Montepaschi Siena. An average attendance of 13,926 was enough to assure their place at the top of the Euroleague.
On the court, they seemed to be shaking off the rust after four years under Bogdan Tanjevic. Their bad habit of tending to a static offense gave way to a more fluid team game. With new players fitting in well and Roko Ukic pounding the rock most of the time, one can argue all the hard work was done without Neven Spahija lifting a finger. But even untrained eyes could tell the relief on the faces of those guys.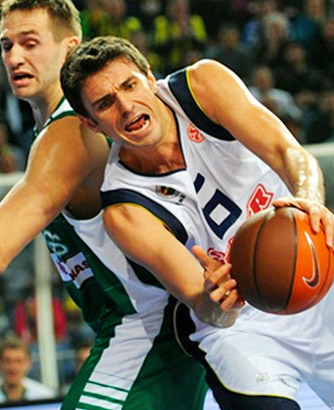 After back-to-back wins against big guns like Barcelona and Montepaschi, the summer came too early to Fenerland. But it went away too fast. A laundry list of maladies beginning with the news that called the season off for the back-up point guard Engin Atsür built up quickly. A serious ligament injury sidelined a young and emerging talent in Gasper Vidmar. Later in the season, each member of the wing player rotation had his own share of injuries. Veteran Mirsad Türkcan made a timely contribution in Top 16 phase but it was only a Band-Aid to stop the bleeding from the Vidmar injury. The savior could be Emir Preldzic who, with Vidmar, once was at the focal point of every criticism on Tanjevic ironically. However Turkcan's injury left Fenerbahçe Ülker one big man short, and that was more than they could handle. We were at the point where no sexier way was possible to sum up the season than this.
"Summer is winter's cure" suggests a musician who has a word or two to say about the theme of devotion. A random Fenerbahçe fan wanted to believe that in his heart of hearts. Yet what summer has really brought was more misery. The club president remains in custody over allegations in match-fixing. Haunted by the echoes of the scandal, all activities in the club got frozen. They were lucky to have completed the transfers of a shiny prospect in Bojan Bogdanovic, James Gist and his fellow teammate Curtis Jerrells before.
Despite all three additions coming off solid Euroleague seasons, clouds of doubts hover around the fan base. High-profile signings by Anadolu Efes made raised the bar for Fener for sure. And the fact that their arch rivals, Galatasaray, are set to play Euroleague basketball adds another dimension to the competition. The worries about the frontcourt depth are so heavy that even underperforming players like Darjus Lavrinovic and Sean May are mentioned as key losses. Ukic's clutch time abilities are widely open to discussion after last season and Preldzic doesn't look comfortable with the status of alpha dog at all. They used to struggle to close out the games and losing the biggest winner of the last decade in European basketball definitely doesn't help matters. Although there is a good chance of Jerrells silencing most of the doubters over here, the former Baylor Bear clearly can't compete with the qualities that Sarunas Jasikevicius brings to the table. Adding Bogdanovic to the mix at the wing positions looks like an upgrade at first sight, but Tarence Kinsey is ready to prove such a suggestion wrong.
In the big picture, however, I think the roster is more than capable of dealing with all the aforementioned departures and just needs a few tweaks around the edges. (They should do better than Hakan Demirel though.) Regarding the everlasting Final Four Talk…you all know that the motivation of being the host country works slightly different for us, but I don't think Fenerbahçe Ülker is there yet.

Biggest Acquisition: Bojan Bogdanovic. Even in the lockout dynamics, Fenerbahçe Ülker didn't look to opportunities beyond Europe. But at least they have one player whose name was called by Adam Silver (NBA's answer to Waylon Smithers) last June. His numbers from last year's campaign are impressive, no question: 18 points, 3.5 rebounds, 1.8 assists, 1.7 steals. Add to that, he was the lone bright spot for Croatian NT in a forgettable tournament. He still has things to prove as a part of a truly competitive team. But early impressions from pre-season games say that Fener's gamble on him is destined to pay off.
Biggest Loss: Tarence Kinsey. One of the best kept secrets in today's basketball? Not even close. But at least once in a season, he makes you think he is. If things fit together well, a team possessing Ömer Onan, Preldzic, Marko Tomas and Bogdanovic is inches away from finding the perfect combination. But if Spahija struggles his way out of the major changes in the team structure, Kinsey's wide array of scoring mechanisms is likely to be missed. Additionally, the energetic duo of Onan and Kinsey was a massive headache for opponent scorers. Now with Anadolu Efes, Kinsey is in search of a new partner at the moment and avoids any sort of eye contact with Sasha Vujacic.

Swingman: Gasper Vidmar. Türkcan is too old to recover fully from that kind of injury. Once a passionate hustle player, Kaya Peker seemingly doesn't care anymore. (Once a hustle player, always a hustle player?) Far from his dominating days at youth level, Oğuz Savaş has legs of a dead man. Gist, an elite rebounder, also exacerbates a team-wide problem: He is not a good one-on-one defender by any means. Are all these enough to justify allowing Mario Kasun to score 35 points? I believe not. And Vidmar should think the same way. The Slovenian is the strongest candidate to alleviate Fenerbahçe Ülker's woes in the paint. Presuming he stays healthy, I expect a big season from him.
Best Drinking Buddy: Engin Atsür. Even though I spotted Demirel at a rock festival last summer, another point guard wins the edge. (Children, rotating Suede albums heavily can do damage to your shooting skills.) Atsür was every mother's dream son-in-law during 2006 Worlds. The former Wolfpack has a chilled out life style and a very down-to-earth personality. He seems like a guy you wouldn't mind sharing a glass of bourbon and singing along to Tom Waits songs with. (It's guy love!)
Most Likely to Hold Up Euroleague Final Four MVP Trophy: Ömer Onan. Only if they face Galatasaray in the final game.
Prediction: Quarterfinals. Season ends with a 4-game series.
Cem Pekdoğru has a blog at numaraiki.blogspot.com and contributes to SalsaBasket and you can follow him on Twitter @pekdogru.