By: Os Davis / @bie_basketball
Last year going into the Euroleague Final Four tournament, Maccabi Tel Aviv head coach David Blatt stated that his charges would "win the Israeli league, the Israeli Cup and the Euroleague if God is willing." Even without evidence of divine intervention, Maccabi still managed to achieve bagging most of the prizes and exceeding expectations throughout last season, one which Blatt had imagined was all about rebuilding.
At that time, Blatt also stated that he'd envisioned a two-year plan and contention for a Euroleague championship if the nucleus of the team stayed together. It's fair to say then that things are right on track for Maccabi after an off-season in which few players key to the 2010-11 run departed, most stayed aboard and new signings make Maccabi look geared toward taking that 2012 cup.
Chief among the few departures is Chuck Eidson, who posted Euroleague career highs in rebounds, steals and assists while proving deadly down the stretch for Maccabi. The exit of Eidson necessitated signing of another player for the backcourt, and sign Maccabi did, with Theo Papaloukas and Jordan Farmar.
Of primary concern with regard to Papaloukas is just how much gas he has left in the tank, as his numbers are done in nearly every statistical category – including the important-for-this-point minutes per game – but here's to thinking that Theo is in Tel Aviv for that old intangible "team leadership" quality with plenty of backcourt players to share the minutes behind him.
Meanwhile, the big question with Farmar is the obvious: How long will he be with the club? Aside from the NBA out in his contract, perhaps only injury can stop this guy whose skill set looks ideal for the European game.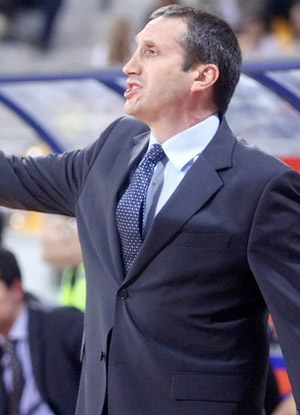 Who else has Maccabi got up top? Well how about Jeremy Pargo, an All-EL second teamer in his rookie season in the big league? Pargo signed on for two more years in May and immediately began earning his pay by winning the 2011 Israeli Cup Final MVP award.
UPDATE: Jeremy Pargo exercised his NBA opt-out clause earlier this summer (even though…there is no NBA). Our bad.
Nucleus guy Doron Perkins is back for his third season with the club after contributing a solid 9.5 and 5.0 rebounds per game (at 189 cm/6'2"!).
UPDATE: Unfortunately, Doron will be out for a significant portion of the season with the same knee injury that sidelined him for the end of the 2010-11 campaign.
Jumping to a better situation is Devin Smith, who left Benetton Bwin for Tel Aviv after posting a nice 15.8 ppg/5.0 rpg/2.0 apg. And even Guy Pnini, who had his most productive season in years in 2010-11, is sticking around.
Scary to think most of these guys can board, too, with the amount of size and muscle underneath that Maccabi kept around for 2011-12: David Blu, Tal Burstein, Lior Eliyahu, Richard Hendrix, and of course Sofoklis Schortsanitis. While age and miles are beginning to catch up with some of these guys (Blu, Schortsanitis), Hendrix is still a force to be reckoned with and Lior Eliyahu is rapidly becoming tops in Euroleague play at drawing big men away from the basket while still maintaining nice range and the fairly consistent 60% shooting percentage he's brought over his career thus far.
All in all, not a bad augmentation to the team that finished tops in the Euroleague in scoring and fourth in rebounds.
On the other hand, Maccabi received a relatively unfortunate draw in groupings, with both Anadolu Efes and Real Madrid capable of putting big bodies with more speed on the floor than their Maccabean counterparts.
So another key question becomes, "Can the defense contain high-scoring shoot-first-ask-later offenses such as Madrid or (potentially) Milano?"
With Blatt at the helm and those backcourt additions representing a step up on the defensive side, Maccabi fans will be confident enough to believe their guys can stop the quickest of 'em – and perhaps justifiably so.
In the final analysis and despite Group C opponents, BiE believes Maccabi is headed to a second consecutive Euroleague Final Four in 2012. Considering this off-season, Blatt's hand in Team Russia's bronze-medal finish at EuroBasket 2011 and the culmination of the two-year plan, anything else could be considered failure – all talk about God aside.
Os Davis is the chief editor/writer of BallinEurope.com, an ESPN TrueHoop Network blog. Currently stationed in Budapest, Hungary (FIBA's 25th best European basketball nation), Os is unabashedly a Los Angeles Lakers fan and would-be poet.