By: Nick Gibson / @euro_adventures
James Gist, Fenerbahçe Ülker via Partizan
Some American players arrive with their noses up before they even touch down. They tweet their way through homesickness as if it doesn't get back to their coaches, their front office, their teammates.  They care more about their scoring average than the score of the game as the general disinterest gushes out of them on the floor. It's not hard to spot this behavior, and as a citizen of the US it makes me cringe. It's a potent feeling, equal parts annoyance and embarrassment, as if I'd just heard the echoes of a thick Boston accent requesting McDonald's while strolling the halls of the Prado. If I'm ever that guy, shoot me. Shoot me right between my fucking eyes.
Then there's the other, more prideful end of El Spectrum Americano. Excited to be playing in front of passionate fans for money while seeing a whole new world (Shout out to Aladdin and Jasmine).  Gist yelled just as furiously in Belgrade as he did for Gary Williams in Maryland, attaching a chest bump or arm wave to each bucket or block. The Partizan fans, as one might guess, appreciated the gestures and reflected the love right back at him. It was a beautiful marriage, and one which I hate to see come to an end; however, these farewells have become the norm for the low-budget Serbs, and a horse like Gist was destined for a more spacious, higher-paying stable.
Keep that headband bleached and the dreads tightly twisted, Jimmy. And keep doing yourself—and Amurrica—proud.
Nathan Jawai, Unics Kazan via Partizan
Chronologically speaking, Australia had to have come up with the Boomers moniker before the epoch of Jawai, but one look at the man and you'd swear he was the primary source of inspiration. The only man in the EL who can stand in Sofo's shadow without quivering, Nathan was the thunder to Gist's lightning in the Partizan frontcourt. (Nothing like an overused cliché to get you through humpday, I always say.)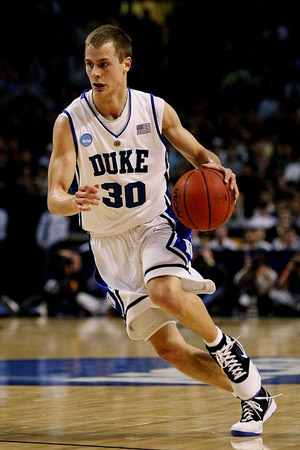 Jon Scheyer, Maccabi Electra via Rio Grande Valley (D-League)
Let's run through the traditional checklist for our prototypical He'd be a good fit in Europe college player, shall we?
Good-to-excellent shooter
Heady offensive player
Almost obscenely efficient
More to be desired athletically
White
Plenty competent on the defensive end
Undersized for his position
Comfortable in pick and roll settings
Guys like Ben Woodside, Gerry McNamara, and basically anyone who's attended Notre Dame in the last fifteen years fit the description. Of course, it's not that simple. Shot+(PxR)+PER+Caucasian does not equal guaranteed stardom.
Yet forgive me when I say I'm buying what Jonny's selling. I watched enough of his 144 games at Duke to recognize that his game translates on any court in the world. And now, instead of having Nolan Smith on his left hip to break down the defense, he has one of the EL's best slashing guards in Jeremy Pargo. David Blatt's going to have a field day with his versatility, and Tel Aviv's going to love his famous facial contortions.
Shawn James, Maccabi Electra via Bnei Eshet Tours Hasharon
Sofoklis Schortsanitis is not a mountain of a man. He's simply a mountain. So large that he's developed his own polar pull, and when driving through the lane, your eyes are inexorably drawn to him. And with Yaniv Green and Guy Pnini in the forward rotation last season, those pupils could comfortably focus in on Sofo without worrying about a shotblocker crashing in from the periphery.
Shawn James changes that.
"He could complete two things that we missed a lot this season - rebounds and shot blocking - two things you can never have enough of on a team," said Coach David Blatt.
Check out James' stats last season in the Israeli League: 13.1 points, 10.6 rebounds and 3.3 blocks. It was the third straight year James led the league in blocks. David might be on to something.
13.1 points, 10.6 rebounds and 3.3 blocks
Luka Zoric, Unicaja via KK Zagreb
Name the Adriatic League MVP. Quickly now. It was Luka Zoric. How many of you got it? Oh, all of you? I see.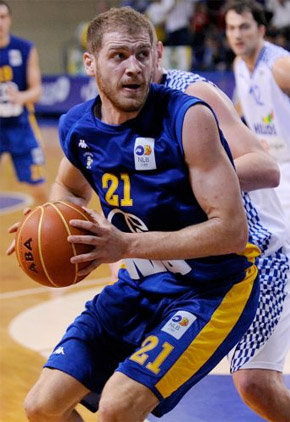 He earned that honor on the strength of 19.4 PPG and 8.2 RPG, good for second and first in the Adriatic, respectively. With Robert Archibald vacating the paint in Malaga, Zoric slides in as a nearly perfect complement to Joel Freeland who, after a breakout season, has decided to wear green for another season. Though his scruff suggests otherwise, Zoric is still a youthful 26 years old, and should find a cozy home in both the ACB and EL.
Robertas Javtokas, Zalgiris via Valencia
Nine years after his horrific and now infamous motorcycle crash, it's sad to see the 31-year-old Robertas lumber down the court on his heels as if his feet had been bound since childhood. But after five seasons away from Lithuania—one in Greece, three in Russia and then another in Spain—perhaps some home cookin' is exactly the elixir he needs. Still capable of dominating for short stretches (usually earlier in games), it's the long haul which troubles the Hammerhead, and it's imperative that Zalgiris builds a highly competitive bench behind him to keep him fresh for the stretch run. Guys like Omar Samhan need to take a leap this season so that Javtokas doesn't feel obligated to grind those feet to dust.
Thomas Heurtel, Caja Laboral via Meridiano Alicante
The 22-year-old has been around the block: Pau-Orthez, Asvel (four year contract, never played), Strasbourg and finally Alicante. Now Huertel will learn from Huertas. If their games parallel like their names do, Vitoria is in for two-tiered brilliance at the point guard position.
Now to the part you all probably scrolled down to in the first place: the new and improved Dotted Line Up.
| Rank #colspan# | Player #colspan# | Team #colspan# | He's here because... #colspan# | Last DLU #colspan# |
| --- | --- | --- | --- | --- |
| 1 | Ioannis Bourousis | Olimpia Milano | Can't wait to see him play extended, consistent minutes. The most efficient big in Europe is about to get a big test. | 1 |
| 2 | Milos Teodosic | CSKA Moscow | The EL's most clean cut franchise adds the Shooting Stoner to a backcourt that just lost a pair of legends in Trajan Langdon and JR Holden. Good thing Milos' brain doesn't process pressure. | 2 |
| 3 | Maciej Lampe | Caja Laboral | Ever since he vanished from Maccabi's roster two seasons ago, I've been itching to see him in the EL again. He's primed to explode. | 3 |
| 4 | James Gist | Fenebahçe Ülker | His enthusiasm is neither a front nor compensation for a lack of skill. Ülker's no Partizan, fan-wise, but they're getting there. A couple oops from Gist should accelerate that process. | - |
| 5 | Luka Zoric | Unicaja | This Nesterovic clone was built for the index rating. Spain should be kind to him. | - |
| 6 | Jon Scheyer | Maccabi Electra | With his vision fully restored, the cultural adjustment is all that stands between him and an instant impact. | - |
| 7 | Sonny Weems | Zalgiris | Props to Sonny for making the leap, and props to Romanov for welcoming the Raptor with open arms. Think Weems has any idea what he's gotten himself into? Not a chance in Hell. | 4 |
| 8 | Nathan Jawai | Unics Kazan | I hope restaurants stay open late in Kazan. Nathan strikes me as a fourth meal fiend. | - |
| 9 | Robertas Javtokas | Zalgiris | He should sell his house and just move into an ice tub to be safe. | - |
| 10 | David Lighty | NGC Cantú | The new kids on the block get proactive and pluck one of college's most well-rounded, pro ready swingmen. Me like. | 5 |
| 11 | Shawn James | Maccabi Electra | Who needs Serge Ibaka when you've got Shawn James? If you think that's a stretch, check the stats. (OK, so maybe it's still a stretch.) | - |
| 12 | Raul Lopez | Bilbao Basket | The ACB finalists finally have a new face on the bench, and it's one of experience. It's also one, however, of considerable age and injury. | 6 |
| 13 | Thomas Huertel | Caja Laboral | Nothing personal, young fella. Keep your ears open and Marcelinho Huertas might show you how to leapfrog some of the guys on this list. ELA will be watching you closely. | - |