By: Sam Meyerkopf & Rob Scott
We are LIVE IN MADRID!  It's Final Four Friday and after going to the media sessions of all the teams yesterday, here are some player thoughts and quotes.  Be sure to follow
Emir Preldzic
What's it like to bring Fenerbahce here?
"I'm captain this year, so it meant a lot to me to be the first captain to bring Fenerbahce to Final Four."
How is the second year with Zeljko?
"You know there is not much different.  You learn every single day something new and now that we've had like 18 months together we've improved as players a lot.  I think that's the big thing with coach, he's doesn't care if you play against Real Madrid or a team in Turkey.  He always tries to have the same level of seriousness for everything".
What is the 'Zeljko Style'?
"Hard-working and a lot of details.  That's the good thing about him is the amount of attention he pays to every single small detail.  That kind of helpful information before the game gives you a good chance to win.
How is the camaraderie?
"We're like brothers.  Especially this year we know each other better.  These newcomers come to the team and we accept them very quickly.  And nobody has a big ego.  Nemanja was MVP and it was like nothing happened.  It's really a good thing that we are all good guys."
Do you guys talk about positionless basketball?
"We practice for us to change positions.  And we see how we are going to adjust per opponent.
What's the word of the team?
"Fighters, Fighters, Fighters!  This year we are fighters.  If we are down, if we are not.  If are in practice we really fight for each other and we play hard every game..  That's why we come to the Final Four because we never give up.

Othello Hunter
Thoughts on your first Final Four?
"Just ready to play.  I'll be nervous before the game but just ready to play.  I'm looking forward to the game and just excited to be here."
You Played in the Italian Playoffs, Greek League, how did that get you ready for this?
"To be honest nothing compares to how the Greek League is right now.  How hostile that can be.  And I'm just prepared for big games and lead the team in anyway I can."
How has your role changed?
I was just nervous with the stuff I was doing.  Have to get used all the guys and get comfortable with them.  But for me it's the same thing, run the floor, try to get rebounds, try to block shots, and bring that energy.  If we're down ten try to bring us up eleven.  If we're up eleven, try to get us up twenty."
What changed in the Barcelona series when you guys took control in Game 2 of the series?
"Coach came in that locker room screaming and saying that's not our game.  Said we played like individuals and we know we couldn't win like that so we came together and got it done.
What are the keys to focus on in the game?
"I think the key is to focus on their big bodies.  Box them out, don't let them get second chance points like when we played CSKA we gave them second chance points.  We have to execute."
What's your advantage to being an undersized center?
"My whole time professionally I've been undersized, and overseas 5-man.  I have to use my quickness.  We do, Bryant and I have to use our quickness.  We're both quick and athletic, we can run and block shots.  But you have to do what you do best.  Run the floor, block shots, and make the other big man tired from chasing you.  We have to use our quickness so we can get around this screen, get around that screen, and just annoy other people."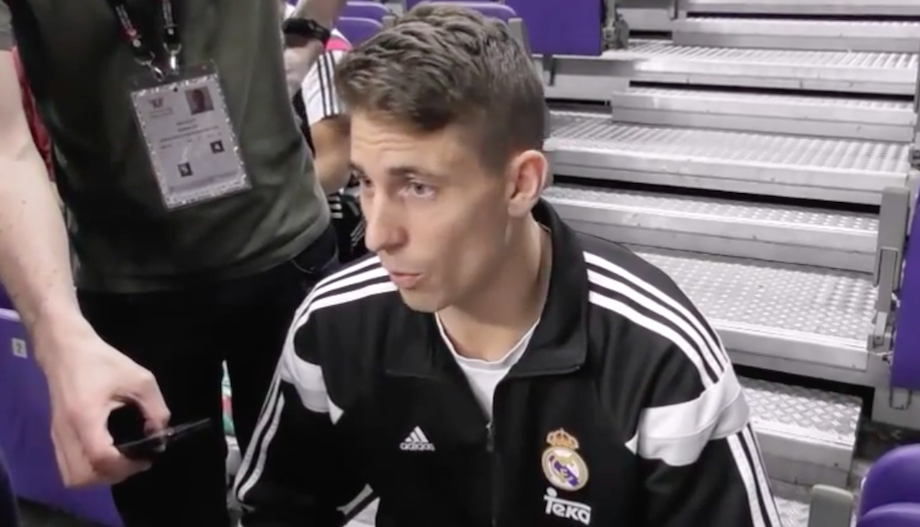 Jaycee Carroll
You've been in Madrid for four years now, it's become like a second home for you. You're back here, it's in Madrid, what has it been to at least make it here for the Final Four?
"Four years ago when Madrid decided to sign me I was excited. It's a big club with lots of history, great teams, I came here with a new coach and I've really enjoyed the four years here. It's a fun style that we play, we've been successful, which makes it a lot more fun. Madrid, as you say has become a second home. I've played for this team longer than any team in my career now, even in college. This really has become my second home for basketball."
You guys have a core group that's been around for a while, how have you guys grown?
"It's been fun, it's been interesting. On the basketball court we've grown together… now it's funny, we're watching watching these young guys play. When I first came here, we were one of the youngest teams in Europe! Now over the last few years we've watched teammates get married, watched new babies come, and all these different things outside basketball which are fun to see. As a basketball teams its good to have this core group together and then invite new people in all the time."
You got hurt a little bit, had a one-legged hop off the court [vs Bilbao, two weeks ago]. You came back a little bit against Andorra and you were moving around really smooth, you looked good to me. Is everything good?
"Yeah, everything's good. I had a little sprained ankle but it's been couple of weeks now and it's pretty much all but forgotten."
Your coach got thrown out of the game against Unicaja. He got mad but you smacked them in the second half, then a really tough game versus Andorra, with some adversity but Ayon had the tip in to win. What has the past couple of weeks been like?
"The last two weeks have been tricky. We finished a tough playoff against Efes, and then you have this two weeks of wanting to go fight for the Euroleague and you gotta wait, you have other games in-between. We tried to have our minds completely focused on those games but obviously it's difficult.  In the end we had to fight to come back against Andorra and I think that helped us."
How much more emotion does it take out of you and the team to be in a Euroleague Final Four over a Regular Season game or an ACB game?
"Most of the energy that is taken out is all of this stuff! A lot more cameras here, a lot more people want to ask you questions, in the hotel lobby someone always wants to talk to you. Being in Madrid I had a hundred thousand people want to get tickets from me. All that stuff takes a little bit more energy out of us before the game."
Who's the best shooter in the Final Four?
(laughs)
Demetris Nichols said it was him, earlier on.
"Demetris Nichols? Hmm… the Euroleague did do a three-point contest! They video'd one this season, and I do remember who won. It was whoever made the most in 30 seconds, or a minute I think, and I do remember who won. But I don't think he was invited for that one, we'll have to give him a try…."
You're playing in a team like Real Madrid, in ACB finals, Copa del Rey finals, Euroleague Final Fours, that's just business as usual for a team like this. You said before that the media attention makes it a little bit different, but in the locker room, how will you get yourselves in the frame of mind to play an important game like this?
"I think for me that's the key word, is just to keep it business as usual. It's easy to get overhyped for these big games, to over-complicate it, to try and over-think it, to try and make it bigger than it is. But in the end if you can just simplify it and just see it as a normal game, I think it makes it easier to play, and you play a lot better."