By: Nick Gibson / @euro_adventures
Folks who claim that Karma's a bitch are just lazy. Or their names are Earl. Drop your almsgiving in the collection plate each week and Karma won't soon forget it.
Case in point: Partizan 2011-12.
While the biggest European clubs use offseasons to restock their fridges with ice cold talent, Partizan offseasons read more like Groupon e-mails. Buy one (1) Nikola Pekovic in 2009 and get a Milenko Tepic and an Aleks Maric at no additional cost!
Panathinaikos took that deal back in 2009 and ran with it.
Novica Velickovic is the Euroleague's 2009 Rising Star! Hooray! Let's ship him off to Real Madrid in exchange for a little walkin' around money.
No worries, though; we'll assemble a team half-filled with kids who can't get into R-rated movies, a couple veterans to hold their hands through the fire (Dusan Kecman and Petar Bozic have been the chaperones of choice for the past few years), one or two slept-on studs whose emergence as stars we can virtually guarantee (Aleks Maric and—to a lesser extent—Lawrence Roberts in 2010, James Gist last season), and to top it all off we'll nab a quick American point guard who's been devalued in the States (Oliver LaFayette and then Curtis Jerrells last season, and some guy named Bo in 2010. He was just OK.).
Everyone mentioned in parentheses above—with the exception of Dusan and Petar—have flown the coop. In fact, besides Roberts (Lietuvos Rytas), they're all on Euroleague teams this season. Partizan sure knows how to churn out some thoroughbreds.
That's the trouble with teaching your girlfriend how to please you; unless you lock her up forever, you have to live knowing she's out there recycling that expertise with someone else.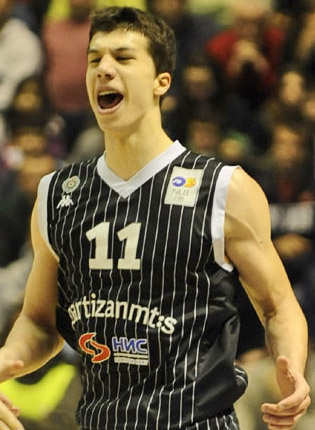 Yeezy taught me? More like Dusko taught me.
The only difference is, we're not forced to watch our ex-lady heat things up with her new flame on television, or to check her hook-up stats in a box score online. All that pain, that jealousy and that frustrated nostalgia, just clinks in the collection plate with empty echoes and little to show in return.
Naturally, this offseason started like all the others: formulaically unimpressive and full of hopeful question marks.
First things first: a couple veterans to tip the age scales. Bozic and Kecman showed no real signs of attrition last season and Rasko Katic proved himself a worthy post presence, so Partizan brought them all back.
With the old heads wrapped up, young guns couldn't be far off, and nine days later they inked Marko Cakarevic of Radnicki, a 23-year-old forward who put up solid averages last season in the Serbian League: 12.2 points, 6.6 rebounds and 3.9 assists. His role with Belgrade's big boys should be similarly do-it-all-ish, as Kecman is limited athletically and the team is still figuring out how exactly they should use the über springy 22-year-old, Vladimir Lucic.
OK. We've locked up the veteran core, signed a promising youngster—albeit one slightly older than we're used to—so that just leaves…
Ah, yes. An American point guard. Acie Law should do the trick, I think. He's not lightning in a battle like McCalebb was (and still is), but he's something that is often just as dangerous: bottled up talent. After the 11th pick in the 2007 draft made him an Atlanta Hawk, he split a grueling four years among five teams (Golden State twice), never averaging more than 16 minutes per game. Now, he can roam free in an offense that thrives on chaos. If he doesn't flourish in Belgrade, it will be his fault alone.
With the vets, Cakarevic, and Law in tow, Partizan is right on schedule. Predictable, uninspiring, plain old schedule. Only thing left on the shopping list is a breakout star, so break out your best rummaging gloves, everyone; time to dig through the rest of the world's trash to unearth a Euroleague gem.
Then Karma tossed Partizan a bone, and returned a forgotten soldier to the battlegrounds that earned him his stripes. Nikola Pekovic, after three years away from the club (two with Panathinaikos, one wasted in Minnesota), came home to reward his first love with some bear hugs and blocked shots. No need to hope for a breakout, or count on a revelation to save face. After releasing their lion cub into the wild several years back, it came scampering back a full grown killer.
That's a frightening pill to swallow for every center in Europe that thought they were done with the monstrous Montenegrin.
Then, prodigious power forward Miroslav Radujlica also landed with Partizan on loan from Efes. The Serbian, who was the FIBA U-20 MVP in 2008, returns to the motherland to try to kick start a stagnant career and shake his reputation as a guy who refuses to work hard.
Then Karma, clearly ready to repay all of Partizan's good deeds in one blast of good luck, went out and procured Milan Macvan on loan from Maccabi Tel Aviv. For once, Partizan will have the good fortune of hitching its sled to someone else's rising star, instead of the other way around.
Karma can be beautiful. She just doesn't like to be hurried.

Biggest Acquisition: Pekovic's return immediately thrust Partizan into respectability, but the presence of Milan Macvan ensures that the boys in black will have a legitimate post threat all season long. David Kahn can come calling for Nikola when the lockout is no more, but Milan isn't beholden to the whims of bickering millionaires. His impact on Partizan will be purely basketball. No business. No bullshit.
Biggest Loss: When Jan Vesely left Belgrade for Washington D.C., Pionir Arena didn't just lose a prospect; it lost its gunpowder. Even though consistency was elusive for the bouncing Czech, he was always good for one or two Wow! moments per game. You had to figure that an older, more mature Vesely could've bumped that number up to three or four, making an explosive crowd all the more flammable.
Swingman: Miroslav Radujlica is lazy. Miroslav Radujlica doesn't work hard. Miroslav Radujlica isn't interested in getting better. Miroslav Radujlica is overweight. We've heard it all.
But if Miroslav Radujlica fights for his time and earns the respect of the Pionir faithful, Miroslav Radujlica will be amazed how quickly his fortunes—and reputation—will shift.
Best Drinking Buddy: Get drunk and wake up with matching tattoos? Rasko Katic is down.
Drink of Choice: Shots of Serbian Slivovitz, chilled, out of some glass called a čokanji-čokanjčići, if I'm to believe Wikipedia. Looks like a word that rolls off your tongue a little easier with some lubrication.
Most Likely To Special Order His Fitted Hats: Nemanja Besovic. The seven-footer has the head of a seven-year-old.
Prediction: Though Karma did right by Partizan this summer, she screwed them over in the scheduling department. With Madrid, Maccabi, Anadolu Efes and a revamped Milano team ahead of them, Group C is just too tough. They'll play ten Euroleague games then turn their attention toward the Adriatic.