By Sam Meyerkopf @HoopLikeDrazen, Nick Gibson @Euro_Adventures, Rob Scott @robscott33, Rodhig @rodhig7, Emmet Ryan @bie_basketball, Igor Marinovic @sofoklo13
Euroleague Adventures and Friends continue our 2015/16 Euroleague Preview series with Group B. You can also read what will unquestionably happen in the other groups below, with zero chance of us being wrong.
Group A: The Group of Shved
Group C: Barcelona or Bust
Group D: Emir's World
Olympiacos 
Rodhig: It's going to be a tough winter. Four new key players (Hackett, Young, Strawberry, Milutinov) need to adapt to a new environment, without the benefit of a proper preseason (Olympiacos are expected to play just one prep game with a full squad). Spanoulis and Printezis, the main reasons nobody wants to see the Reds in the knock out stage of the season, have a long way ahead of them as they try to get their legs back after a brutal Eurobasket campaign. Spanoulis, in particular, missed quite a few national team practices in the summer and will have to be monitored closely.
Luckily for coach Sfairopoulos, this winter will not matter much. Winning the Euroleague regular season group means very little. The Greek league regular season is full of opportunities for Pop-style rotations. It could even be argued that Olympiacos don't really need home court advantage in the playoffs (just ask Siena and Barcelona).
In short, there will be enough time for everyone to get their mojo back. The question is whether there will be enough spacing once the mojo is regained. Dimitris Agravanis is the closet thing to a stretch four on that roster and he only hit 30% of his threes last season. Hackett's confidence when he launches from deep can only be compared to CSKA in the final quarter of a Euroleague semi-final. Strawberry can knock them down, but he is no Sloukas (enjoy the Istanbul traffic, Kostas!).
In short, opponents should be left with plenty of options when they really need to pack the paint. Part of Sfairopoulos' response will be based on post ups, as Olympiacos can create mismatches on virtually every position. But the key to their season will be improving their already stellar defense and turning it into transition points as often as possible.
Emmet Ryan of BallinEurope agrees that the Regular Season doesn't matter much. "They will stroll through the group phase, make the playoffs, and then we'll see how good they actually are."
Olympiacos Depth Chart
| | | | |
| --- | --- | --- | --- |
| PG | Vangelis Mantzaris | Daniel Hackett |  Giannis Athinaiou |
| SG | Vassilis Spanoulis | Matt Loejski | |
| SF | DJ Strawberry | Ioannis Papaetrou | |
| PF | Georgios Printezis | Dimitrios Agravanis | Michalis Tsairelis |
| C | Othello Hunter | Patric Young | Nikola Milutinov |
Anadolu Efes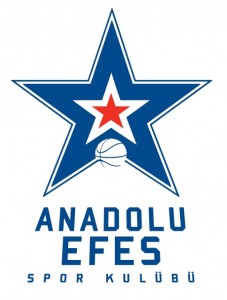 Rodhig: This is a flashy roster. But is it a Duda roster? Where is the ball-pressuring guard? Perhaps my main man Furkan will step up. But an Heurtel-Granger combo could be leakier than David Pick's sources (my sources confirm that). Is there a big man who can switch on the PnR? Tyus and Dunston have had their moments in the past, but their footwork and positioning do not always match their athletic profie (of course this will probably not keep Dunston from winning his third straight DPOY award).
Offensively Efes have a bunch of guys who should be a terror off the bounce and if Derrick Brown builds on his final season at Lokomotiv, the floor will be spread. But on the other end of the floor all eyes will be on the wise man on the bench. If he delivers once again, the final four race will be really interesting.
Emmet: Well this is the team everyone in the States will be buying Digiturk Play for. Korkmaz, Osman, and Dario. Their hair will be exceptional with Cedi there and the overall strength is promising. Whether they can make real noise in the playoffs is another matter entirely.
Rob: I picked Efes as my team that helped themselves the most in the off-season in our Euroleague Preview podcast, but it's an incumbent player who might carry them all the way to Berlin. Dario Saric, in what might be his final season in Europe, is the key. It's Saric who can take over playmaking if Duda has to ride with Balbay for his defense. It's Saric who can rip and run from defensive glass to layup by himself. It's Saric who can be a matchup night terror for any switching defense. Please, Basketball Gods (Duda) let the man run 4/5 pick and roll with Tyus and Dunston….
Anadolu Efes Depth Chart
| | | | |
| --- | --- | --- | --- |
| PG |  Thomas Heurtel |  Jayson Granger |  Dogus Balbay |
| SG |  Jon Diebler |  Furkan Korkmaz | |
| SF |  Cedi Osman |  Birkan Batuk | |
| PF |  Dario Saric |  Derrick Brown |  Okben Ulubay |
| C |  Alex Tyus |  Bryant Dunston |  Nenad Krstic |
Laboral Kutxa Baskonia 
Rob: There I was, thinking maybe Baskonia wouldn't jump on the early-season recruit/cut/replace carousel (see Orlando Johnson, Ryan Gomes, Walter Hodge, DJ White) and they cut OD Anosike before the first real tipoff. They made the move to ease a PF/C rotation crowded by the late acquisition of Ioannis Bourousis, but that just says to me that there's still no real strategy behind their recruitment. Added to the practice of needing to accept buyouts for their best players (Oleson and Heurtel in recent years) and nothing ever seems to stay the same.
Nevertheless, we have to look at the guys they have out on the floor, and I think this could still be a pretty decent team. Velimir Perasovic takes over the same backcourt with which Ibon Navarro periodically got great results. Mike James can be streaky but has a rare ability to dice through any defense and shoot from all over the floor. Daris Adams' decision-making is shaky as hell but he's a strong defender and that's valuable. Jaka Blazic will hope to successfully walk the tightrope between going 100% all the time being his best asset and also his biggest weakness.
Davis Bertans will miss most of the year with his ACL injury, so the gunner role goes to Alberto Corbacho. He's been one of the ACB's most prolific three-point shooters for the past five years, it'll be interesting to see how he copes with the step up. Someone who can shoot 35% on eight (!) attempts per game is a ridiculous shooter, but if he can't attack the closeout or move the ball around when it's needed, the value goes down big time.
Upfront Bourousis has something to prove, and I'll be quietly rooting for him. It's funny that big men who suffer from confidence issues in their play (Big Sofo also springs to mind) are often ridiculed. When he has it going, he's one of the most skilled fives in Europe, and hopefully being out of the pressure-cooker of championship expectations in Madrid does him some good. It wasn't that long ago that he was single-handedly wrestling a playoff series away from Bryant Dunston.
Emmet:  A trip to the Top 16 and then a thank you for calling seems the likely outcome.
Laboral Kutxa Depth Chart
| | | | |
| --- | --- | --- | --- |
| PG | Mike James | Darius Adams | |
| SG | Fabien Causeur | Alberto Corbacho | |
| SF | Jaka Blazic | Adam Hanga | Davis Bertans (I) |
| PF | Tornike Shengelia | Kim Tillie | Mamadou Diop |
| C | Ioannis Bourousis | Darko Planinic | Ilimane Diop |
EA7 Emporio Milano 
Emmet: They are the only Italian team with finances but that doesn't take much anymore. They could have to grind it out to reach the Top 16. I don't expect them to make any real noise.
Rob: Since the Keith Langford-led team should have made the Final Four at home (but didn't) this just hasn't been a particularly inspiring club, even though some of their signings should worked more than they did. To be honest I get that same kind of vibe from the 2015/16 vintage, particularly the idea of Alessandro Gentile pouting his way to Houston (he really fits that team's douchey vibe). Although Cinciarini and Kruno Simon as ball-handlers is a big aesthetic step up from Ragland, MarShon Brooks and Daniel Hackett. So with that in mind, here's a video of new signing Jamel Mclean dunking. A lot.
EA7 Emporio Armani Milano Depth Chart
| | | | |
| --- | --- | --- | --- |
| PG | Andrea Cinciarini | Oliver Lafayette (I) | Andrea Amato |
| SG | Krunslav Simon | Charles Jenkins | |
| SF | Alessandro Gentile | Bruno Cerella | |
| PF | Jamel Mclean | Robbie Hummel | Daniele Magro |
| C | Gani Lawal | Milan Macvan | Stanko Barac (3m) |
Cedevita Zagreb 
Igor: On paper, the Croatian champs look better than last season. The departure of Marko Tomas would be tough to make it up, but he was injured most of the time. James White is expected to be great enforcement, Zoric and Pullen too, although the people who run the club haven't been satisfied with what they saw of Pullen at Eurobasket.
Toni Katic was the biggest prospect of Croatian basketball few years ago, but injuries murdered his career. He averaged almost triple-double numbers last season, but that was in a weak Bosnian league. Whatever you say about Jasmin Repesa he always knew how to get out most from his teams. The club wants to affirm their young guns (Zganec, Arapovic, Mazalin) and they will have their chances, but when things get tough we'll see what happens.
Cedevita's only hope of going through to the Top 16 is the possibility of Milano to bomb. Which I don't think is impossible, because Milano will have a lot of new guys, and maybe they won't click until it is too late.
Nick: In our season preview podcast, I had a message for all of those watching Cedevita in the regular season: enjoy this while it lasts. Looking cold heartedly at the group, I really see no way these guys advance. But Jacob Pullen has the deadly combo of big balls and a shooting stroke that will lead to some late-game heroics, and net them a W or two. (Remember when the guy hit a record 12 three-pointers last year with Barca? No? Turn up the volume and scroll down a couple of inches.)
Aside from Pullen's clout, I'll be watching one of my favorite youngsters, Marko Arapovic, settle into a starting role at power forward and I suggest you do the same. At a modest-and-perhaps-generous 6'8″ (2.03m), Marko's not the biggest or the strongest and he's certainly not the dynamic athlete that will land him in NBA lottery conversations, but Marko knows how to play the game. He can pick you apart from the elbow with the pass or the shot; he can use his body to carve out rebounding space and then start the break with a K-Lovean outlet pass; and he shoots the three with the confidence you look for in a young, stretchy big, even if the results aren't quite there yet (a little under 30% for his young career). Most importantly, he gets better every time he steps on the court, and Cedevita's lack of depth up front means 20 minutes per night for Marko. Let's do this.
Cedevita Zagreb Depth Chart
| | | | |
| --- | --- | --- | --- |
| PG | Jacob Pullen | Nemanja Gordic | Toni Katic |
| SG | Fran Pilepic | Lovro Mazalin | |
| SF | James White | Luka Babic | Dzanan Musa |
| PF | Marko Arapovic | Tomislav Zubcic | Karlo Zganec |
| C | Miro Bilan | Luka Zoric | Mario Delas |
CSP Limoges 
Sam: Limoges maintained some of their French core that has helped build the back to back Pro A champions with Nobel Boungou-Colo, Ferjus Zerbo, and Ousmane Camara.  They then added fellow countryman Ali Traore and brought back Leo Westermann hopefully for a much healthier season.  Import wise they brought in Randy Culpepper who got injured and then they brought in Heiko Schaffartzik who what he might lack in athleticism and driving that Culpepper has, Schaffartzik has Euroleague experience and brings a nice steadying veteran presence.  Adding to that Limoges brought in Will Daniels to be their stretch four scorer, Matt Gatens to be their spot up shooter on the wing, and Mark Payne as a do-it-all wing after his huge year for Chalons-Reims.
It's a good group of offensively talented players with some nice wing versatility.  A Boungou-Colo-Daniels-Traore lineup is a top scoring lineup with slashing, shooting, and post play all accounted for.  Zerbo and Camara are two great 'do your job' bigs who have massive amounts of strengths, play solid defense, and just rim run offensively.  One of the big things for this team will be perimeter defense.  Westermann was heavily exposed last year but looks like he's a bit fresher now another year removed from his ACL injury.  But he and Schaffartzik present a very small backcourt at the Euroleague level.  Gatens' strength is not defensively either, meaning the French bigs inside will have to make up for a lot of drives and Limoges is going to have to do a really good job of limiting their opponents transition opportunities.  Most Euroleague games they win will probably mean they score over 80 points and even though this is a solid roster with decent depth, it's still probably not enough to advance in this group.
Emmet: has been known to offer betting advice, and here is he with another scoop: "Enjoy EuroCup and congratulations on beating Strasbourg in this coming year's Pro A Finals." You heard it here first.
CSP Limoges Depth Chart
| | | | |
| --- | --- | --- | --- |
| PG | Leo Westermann | Heiko Schaffartzik | Randy Culpepper (I) |
| SG | Matt Gatens | | |
| SF | Mark Payne | Nobel Boungou-Colo | |
| PF | Will Daniels | Mathieu Wojciechowski | |
| C | Ali Traoré | Frejus Zerbo | Ousmana Camara |
ELA Group Predictions
Sam: Olympiacos, Anadolu Efes, Baskonia, Milano. Limoges should be able to steal one from Baskonia or Milano and make this race interesting but talent wise, they're just not up to the same level as the Spanish or Italian team.  Cedevita has a cool roster with homegrown young talent mixed with a couple Euroleague veteran scorers but it won't be enough to advance.
Nick: I'll go with Anadolu Efes, Olympiacos, Milano, Baskonia. I love Arapovic and Pullen and I trust Repesa to squeeze some great moments out of Cedevita, but they'll be more spectacle than contender. Disaster must strike either Baskonia or Milano for Cedevita to have even a snowball's chance in Hell.
Rob:  Anadolu Efes, Olympiacos, Baskonia and Milano for me. Cedevita is interesting from a prospects point of view and Luka Zoric might be productive back at home, but there's not enough quality in depth to survive. A rejuvenated and hopefully injury-free Ali Traore in for Limoges is awesome, and I hope they do better than last year, but I can't take them to get past Milano even though it would be cool.