By Rob Scott / @robscott33
CSKA Moscow (1st Group F, 12-2 Top 16, 22-2 overall) vs Panathinaikos (4th Group E, 7-7 Top 16, 12-12 overall)
Who is the favourite?
CSKA Moscow has never lost a Euroleague quarter-final playoff series. Since the third stage was introduced in 2004/5, the only time they didn't make it to the Final Four was 2010/11 when they flamed out in the first round. They have made it to ten of the last 11 Final Fours, but only won it twice, the last time in 2008. So at this point, they can usually be pencilled in for the big show every May.
This time last year, CSKA made heavy work of the stodgiest Panathinaikos team of recent memory. They split the first four games without the injured Milos Teodosic, before his comeback in the Game Five 30-point blowout. Both sides are much improved one year on, but it's hard to see past the Red Army here.
Nando de Colo has been a revelation, a member of the 50-40-90 club while leading the team in scoring at 14.0 points per game. That's good for ninth overall, and he's probably the most creative on-ball guard in European hoops. That has taken a lot of pressure from Teodosic's shoulders, which can only be a good thing considering recent history. Upfront, Sasha Kaun is still a pick and roll behemoth, and the departure of Nenad Krstic has meant fewer post ups and more ball movement in general. At the four spot Andrey Vorontsevich has the archetypal symbiotic relationship between a stretch four and great shooters on the wing, both benefitting from and creating the space they carve out. Even if you risk jamming the paint, Vorontsevich's interior passing is good that gaps will appear anyway.
In common with some of the contenders, some of CSKA's starters are actually their bench, as De Colo and Teodosic habitually sit early for Twitter MVP Aaron Jackson and Vitaly Fridzon. The fact that players of this calibre, plus Kyle Hines and Demetris Nichols can be called 'reserves' shows you just how deep they are. CSKA always has a legion of good players, but the buzzword for this year is 'harmony' - they even made sure one of their Americans has a Russian name.
We haven't even mentioned Sonny Weems, Manuchar Markoishvili, a healthy Viktor Khryapa or this guy called Andrei Kirilenko who has come back on the scene. The biggest challenge Itoudis might face is keeping everyone happy - a rotation that worked for most of the year now looks mighty crowded.
Any chance of an upset?
PAO is a .500 team, both in the Top 16 and overall, but their chances are somewhat less than 50/50 here. There are still glimpses of the old magic from Dimitris Diamantidis, but the days of him carrying them to victory against opponents this good are in the past. CSKA's defense is passive enough sometimes that the Greens can steal a game, especially if AJ Slaughter can rediscover his early season form. He can really get going from behind the arc but only scored in double figures once in the second half of the Top 16, going scoreless in two of the last three games. Esteban Batista has had a solid Euroleague comeback after the 'Fatista' era with Efes, and if he can Kaun into foul trouble there's a glimmer of hope that Pavel Korobkov will have to play crunch time minutes.
Ivanovic likes to hedge hard on pick and roll but CSKA can move the ball too quickly for that to really work. If PAO takes a game, it could be one of those where Sonny Weems jacks too many shots and doesn't share the ball, but then again last year he took over Game 1 down the stretch and won it one mid-range pull-up at a time.
Almost certainly extraneous numerical factoid
CSKA guard Alexey Zozulin has an effective FG% of 110.0, which can also be expressed as a Points Per Possession of 2.02. That leads the whole Euroleague! Why aren't they playing this guy more? Coaches….
Explanatory Vine / GIF / Meme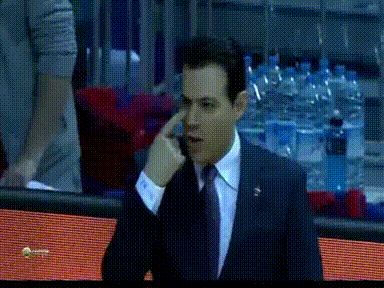 Who's going to win then?
There are just enough holes in CSKA's pick and roll defense for Diamantidis, Batista and a bunch of shooters to steal a game. No more than that though. CSKA 3-1.