By Rob Scott / @robscott33
Thursday night in Berlin was basketball as the theatre of slow, excruciating defeat. With a win, ALBA would become the first Euroleague playoff team to ever come from Germany. The main problem being that their opponent was the reigning champion Maccabi Tel Aviv. The champs cruelly never let that prize out of sight, but crucially always kept it just out of reach.
Some basketball games speed to a frenzied conclusion as one team's superior athleticism and shot-making snatches victory from an equally heroic opponent - this was one of those other games, the kind where the loser sees its hopes slowly unravel just as it dares to believe they could be realised.
ALBA tied twice but never led. Eventually, they didn't just run out of energy, they seemed to run out of life-force. Situations like this are sometimes best explained by bare numbers: As pointed out by Manuel Baraniak of Crossover Online, although they stayed afloat a little longer at the line, ALBA shot 0-for-10 from the floor in the final 6:59.
A win was definitely within their capability, having triumphed in Tel Aviv, and the game was still in the balance in the last two minutes. The home team's offense never found the kind of rhythm that was needed, and in the cold light of day, if Maccabi had managed better than 11-of-24 from the foul line, the outcome may have been decided earlier. The Israelis managed to dominate both sides of the ball, and more importantly made sure they dictated to ALBA how the game would be played.
One of the first possessions gave a clue as to how the rest would unfold. Sofoklis Schortsanitis stood off Jamel Mclean, allowing him to take a midrange jumper, which missed. Leon Radosevic grabbed the rebound but it was ripped out of his hands by Yogev Ohayon and the ball went over to Maccabi.
As the first half progressed, the Maccabi game plan was clear: flood the strong side, front and double the low post and bet that ALBA couldn't move the ball quickly enough from side to side to find the open man, nor could their pick and roll offense force the blue jerseys into making rotations they didn't like.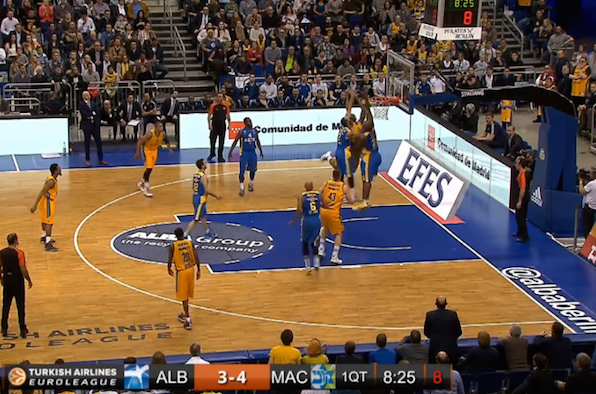 The image above shows Sofo and Brian Randle challenging Mclean at the rim. The referees allowed multiple bodies to be thrown at ALBA's star big man in the paint, and it seemed like they were overly permissive of contact. That's no criticism of Maccabi - if it's working and it isn't getting called, why change? There was a notable play in the second half as the game was still up for grabs where three bodies met him at the rim, but still no whistle.
The video above shows how Maccabi were able to put so many defenders towards the ball. Mclean sets a ball screen for Hammonds but his roll doesn't really go anywhere and neither does the ball handler, so the defense stays set. The offense resets with Renfroe and while that was happening, Devin Smith doubled down on Mclean under the rim. That leaves Radosevic to pop out for an open mid range jumper, his bread and butter, but Renfroe misses a beat and by the time he passes to the Croatian, Smith has closed back out and Radosevic takes a contested long two as the shot clock runs out, a low percentage shot that misses here.
That was symptomatic of ALBA's stuck halfcourt offense. Below, Hammonds tried to force the ball into Radosevic in the paint after another series of passes around the perimeter. It won't surprise anyone that three defenders were on top of him before he could even shoot.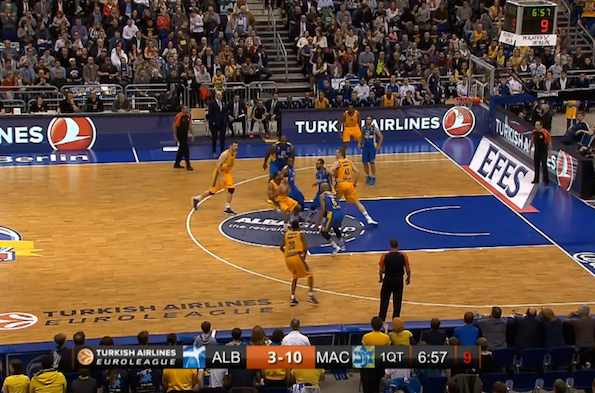 It wasn't always like this - ALBA's first 12 points were all scored from behind the arc, and Marko Banic found his mid-range jumper. But scenes like the one below were all too easy to find, with not a single Maccabi defender on the weakside of the floor, and nowhere for Mclean to go in the post.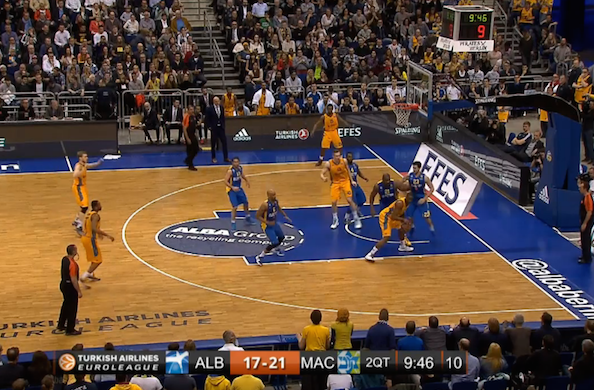 It's not like this is a novel way to set up a defense in the modern era, but Maccabi executed it pretty flawlessly. If there's one criticism of ALBA it's that they didn't adjust quick enough to the reality that going through Mclean in the post had been taken away as an option. Banic and Radosevic can be automatic from around the foul line, but they didn't get the ball in those spots too often.
It's also worth pointing out that you can't overload one side of the floor without excellent perimeter defense, and even Reggie Redding, ALBA's go-to option for halfcourt penetration, couldn't get through the blue and yellow wall around the paint. The Maccabi defenders didn't just set up inflexibly in the paint, they delayed their double-teams and paint-crowding until a pass to the open man was too difficult to pull off. ALBA just didn't have enough misdirection or speed of thought to make this too difficult.
Fenerbahçe will not be anywhere near as simple to contain, so Guy Goodes will need to come up with a variety of strategies to come up with victory in their playoff series. Andrew Goudelock doesn't even need to get separation to get his shot off, and Nemanja Bjelica will pose problems that ALBA's big men haven't even thought of. They will also need more from Jeremy Pargo - he spent most of Thursday night dribbling without purpose and shot 2-of-9.
So, the playoffs are a different story, but Maccabi were first of all asked to go into a hostile environment and come up with the win. They did that convincingly, and with the conviction that victory was inevitable if it executed its plan. Fenerbahçe will know that nothing against a team like that will come easy.
For ALBA, there is nothing to be ashamed of. Management should be proud and delighted that they brought a 14-game Top 16 to a close still with a sniff of playoff qualification. They won in Tel Aviv, they won at OAKA. They now have to pick themselves up off the floor and make sure they don't let fatigue and mental stress get in the way of a BBL championship run. That would cap a fine season for one of the best-run teams in European hoops.