By Rob Scott / @robscott33
Fenerbahçe Ülker (2nd Group F, 11-3 Top 16, 19-5 overall) vs Maccabi Tel Aviv (3rd Group E, 9-5 Top 16, 16-8 overall)
Who is the favourite?
It may be risky to pick against Maccabi Tel Aviv after what happened last year, but Fenerbahçe is 6.5 point favourites with Bwin for Game 1, and 2/5 to win the series with William Hill. That may be the first time I have ever talked about betting odds in an article, but I do it to illustrate the consensus that despite the 'playoff experience' of the Israeli team and their title-holding status, they are the clear underdog.
There are many good reasons for this - Fenerbahçe has possibly the leading candidate for MVP in Nemanja Bjelica, the most unstoppable one-on-one scorer in Andrew Goudelock, a coach who has won the damn title eight times, no fear of playing on the road and an track record this year of beating the top teams. Zeljko Obradovic has them absolutely humming on offense, even without the injured Ricky Hickman. His absence might have lengthened their title odds a little, but not the chance of them losing this series.
The key to the Fenerbahçe offense, like everything in modern basketball, is spacing. That's not a new concept for Obradovic, contrary to NBA blowhards who were ignoring European basketball over the last 15 years. Nikos Zisis is struggling for his shot, but his craft as a playmaker means that Goudelock can catch the ball on the move or after rotations rather than bringing it up and initiating for himself. It also means that Bogdan Bogdanovic doesn't dominate the ball to the extent that he had to with Partizan. Nemanja Bjelica's ability to run a 4/5 pick and roll means opposing defenses are constantly forced into making rotations they don't like. It also means Jan Vesely can finally fulfil his destiny as a mobile, athletic five, crashing in from the weakside to block shots, finish lobs and not messing up the floor balance. The beauty of the balance of this offense is that it doesn't need to result in three-point shots, and when this team is playing at its best, it can be beautifully patient in finding the best shot available.
On the occasions that their halfcourt offense doesn't produce a great look, Goudelock can always bail them out with a deep contested three. There is nobody else in the competition who is as dangerous on 'bad shots' - that he seems to be having to take them a lot less often is an even better sign.
Big man defense is a little weakspot - Luka Zoric has been a trainwreck guarding pick and roll, Semih Erden is pretty immobile and Vesely is foul-prone. Oguz Savas is as important as he's ever been to this roster. Maccabi could struggle to keep Big Sofo on the floor when Obradovic puts Bjelica and Vesely together on the frontline, so Alex Tyus and his ability to dive down the lane and create space for Devin Smith could be paramount.
Any chance of an upset?
It wouldn't be astonishing, but it would be very, very surprising. As mentioned above, Alex Tyus could do some damage reprising his role from last year's Final Four, put its a lot to put on one guy and he doesn't have anyone of the calibre of Tyrese Rice or Ricky Hickman creating on the ball. Jeremy Pargo has disappeared down a dark alley of ball-hogging and poor shooting, and its difficult to see him taking over a game like Rice did from the playoffs to the championship last year.
They're also missing David Blu and his seemingly always-timely threes, and while Devin Smith can still be counted on at big moments (7-of-10 from three last week in their playoff-clinching victory in Berlin, for example) Brian Randle and Joe Alexander are limited to 18-feet and in. Sofo rolled back the years last week covering ground, looking a little more fleet-footed than last year but he isn't built to be pulled out of the paint. Even taking into account what happened last year when Maccabi didn't have homecourt advantage over EA7 Milano, the gap between the teams this year a lot bigger than that.
Almost certainly extraneous numerical factoid
Oguz Savas was 2-for-2 in 'clutch' situations during the Top 16.  Apparently.
Explanatory Vine / GIF / Meme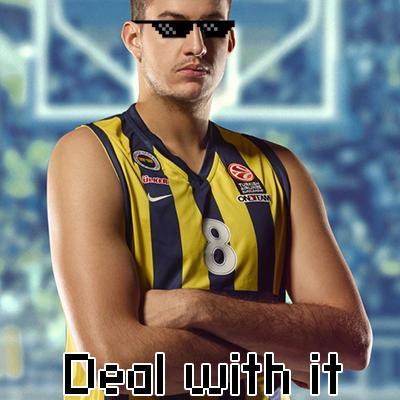 (image credit: Savas Birdal)
Who's going to win then?
Fenerbahçe to narrowly miss out on the sweep. 3-1.