By Rob Scott / @robscott33
Real Madrid (1st Group E, 11-3 Top 16, 19-5 overall) vs Anadolu Efes (4th Group F, 6-8 Top 16, 12-12 overall)
Who is the favourite?
A look at the rosters of these two teams, absent of any knowledge of the season so far, might lead one to believe that Real Madrid would be favoured, but only narrowly so. Perhaps a repeat of the 2013 playoff when Anadolu Efes took eventual champions Olympiacos to the full five games? This isn't the reality, and there's a good chance this is the only sweep of the four series. Madrid has the best offensive and second best defensive efficiency across the whole season. Last season they were the best in both categories, and the overall numbers are lower this season, but crucially there is a bubbling suspicion that Pablo Laso's team is peaking in the spring, rather than before Christmas as might have been the case last time round.
As is customary with European basketball's biggest teams, a couple of defeats here and there is framed as a crisis, and Madrid had theirs in late November/ early December, actually dropping games in Istanbul to their playoff opponents, at UNICS Kazan and to Movistar Estudiantes in domestic play.
During the Regular Season they were grappling with lineup issues, unsure how to integrate new signings like Gustavo Ayon, Jonas Maciulis, Andres Nocioni and KC Rivers. Since then they have been on a roll. The core of Sergio Llull, Sergio Rodriguez and Rudy Fernandez is the most talented on-ball trio on the continent, while upfront the roster looks a lot more certain. Ayon and Felipe Reyes have worked up a great understanding, exchanging interior passes to rival the creativity of their celebrated team-mates. Marcus Slaughter has re-emerged as the mobile, guard-anyone five he was in his first season in Madrid. Jaycee Carroll stepped up  in recent weeks to replace the injured Rudy (who should be available for this series) and has developed into so much more than just a shooter. This team is deep, the core has been in place for a long time, and they  are just about unguardable when multiple skilled wing guys are coming off pindowns, cutting and zipping the ball around.
Some of the old frailties rear their head at times, although this squad has had more reps in overcoming difficult situations. It might sound like a 'first world problem' in sporting terms but its possible that Laso's teams over the previous two years appeared to make poor decisions at critical moments because they were so unfamiliar with close games.
Pick and roll defense is still a weakness that F4 teams will look to magnify should they make it, but Slaughter's reappearance has come mainly at the expense of Ioannis Bourousis, whose struggles in pick and roll are well documented. The big Greek is still one of the most skilled bigs in Europe, but that area of his game has been well compensated-for by Ayon.
Rudy still has a tendency to dig into his big bag of pull up threes or off-balance heaves in traffic when bums start to tighten but that shouldn't be as much of an issue in this series. Even if the Merengues make occasionally selective efforts defensively, Efes isn't particularly equipped to take advantage of that, and there's no way they should be able to limit the Spanish team at the other end.
Any chance of an upset?
Certainly not as big a chance as there should be, given the talent in the Efes lineup and their legendary coach (it's actually illegal under the Euroleague bylaws to refer to Dusan Ivkovic and Zeljko Obradovic as anything else).
Dario Saric moved to Istanbul in order to marinate in all that Duda-wisdom before hopping over to the NBA, but he's gone backwards this year, forced into a peripheral role that minimises his creativity with the ball. Ivkovic has placed a lot of faith in Nenad Krstic, presumably remembering those gutsy Serbian NT days they shared, but he's a liability on defense and sucks up far too many possessions in the post.
A team that could place Saric alongside Stratos Perperoglou could post either one up, or have Saric handle the ball, taking advantage of mismatches and drawing the defense away to open up the perimeter. That sort of happened when Krstic was injured early season and Thomas Heurtel hadn't come over. Now, the team relies heavily on the young French playmaker, and while he has shown exactly why he's regarded as one of the premier young point guards in Europe, Saric has been forced into skulking round the perimeter like Milko Bjelica. He could have been rivaling the other Bjelica from Fenerbahçe, but while production has been pretty decent, he has so much more to offer.
One of the only ways to get at Real Madrid is to take advantage of their sometimes-soft perimeter D, draw help and kick out for three. It's how Olympiacos took them to five games last season and won the 2013 Final. Unfortunately, Cedi Osman is shooting 27.6% from three and Matt Janning, whose one job is to fill it up from downtown is at 28.6%. Dontaye Draper and Heurtel have played alongside each other fairly often and both are shooting well, but they don't have enough of a consistent threat to punish what small lapses the Madrid defense might offer.
Almost certainly extraneous numerical factoid
These two teams rank first and second in fewest turnovers made in the Top 16. So now you know.
Explanatory Vine / GIF / Meme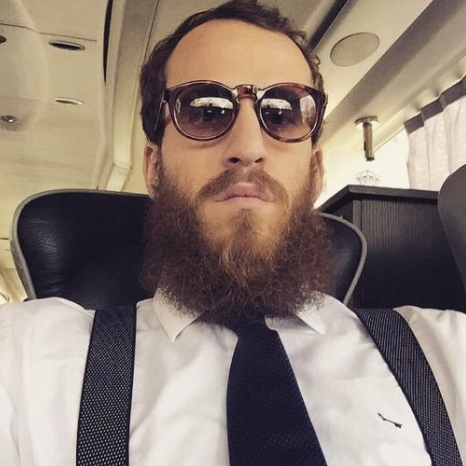 Meme fundamentalists may argue that this is just a photo without a slogan. Does it really need words?
Who's going to win then?
Real Madrid in the sweepiest of sweeps. 3-0.