By: Slam
The Qualifying Round is over and as the tears roll down my face. I don't know if they are for joy (as the Euroleague season is almost upon us) or for sadness (as the qualifying madness is over).  Regardless of their source, my tears mean we finally have our last 2 Euroleague teams; they are (drum roll please): Entente Orleanaise and Maroussi BC.  How thrilling and exhilarating, right?  Not so much.  After a tremendously close opening day, this feels anticlimactic as the 2 Saturday winners (Benetton Basket and Alba Berlin) are not advancing, while the 2 teams that lost are on their way to Europe's top level of competition.  There's no 3rd game rubber match.  No chance to decide it on the court.  Instead, the sum of the two scoreboards has decided the victors.  Fair?  Of course not. After rummaging through the wreckage here's what I found:
Stars
Julius Jenkins- It was a win, but it wasn't as big as Alba Berlin wanted it to be.  In Berlin, in front of over 12,000 German fans Alba Berlin took down Maroussi 75-70 to force a deciding third game.  Wait nope Alba scored 4 points less than Maroussi overall in 2 games and are eliminated from the tournament.  This was not because of Julius Jenkins who had 32 points Sunday in Alba's win.  After making 5 threes and really keeping the offensive pace going for Alba, Julius will be missed in the Euroleague.
Gary Neal- Gary Neal wanted to be a part of the Euroleague season so badly, but it just wasn't to be.  After pouring in 29 points adding 4 rebounds and 4 assists, Neal must have been devastated by a 2 point win.  Wait a win?  Yes Benetton won as well but it was only by 2 points and they needed to win by 9, so no Euroleague for you Benetton. Gary, you will also be missed but don't worry you still qualified for the EuroCup.
Stinkers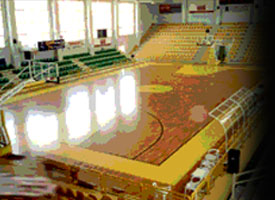 Maroussi Crowd- 950 people attended the Maroussi vs. Alba Berlin game at Maroussi.  That was not a typo, 950 people attended the game.  The next game in Berlin over 12,000 people came out.  This is sad to see that few fans came to such an important game.  This happened in the first game of the series but it needed to be addressed and Maroussi supporters need to step it up for the Euroleague season.
Two Game Series System- One more game, that's all I ask for.  In this series both teams split, which would have led up perfectly into a deciding third game.  This would not take up much more time as it's only ONE MORE GAME.  With the last word, I borrow the words of my friend and colleague, Mr. Freaknicholas Gibson: "It's a basketball game. Not a math test."