Some people want a soulmate with a good job, great hair, or an enchanting smile. Team ELA prefers their life partners to be carved from a slightly different mold.
Do you want kids? How many? Are you religious? How often do you talk to your mother? Did you read Eat, Pray, Love?
Bored.
Barac or Batista? Llull or Rubio? How would you defend Malik Hairston?
Damn. I just went to Jared. And wet myself a little.
So while you're here, you should go ahead and subscribe on iTunes for FREE or check out the rest of the raps and podcasts right here.
1:10 - 3:59: You're a GM. You can pick one small forward to  lead your squad. Maccabi's Chuck Eidson? Or Caja Laboral's Fernando San Emeterio?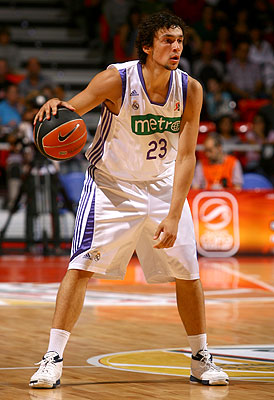 4:00 -  6:57: Is Barcelona better off with Ricky Rubio on the bench?
6:58 - 8:29: All four series are tied 1-1. Which road team has the onions to wrap up game five on the road?
8:42 - 11:18: Fernando is Dusko's homeboy. But is Caja overusing their stud?
11:19 - 15:28: Step back into the GM's office. Sergio Llull and Ricky Rubio each shoot you a text. They both want to be your cornerstones, but you can only pick one. Who do you choose?
15:29 - 19:20: If Malik Hairston goes off  again for Siena, which Olympiacos defender(s) would you throw on him?
19:21 - 24:18: Emanuele Molin is still getting a handle on his rotation. But it's a tie game with eight minutes to go and you have to play one line-up the rest of the way. Who are the five you throw out there?
24:19 - 27:32: In Nikola Mirotic and Ante Tomic, Madrid has two of Europe's brightest young bigs. But in the offseason, you're forced to part ways with one. Who do you keep?
27:48 - 29:28: Can Slam spell the name of Valencia's Ukrainian big man? Take a listen and see if you can do any better. (Hint: you  probably  can.)
29:30 - 32:00: It's the age-old debate: Esteban Batista or Stanko Barac?
32:01 - CLOSE: Awkward goodbye.