By Rob Scott / @robscott33
Week Two of Euroleague is in the books and only four teams remain unbeaten. The most impressive performance for me was from one of those four as Unicaja Malaga went to Tel Aviv and beat Maccabi 93-82. Meanwhile, Panathinaikos got their first W on the board as they took down an insurgent Pinar Karsiyaka 85-73 at home, a week after the Turkish champs had upset Barcelona in their Euroleague debut. The Greens of Andalucia and Athens brought Week Two to life and announced themselves as teams to be taken seriously this year.
Kuzminskas Happy in Joan Plaza's Sharing Offense
For me this was the most entertaining game of the week. As early-season tests go, playing in Tel Aviv is pretty tough, and Unicaja didn't just win, they impressed while doing it.
Everyone at ELA was impressed with their recruitment in the summer in our preview podcast, and the new additions have been paying off immediately. The one question mark was the lack of an elite playmaker - although Stefan Markovic is a steady hand on the controls of an offense, could he really be the main creator on a Euroleague playoff team?
The evidence so far is that it doesn't matter. Joan Plaza has created a ball-sharing culture in which shots are created around the court by clever cuts, quick passing and instinctive, simple ball movement. In Tel Aviv they ran a ton of pindowns to get the defense moving, and from that initial action the ball finds its way either side to side or high-low for good quality looks. You don't necessarily need an assist-wizard like Thomas Heurtel to run high screen and roll 20 times per game if you have players who are all comfortable and willing to share the ball and move around off it to create space.
Going back to new signings, Richard Hendrix looks like he was made to play in this offense. He racked up six assists against Maccabi, and his ability to make the high-low feed  - or hit the mid-range jumper - opened up the defense repeatedly. Check out the assist at around 0:51 in the video above. Hendrix isn't necessarily known as a fantastic passer but playing in an offense like this means that simple decisions are rewarded with buckets, and that's enough to get most players bought in and contributing more than they may have done elsewhere.
Moving on to other summer arrivals, Jamar Smith can make tough jumpshots without his feet set, the kind that you need when high-quality opponents won't always allow a better look. Although it's early days, the signs from Nemanja Nedovic are all promising. True, he won't always make his pull-ups like he did on Thursday night, nothing was out of control. He put up 13 points in 10 minutes, a staggeringly effective cameo including most of crunch time. He turned on the jets to beat Trevor Mbakwe to the rim late in the fourth with a beautiful layup high off the glass, and he never held the ball too long, a key element in this offense.
The only new recruit still to make his mark is Edwin Jackson. He was a little too trigger happy and looked to be pressing too much to score. He barely played in the last few months of the season at Barcelona and this sharing offense is a little different to ASVEL where he was a ball dominant scorer. But give him time and I'm sure he will find his role.
We've seen strong starts from Unicaja before - they were top of the ACB until long after Christmas last season, but perhaps one thing they lacked was an X-factor, that unstoppable force that you need to win really big games. Again, it's early, but Mindaugas Kuzminskas might be that player. The quick-moving, all-sharing offense Plaza is building is perfect for his strengths, as an off-the-ball finisher, weakside cutter and offensive rebounding menace. What he's added over the past year or so is a smoothness and ease of movement that sometimes went missing in his more developmental years.
One play in the first half exemplified this - he cut to the rim and caught the ball as two defenders recovered back to disrupt the shot. In years past he might have rushed the shot, tried to dunk it or made a hasty attempt to finish. Not anymore. He calmly waited, faked out one defender then the other and dropped the ball through the now unguarded hoop. It was only one moment in 23-point performance but it stood out as encapsulating his progress. His five points in a few seconds late in the fourth put Maccabi to sleep - first a deep three falling away on the right wing, then a leak out on the break where he used his length to finish at the rim.
Defensively, Plaza played this one quite conservatively, dropping his big men back to the level of the pick, or even going under and switching. But with athletes like Nedovic, Jackson, Smith and Hendrix there is definitely the potential to hedge harder and be more aggressive if the situation calls for it.
Maccabi might be finding their feet still, and are down a big man or two as Onuaku was too slow to be effective defensively and played only eight minutes. Trevor Mbakwe was far more useful as he can step up above the arc on defense and is a much more potent screen and roll threat. Despite that, winning in Tel Aviv is always tough and the way that Plaza's team withstood a late run from the hosts says a lot about how seriously they should be taken as playoff contender this year.
James Gist Lighting It Up
You could reduce Panathiniakos' win over Karsiyaka to buzzwords: spacing, shooting and length. It just so happens that those three aspects of the game are some of the most valuable, and the early signs are that this PAO team has plenty of each.
A lineup of Dimitris Diamantidis, Nick Calathes, Sasha Pavlovic, James Gist and either Miroslav Raduljica or Ognjen Kuzmic looks like it could stand fingertip to fingertip across the whole floor, or thats how it must appear sometimes to their opponents. It was rare that Karsiyaka could make an easy pass or penetrate without a hand in the way. At the other end it turned out pretty useful too. How did James Gist even manage to get fouled on this play? An errant pass made into a useful assist.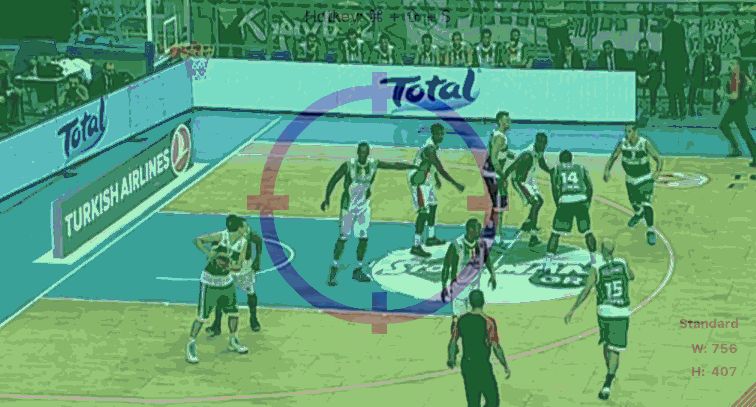 Raduljica, Gist and Kuzmic have such long arms and enough mobility to sneak past the defense that you just have to lob the ball up near the rim and they can finish it from there. There was nothing particularly revolutionary about Sasha Djordjevic's offense, they just ran well executed, exemplary spaced sets with great shooting: 24-of-39 inside the arc and 10-of-23 behind it. This is a typical example, with Gist and Calathes in the corners and a high pick and roll between Diamantidis and Raduljica.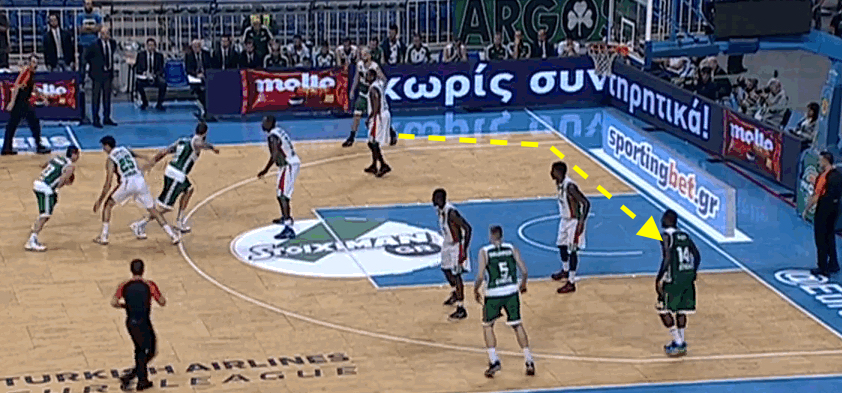 The Karsiyaka defense is set up to prevent the three-point shot, with the wing defenders close to their men and nobody with a foot fully inside the paint. Calathes cuts baseline into the middle of the paint and will receive the ball, bringing Gist's defender up to cut him off, before dropping the ball off to Gist, who hasn't moved, for the corner three. It was a simple, two pass offense but providing you have shooters who can keep the defense from sagging to the middle, it's incredibly tough to stop.
Gist made all of three of his attempts from long range on the way to 27 points in a little under 30 minutes. Of course he won't shoot 100% every night, and he's a career low to mid-30s three-point shooter, percentage-wise. But that contains some time spent in pretty ineffective offenses, so if he can nudge that closer to 40% in this well-spaced, disciplined set up, look for PAO to go deep into this Euroleague campaign.
If only their new uniforms didn't look like babywear. Or even seasonably festive? But if they keep playing like this, it will be on every PAO fan's Christmas list.
Notes from Elsewhere
Even though Lokomotiv Kuban beat Zalgiris on the road to reach 2-0, I wasn't impressed. The offense was stagnant and there's no culture of sharing the ball and creating good opportunities, pretty much the opposite of what is so effective with Unicaja and PAO. Although Malcolm Delaney had an efficient shooting night (21 points, 5-of-7 on 2FGs,  2-of-3 on 3FGs, 5-of-5 from the line) he also had seven turnovers. Particularly in the second half, the Loko offense was either Kyrylo Fesenko post-ups - which worked pretty well - or pullup threes from the guards, which will either drop or they won't, but it's not a sustainable way to score points.
Talking of Fesenko, it was a week for old-school, "slow", large-waisted big men, the antithesis of the Hines/Slaughter/Dunston/Dorsey school of centres. Revenge of the T-Rex over the Velociraptor? Ioannis Bourousis rubbed dirt in Olympiacos' faces in his latest triumph over his old team, winning Weekly MVP with an insane PIR of 44 in Baskonia's overtime win. When he is confident and motivated, there isn't a centre in Europe with his combination of skill and physical bulk, and perhaps it takes a matchup like this to bring out the best in him? On the other hand, maybe we shouldn't overestimate the importance players give to playing their ex-team - they may get on well with their former comrades off the floor, it's the fans who tend to give out the opprobrium. Either way, its always a thrill to see this gentle giant summon up the ability he has and deploy in such a dominant way.
It's been two games and two blowout wins for CSKA Moscow, and it all looks great so far. The most encouraging thing has been the return to the three-guard lineups that were so aesthetically and statistically pleasing last season, with Milos Teodosic, Aaron Jackson and Nando De Colo running amok. The difference this year is that there's no Sonny Weems to come back from injury and spoil things.
As mentioned at the top of the piece, only four teams are 2-0 (CSKA Moscow, Lokomotiv Kuban, Unicaja Malaga and Anadolu Efes). High profile clubs like Real Madrid, Khimki Moscow and Barcelona have all dropped a game already. OK, it's only two games and by the spring we might not be that surprised by the four teams who make it to Berlin, but at least the early signs are that there should be some real competition in the Regular Season and that it might not be the extended-warm-up for the Top 16 that some of the giants have taken it for since the format change.