By Rob Scott / @robscott33
Week 12 of the Top 16 was a reminder that despite the wealth and glamour of the life of a professional athlete, career-changing injuries are a constant danger. Davis Bertans, who was enjoying the best season of his career in Vitoria, tore his right ACL for the second time in two years. Over in Istanbul, Ricky Hickman stretched for the ball and tore his Achilles tendon, putting him out for the season. Both were the kind of non-contact injuries that happen so often from movements that every player on every team in the world makes dozens of times in every game. Bertans' injury has put a huge dent in his NBA hopes, but Hickman's absence could have a significant impact on the destination of the Euroleague title. For that reason, we take a deeper look at what it could mean for Fenerbahçe and how they might overcome it.
Hickman had been mainly playing as the backup point guard, which tells you all you need to know about the depth Fenerbahçe can boast in the backcourt. By the basic numbers, he was averaging 20:26 minutes per game, 8.69PPG, 1.6 APG on 36.8% 2FG and 28% 3FG in the seven Top 16 games he played. The full season numbers aren't much better. Those aren't stellar by any means, especially the shooting percentages. According to gigabasket.org, across the full Euroleague campaign the most used lineups including Hickman have been outstanding offensively but porous at the other end:
Top Five Lineups Featuring Hickman, Full Euroleague Season:
| | | | | | | | | |
| --- | --- | --- | --- | --- | --- | --- | --- | --- |
| PG | SG | SF | PF | C | Mins | O-Rtg | D-Rtg | Net rating |
| Hickman | Goudelock | Bogdanovic | Bjelica | Erden | 38 | 124.6 | 122.2 | +2.4 |
| Hickman | Goudelock | Bogdanovic | Bjelica | Vesely | 33 | 133.3 | 114.0 | +19.3 |
| Hickman | Goudelock | Bogdanovic | Bjelica | Zoric | 32 | 93.2 | 108.9 | -15.7 |
| Hickman | Goudelock | Preldzic | Bjelica | Zoric | 27 | 95.2 | 131.7 | -36.5 |
| Hickman | Goudelock | Preldzic | Bjelica | Vesely | 25 | 114.5 | 110.7 | +3.8 |
The five man unit of Hickman/Goudelock/Bogdanovic/Bjelica/Vesely has actually been out of this world on the offensive end, despite Hickman's shaky shooting. It's not hard to see beyond his own numbers though, he is superb in transition, a willing mover of the ball and still a tricky, lengthy finisher off the bounce, able to get to the rim.
More importantly, perhaps, and going away from the quantitative approach, he is 'a winner', in both the abstract and factual senses. The experience he had last year with Maccabi going all the way is something that he shares only with coach Zeljko Obradovic and fellow guard Nikos Zisis. This is a high budget team that has failed to meet expectations, but this year feels different - so far. It stands to reason that sharing the locker room with a guy who won the highest prize only last year must benefit this group of players.  He'll still be there, just not on the floor. On the other hand, the guy prowling the sideline knows a thing or two (or eight) about winning.
Still, Hickman hasn't played regularly at crunch time, and with Zisis firmly embedded in the lineup, there are plenty of options to fill the minutes he did use.  The biggest clue as to how the rotation will adjust came in the five Top 16 games Hickman already missed. Fener went 4-1 in that period, the only defeat a narrow loss to Olympiacos. Emir Preldzic saw his minutes go up, but the beauty of the squad is its versatility. Andrew Goudelock has already logged 30+ minutes in several games, which doesn't appear to be a problem. That leaves Zisis, Bogdanovic, Preldzic and, if needed, Sipahi and Serhat Cetin to fill the other spots. By and large that's what happened when Hickman was last absent, and the rotation can handle a playoff-shortening better than most.
Earlier in the season, Obradovic's offense was still heavily reliant on Goudelock isolations, which works to a point against lesser opponents, but it wasn't a blueprint for Final Four success. That has all changed. This is now an impeccably balanced offensive team, with multiple options on every possession. The ball moves crisply from drive to kickout to open shooters, always rotating and forcing the defense to react. This isn't an offense you can simply stop by shutting off high pick and roll, there is nearly always a bailout option if Goudelock, Bogdanovic or whoever else's path to the rim is blocked. The backcourt and wing players are positionally flexible: is Bogdanovic a guard or a forward? Other than who he picks up on defense, who really needs to know?
MVP-jelica
Speaking of positional flexibility, Nemanja Bjelica has been a freaking monster, deservedly winning Euroleague MVP for March. The video above shows it all. At 2.09m / 6'10" he can handle the ball, shoot, pass in halfcourt and transition, run the break and block shots. Did I miss anything? He and Goudelock are by far and away the biggest factors in their season so far. The things he can do on offense make it so much harder for the defense to take away anything else, and as long as they keep putting players in the right spots on the court around Bjelica's creativity, Goudelock's multiple weapons handling or from catch-and-shoot, Vesely cutting hard to the rim and everyone else doing what they do, they are still a definite championship contender.
Just look, the inventive passing is so contagious, even Semih Erden is getting in on it. Hedge and trap against this team? Semih double dares you. There's something delicious about two 'NBA misfits' combining on this team to regain their confidence and swagger.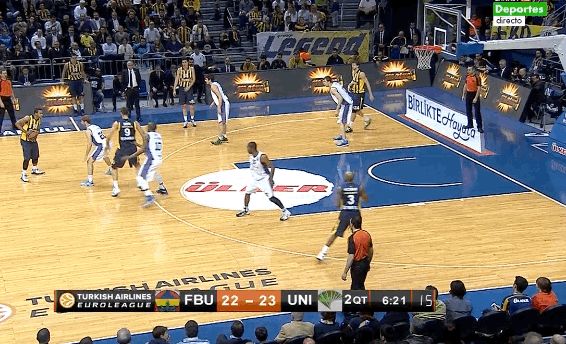 Even though the blue-and-yellow hordes on the Asian side of Istanbul would doubtless prefer to have Hickman available, particularly when the games are do-or-die, it seems like the players they have left can be slid around to fill the gap. In halfcourt sets Hickman would often find himself stationed in the corner, but he wasn't knocking down those shots at a high enough percentage for his absence to be really detrimental. 28% from three-point range just isn't good, whichever way you slice it. Of course the kick to the corner wasn't always the final pass, and Hickman's ability to play in this continuity offense will be missed. It's not that he isn't a good player, far from it, rather that Fenerbahçe has such a rich depth to its squad that they can get past this.
This Fener team has changed so much in recent years, the only real holdovers from the previous era are Ogus Savas and Emir Preldzic. The latter's defensive issues will never go away (check the table above - he should never, ever share the court with Luka Zoric) but to see him play a little bigger of a role in a team that could go all the way to the championship would be a sweet reward for those of us who still at least keep a holiday home on Emir Island. The D-word is the reason we will probably just see Bogdanovic, Goudelock and Zisis' minutes go even higher, but just a few decisive cameos from the enigmatic, pan-national illusionist would be worth all of our patient indulgence of his trickery over the years.
Perhaps the simplest way to put it is that Fenerbahçe doesn't have to come up with a long term solution. They just have to win five more games: three in the playoffs, two in Madrid. That's it. Hickman's injury is a setback, but it should not be insurmountable.