By: Nick Gibson / @euro_adventures
Pele is Brazil. Babe Ruth has Zeus-status in the states. Wayne Gretzky could show up on Canadian currency any day now. Anaheim Hills, California? They've got Rebecca Black.
But even young Becky could find rhyme nor reason (definitely, definitely not rhyme) to exclude Arvydas Sabonis from the Naismith Basketball Hall of Fame this time around. No man is more synonymous with a national sport than Sabas is to Lithuanian basketball, and now he'll stand before his countrymen a HOFer when Eurobasket tips off this August in the homeland.
However, the applause won't be any louder than usual. How could it be? Vocal chords are only strung so thick, and this latest  Sabon-ovation shouldn't out-decibel those from past achievements.
Take for instance his bronze medal run in the 1992 Olympics, which added Jerry Garcia to the list of Arydas fanatics. And when he arrived in Portland, 31 and supposedly past his prime, he made the All-Rookie team—the rookie label surely leaving half of Kaunas chuckling—and then patched six years on top of that one, years which cemented  him as a man who could dominate in both hemispheres and pass with his eyes closed.
At the tender age of 39, Arvydas flew back to show the young fellas how it was done,  picking up Euroleague regular season and Top 16 MVP's for Zalgiris, barely missing the Final Four. Thanks a lot, Derrick Sharp:
Joining the class along with him are Dennis Rodman, Chris Mullin, Artis Gilmore, Teresa Edwards, Herb Magee, Tom Sanders, Tex Winter and Harlem Globetrotter Reece "Goose" Tatum.
Try and argue that one of those names has had a larger impact on basketball than our man Sabas. It's an argument I fear you'll lose.
Let's take Chris Mullin, for example.. Great player in college at St. John's and in the pros, and his crew cut would make even the strictest military officer blush.
So, success on multiple levels: Sabaonis has that and then some. Stylish do: the mullet+mustache combo is like the hair world's PB&J. Classy, and unbeatable.
Rodman? I'm sure Sabonis would've kicked a photographer if his knees weren't so damn arthritic. Sure Tex Winter coached, but Sabonis played for Zalgiris and owned the team. Double gangster. Goose Tatum couldn't have pulled off those moves at 7'3″. And Teresa Edwards has inspired little girls across the country (world?) to pick up the roundball, but the WNBA isn't exactly…thriving. Lietuva, meanwhile, has a 2003 Eurobasket gold in their pockets and scooped a FIBA WC silver in Istanbul. In the crowd, flags blocked the views of those seated behind them, faces broke out from oily face paint and bearded men beat their drums as if they'd told their owners that facial hair is for pansies.
A mere preview of what is in store this summer. By then, Jonas Valanciunas and Donatas Motiejunas should have their names on NBA contracts, a pair of Lithuanian bigs who were undoubtedly inspired by Sabonis before they were ever compared to the man, praise which they now wisely deflect.
Stow all this talk of What could he have done had he played in the NBA his entire career? It might be fun to kick the idea around, but it discredits his achievements "overseas" as they say. But to Arvydas and all of Lithuania, the NBA was his overseas. What matters is how hard he balled on the homecourt—his homecourt. He was for Lithuanian basketball what Rebecca Black has become for middle school girls with nasally voices and rich parents.
******
Bismack Biyombo. Heard of him? Neither had most folks coming into this season, as the Congolese swat machine was buried in the dregs of Fuenlabrada's system. Nine points, six boards and a pair of blocks in 21 minutes per game. Alas, Illescas was a little pond, Bismack Biyombo a giant Congolese fish, and the big club shipped him over for a tryout. Fourteen games into his ACB career and he's turned heads. Spanish heads, European heads, and to Fuenlabrada's chagrin, the heads of the Nike Hoop Summit organizers.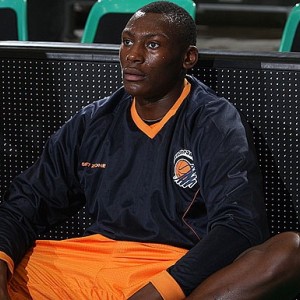 On FIBA.com today, a great journalist and good friend Jeffrey Taylor broke down the situation for us. In short, Fuenlabrada's not too pumped about Bismack's trailblazing in Portland.
Fuenlabrada Coach Salva Maldonado had this to say: "If Bismack Biyombo gets on that flight to play that exhibition game in the USA, he can forget about playing in the first team of Fuenlabrada.
"He has to think of the consequences his actions can have and know that upon his return nothing will be the same."
If you're Maldonado, clinging onto the 8th and final playoff in the ACB, I get it. I do. You're losing a force inside. Worse, you're letting that same force audition in front of hungry NBA eyes who would willingly snap him up with a lottery pick this June if his skills are to their liking.
If you're Bismack though, Taylor's right: just do it. Spread your wings, jam on some heads.
But if some Portland hipster with a beanie and skinny jeans invites you into his van, turn and run.
******
Maccabi Tel Aviv was excited about playing in the Final Four. The bliss dwindled, however, when a trip to the calendar alerted them that their trip to Barcelona coincides with Yom Hazikaron. That's a problem, as Israeli law prohibits nationals from playing sports on that day, officially known as Israeli Fallen Soldiers and Victims of Terrorism Remembrance Day.
Here's the thing: the Final Four dates were set July 15 of 2010. You think Maccabi could have filed a complaint a little earlier? Like, after they went 9-1 in the regular season?
And organizing an international league is no easy business, but the Euroleague shouldn't be surprised. They know that religion has interfered in Maccabi's past and should have their calendar earmarked on days of possible conflict, just in case.
July. That was eight months ago. Get it together, guys.