By Rob Scott / @robscott33, from Brunel University, London
Standing room only, sweat hanging heavy in the air, the scorers table only a loose ball away from being destroyed. This is summer hoops as seen for decades, first on mix tapes and now online around the world. London has a big tradition of summertime basketball, with Midnight Madness tapes of guys like Pops Mensah Bonsu now legendary for their scarcity in the pre-YouTube era.
Sam Neter, the creator and owner of Hoopsfix.com, British basketball's home on the web, sought to bring some of that flavour to a new event, the Hoopsfix All-Star Classic. ELA is court side at Brunel University, on the far, far side of West London. In light of UK Sport withdrawing funding for the national teams over the winter, the event is a celebration of British basketball talent, culture and history. 
The event features an u16 All-Star game, dunk contest and u-26 All-Star game, featuring some of the best British talent, including professionals on the European scene like Dan Clark, Myles Hesson and Matthew Bryan-Amaning.
Watch the live stream HERE.
This page will be updated throughout the day.
18:10: White Team won the day, 87-85, in the dramatic finish everyone would have been hoping for. White led 82-69 with just over two minutes to go, but Black came flying back in to take it to the last possession. Orlan Jackman stroked in a three to cut it to 84-79, and a Dan Clark putback on a three-shot possession brought us to a three-point game. Matthew Bryan-Amaning went four-of-five from the line down the stretch though, and the White team saw out the victory, Clark stripped at halfcourt on the final play before Black could get a shot off.
Bryan-Amaning won MVP, with a line of 28 points (12-of-26 FG), 10 rebounds, three assists (and seven turnovers, but hey, it's an All Star Game).
17:33: Leicester Riders' Jamell Anderson just brought the house down, jamming home the lob from Will Hall on the break. His Black team still trail 84-75 though.
17:30: The game has gone very ragged, so here's a snapshot of my view instead of a report: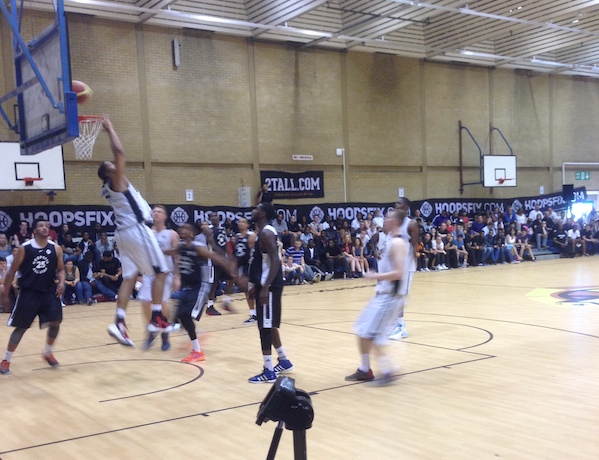 17:02: A word about the feel and atmosphere of the day. Funky Town London (you'll remember them from the Olympics, Euroleague Final Four, GB Internationals) are here, doing in-game commentary, and there's low level music playing throughout the game. This is normally the kind of thing that kills me about British basketball, the kind of thing that shows we just don't 'get it' compared to our European neighbours.
But for an event like this, I don't mind it. The crowd won't be that familiar with  a lot of the players - which is one of the main reasons Hoopsfix has gathered them together today - and in an All-Star, non-official game like this, it more or less fits the 'vibe' of the afternoon. So no complaints from me.
16:55: Half time, and the White Team is leading the Black Team by 37-35, after going up 29-17 at the first break. Dan Clark's shooting (4-of-5 3FG), Orlan Jackman's rounded inside/out game 6-of-11 FG) and Matthew Bryan-Amaning trying to channel Drew League Kevin Durant are the highlights.
Bode Adeluola of Hemel Storm is giving Devan Bailey a torrid time, at a generous 5'10" he's the archetype of a pesky ball-hawk on defense. The good news is the game is close, which should keep the crowd into it in the second half. The players came out hard from the tip, probably wanting to claim bragging rights amongst each other.
By midway through the second period, as the higher profile guys took a breather, the action got way sloppier, beginning to drift into the random collision of arms and legs of a pick up run. As long as the game stays close at crunch time, we should see the likes of MBA, Clark and Hesson take over.
16:30: Dan Clark is putting on a shooting clinic. After sitting out most of last year with various injuries, there's certainly nothing wrong with his stroke.
16:10: Sam has done a bang-up job on the  court. No multi-sport tramlines here. Dreaming of a day when every BBL floor looks like this.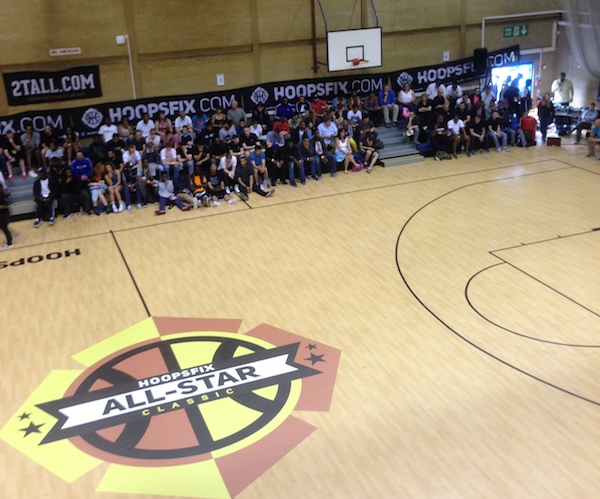 15:55: Myles Hesson won the Dunk Contest, which fluttered into life but never quite got going. Here are some of ELA's favourites:
Andrew Wilding jumps over a triple-decker:
Myles Hesson Spins 180
Robert Gilchrist throws down hard
14:55: Jelani Watson Gayle (Newham) was named MVP of the u16 game, which was won 76-68 by the Black Team. Watston Gayle finished with 14 points, 2 assists.
Perhaps typically for an u16 game, particularly one with improvised All-Star rosters, play was ragged at times. ELA arrived a little late but saw Kemar Hawes (Peckham) and Ayo Nuwe (Manchester) show off solid athleticism and driving ability to get to the rim.
Shooting was at a premium, Black finishing 3-of-18 from 3-point range, White going 3-for-13. We had eyes on Carl Wheatle (Angelico Biela, Italy) purely as a kid already at a European programme, and his versatility was evident, bringing the ball up but also defending the post. As he progresses up the age-groups, that will be less of a factor.
Coming up: Dunk Contest, u26-All Star Game. Find the rosters here.