By Rob Scott / @robscott33
This article will open with an apology: we have ignored Crvena Zvezda for far too long. Everyone knows about the atmosphere in Belgrade, but too little attention has been given to Dejan Radonjić's smart, rugged and charismatic young squad.
They sit at 5-3, good for second place in what has turned out to be the Group of Death. A Top 16 spot is already clinched, in just their second appearance in the post-2000 Euroleague, but why stop there? There are a whole bunch of reasons why they have a shot at making the playoffs. They would be the first Balkan side to do that since crosstown rivals Partizan made the 2010 Final Four.
MVP Marjanović
At the centre of it all, literally, is 2.21m Boban Marjanović. The gentle giant from Zaječar leads the Euroleague in Player Index Rating and rebounding, both by some distance. 'PIR' may be an imperfect measurement (is Taylor Rochestie really the second best player in the Regular Season?) but here's one that's more robust: Marjanović is the key element in a defense that has the third best defensive rating so far, behind only Anadolu Efes and FC Barcelona, two Final Four contenders with a budget to match.
But beyond a prosaic numerical calculation of his value, it's just cool to see a 2.21m player have this much impact in an era that has supposedly moved beyond the traditional big man. Euro-hoops kingmaker Misko Raznatović said in a recent interview that clubs aren't interested in big centres anymore. The evidence says that's true, which makes Marjanović's one-of-a-kind body and skillset all the more intriguing.
'Bobi' has been steadily improving over the past few years, but even last season there was still something of a novelty value about him. Like Sofokils Schortsanitis in the midst of his decline, he could only be used in limited situations. Not anymore. His minutes per game are up from 19:52 to 28:39, and he is the clear choice for Regular Season MVP.
Give him the ball anywhere near the rim and it's a dunk. The team has been adept at running little pick and rolls and especially some big-to-big passes from the savant that is Luka Mitrović, which are unstoppable. His touch around the rim has improved massively, and he doesn't need to always throw down, easy enough as that often is. He has a decent spin move in the low post and can finish with deft mini-hooks. Don't think about hacking him either, a very solid free throw percentage of 73.3%, on 45 attempts in eight games squashes that idea. His 17.4 points per game is good for fifth overall. Put simply, no team has an ideal answer for him, they just have to adjust how they react to the other elements of Crvena Zvezda's offense, and hope to compensate in other areas.
Perhaps even more than his offense though, he allows Radonjić to set up the defense in a way that has stifled its opponents. For example, even though they lost at home to Olympiacos in Week Four, they held the two-time champions to 62 points, and Vasilis Spanoulis to 4-of-12 from the field.
The video below shows how well Marjanović (#13) contained Kill Bill in pick and roll, something that has been beyond most Euroleague big men. This allows the four guys around Bobi to recover back to their assignment, minimising the need for complex rotations. It's low key on the face of it, but the way Marjanović moves his feet to fill that bubble of space that players like Spanoulis love to attack is invaluable. The zone in front of the rim is basically a no-go area, and his size also deters floaters and pull-ups from mid-range.
His defensive strength isn't just limited to patrolling the paint though. Not many teams really feature low post scorers that heavily anymore, but Marjanović can take that away too. Last week in Valencia it must have been dispiriting for Krešimir Lončar to try out his crafty, old-school, under-the-rim stuff. All Bobi had to do was maintain his position and keep his arms up. It's extremely likely that Crvena Zvezda will meet Barcelona in the Top 16, so mark your calendars for his battle with Ante Tomić. Did I mention he has only committed 15 fouls in nearly 230 minutes? Like we said. For the Regular Season at least…. MVP.
Young Serbs run free
Another appealing thing about this team is that it's based around young Serbian talent, with a sprinkling of American swagger. 1993-born Luka Mitrović is the coolest player in Euroleague this season. Players like him are few and far between. He plays the power forward role, and has the length to do so at 2.04m, but brings together a guard's ball-handling, dribbling and passing ability. Often he will set a ball screen, pop out to the perimeter then attack off the dribble from there. If Bobi is a back-to-the-90s true five, Mitrović is a modern, face-up-, multi-talented four, and it seems like he has the skills to play on the wing just as easily.
It's the passing that really grabs attention. Against Valencia last week he attacked the baseline, flew past his defender and delivered a perfect wraparound pass to Marjanović for, yes, a dunk under the rim. There just isn't much hope that even the better-defending power forwards would be able to stop that. He's shooting 40% from three-point range in the ABA (on 10-of-25), 29.2% (7-of-24) in Euroleague. He barely took any shots from there last season, and his stroke doesn't look totally smooth, but if he can raise that aspect of his game to where the rest of it is, then yikes. If he can force defenders to close out at speed, that's even more space to use those guard-like powers to full effect.
Nikola Kalinić is the team's spirit animal. He gained in familiarity during the World Cup Championships in Spain this summer, as the Serbian team's all-purpose bundle of energy off the bench. This is probably the most Nikola Kalinić play ever: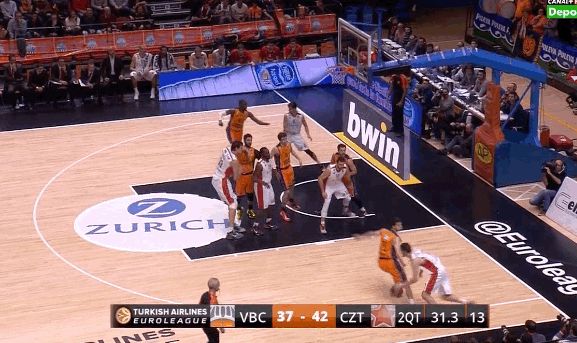 As much as that scramble on the floor characterises his commitment to putting his body on the line, it would be wrong to mark him down just as some goofy terrier. He has a great sense of when and where to cut, pretty decent athleticism and a really high basketball IQ. He might be earning cult hero status from his all-action style, but there's a smart and useful player underneath it all.
Last chance saloon
It would be impossible to mention Crvena Zvezda without talking about Marcus Williams. The former UConn playmaker is an acquired taste to the Euro-hoops community, and a pretty sizeable percentage of it won't ever warm to him. I'm not one of them. In that same interview, his agent Misko Raznataović revealed he's on a lower salary than in previous years, and coming to Belgrade wasn't seen as an upward move. This might be the last chance to show he can run a team at a meaningful level, and he's still a guy who always wants to take the shot, whether the last dozen went in or not. The consensus after his last stop at Lokomotiv Kuban ended in failure to progress past the Top 16, and in throwing away a 2-0 lead to CSKA in the VTB playoffs, that you just couldn't win at the highest level with a point guard who's first instinct is always to look for his own shot.
It's been compelling to watch him walk that tightrope. It's clear that the best and worst thing about MWill is that he will always just keep shooting the ball. The upside is him stroking in four three-pointers in a row in the second quarter in Valencia. The downside is the pair of step-back jumpers he missed at crunch time in that game, although Zvezda went on to win.
But the downsides have been less frequent this season, and he seems comfortable in his own skin. When he goes to that killer crossover to create space, his floater is pretty damn hard to defend, and he has shown much more willingness to look for others than in past seasons. Williams is a chance a team with Crvena Zvezda's budget has to take - if he could do everything he does, with less risk and more efficiency, they could never afford him. Seeing him thrive, and be given the licence to do what he does, is a satisfyingly contrarian riposte to the efficiency-fascists who demand robotic perfection from their point guards. Call it a guilty pleasure if you want, but I don't even feel remotely guilty.
Williams is backed up by Charles Jenkins, whose halfcourt playmaking is a little suspect, so if either goes into a drought then points the offense can get a little stagnant. Mitrović, Nemanja Dangubić and Jaka Blazić can all get their own shot though, and they're a dangerous team in transition, especially when Mitrović grabs the defensive board and takes off down the floor himself. This combination of great defense and transforming turnovers into 'free' points will become even more important as the quality of the opposition goes up.
Looking into the Top 16, it's likely that their opponents will be Real Madrid or Anadolu Efes, FC Barcelona, Maccabi Tel Aviv, Panathinaikos, Galatasaray or Neptunas,  UNICS or Zalgiris and ALBA Berlin. Given the advantage of 20,000 fanatics in Belgrade, no bad luck with injuries and the good Marcus Williams, I don't see any reason why they couldn't take fourth spot in that group and bring Euroleague playoffs back to Belgrade. It's been way too long.