By: Rob Scott / @robscott33
Juan Carlos Navarro became the Euroleague's all time leading scorer. Dimitris Diamantidis scored 6 points in 15 seconds to snatch a one point win for Panathinaikos in Malaga. Caja Laboral reversed their collapse from last week to catch up with and outlast Fenerbahce in overtime. Spirou Charleroi pushed Real Madrid all the way, as Serge Ibaka showed for the first time why his NBA athleticism might be useful back in the Old Continent. Prokom came within two Donatas Moitejunas missed threes from getting their first win, in regulation then OT. Even KK Zagreb won again. Quite the night in our beloved Euroleague.
So, of course, the later game your correspondent ended up watching all of was SLUC Nancy's 76-75 win over Bennet Cantu, in which Nicolas Batum sat the final 6:17, scored only 4 points, and another potentially classic dramatic buzzer beater ended with Cantu taking an open layup on the final possession when they were down three. Ho hum.
Thankfully, it wasn't too late to tune into the game in Malaga to see three three pointers in the final fifteen seconds – one to take the lead from Kristaps Valters followed by two from Dimitris Diamantidis. End of game coaching and shot selection proved to be a crucial factor in how last night's cookie crumbled.
Obradovic ran a play specifically for three points and the win rather than going hard inside to try and take the game to overtime. This followed two conventions: first, that you want to avoid overtime on the road, and second, that if Dimitris Diamantidis is on your team, and has already made 6/10 from behind the arc, including one a few seconds before, you can probably trust him to knock down another. The play itself was expertly drawn up with a pick and roll by Calathes and Vougioukas diverting attention from Diamantidis and Kostas Kaimakoglu on the weakside – Berni Rodriguez got caught on a back screen by Kaimakoglu—was it an offensive foul? Depends if you think the refs should swallow their whistles at times like this—and that small separation was enough to wrongfoot the Malaga defense and let the game slip away.
Still, Diamantidis had to catch the pass, take a dribble to his right and square his shoulders – that's why the screen was so vital, it gave him the split second he needed to escape the defense and that's all it took.
The commentators were questioning, during the timeout that preceded Diamantidis' heroic shot, whether Malaga should foul to prevent exactly the scenario that unfolded – losing the game on a three ball. After the event, those questions have been amplified. There was obviously no attempt at a foul – Malaga played to win the game in regulation – the problem was their poor execution.
It's easy to say they should have fouled, or perhaps they should have gone box and one, or at least aggressively face guarded Diamantidis; it was no surprise to anyone that the ball ended up in his hands, and the worst case scenario for Unicaja came to life. The play was expertly designed and executed, but Jorge Garbajosa had to know that he must switch off Kaimakoglu to stop Diamantidis getting a clean look.
The second worse case was overtime, but with Joel Freeland struggling for the entire game, Diamantidis obviously on fire, and the fightback from a double digit deficit already sapping their energy, I don't blame Chus Mateo for keeping victory in regulation on the table – taking it off by either fouling outright or overplaying the three and allowing an easy two would have been a cop out. Not to mention the possibility of PAO rebounding a missed FT for the win, a turnover from the inbounds or a quick PAO foul resetting the whole scenario. It's easy to justify fouling as the 'right' strategy, but the optimum one would be to defend the play better and get the win there and then.
Don't sleep on the contribution made by Vougioukas in the final 90 seconds either – a tip in dunk and a block at the other end helped set Diamantidis up for the hero role. The way that all five players ran a set play to perfection under the highest pressure speaks to how well Obradovic's entire team functions. Dramatic as any buzzer beater is, for me the final play was a thousand times more satisfying than one guy clearing out and isolating.
Elsewhere
Back to the game in Nancy, where the hosts showed that they don't only rely on Nicolas Batum to get things done. The NBA star had a second successive quiet game, spending large parts of the second half standing in the corner on offense, as Pape Amagou, Jamal Shuler and Victor Samnick all stepped up offensively as Akin Akingbala cleaned up the boards.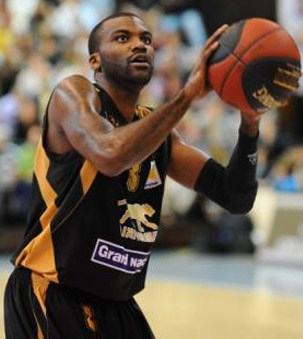 Batum did contribute—an emphatic block on a Micov layup, turning on the speed to race ahead on the break and dish to Linehan in the corner—but Nancy sealed the game with him sitting on the bench. He had effectively been resting for a few minutes before, whilst still on court, and with five active bodies instead of four, there was a new energy to the home team. Batum is going to have to be a major part of their game if they are going to make it to the Top 16, but a little more designed rest for Nicolas might not be the worst idea for coach Monschau.
There is still all to play for in Group A, with no team looking like a potential Final Four contender and only Caja Laboral partially living up to expectations, although their collapse last week against Bilbao showed that any of these teams is capable of beating the others.
It's a testament to the organisation of coach Andrea Trincheri that Cantu are able to hang with any Euroleague teams. Lacking anything approaching 'star power' they rely on fundamentally sound defense, limiting turnovers (11.8 per game, 4th lowest) and a motion offense with great spacing and a constant outlet – often Maarty Leunen. The trouble is, they don't have anyone who can beat his man off the dribble or anyone that can make bad shots. Eventually, defenses are going to close off the options and when that happens, some improvisation is often necessary.
A last word for the game in Madrid between Real and Spirou Charleroi. Both sides used superb execution at the offensive end to rack up the points, and this was a fantastically entertaining game. Serge Ibaka finished with 12 points (5/6 FG) 9 rebounds and 5 blocks for a 24 ranking. Charleroi doesn't have a dominant inside presence, but when did they venture into the paint, Ibaka had no sympathy. In Eurobasket it wasn't until his outbreak of blocks and general defensive mayhem in the final that he finally looked like he belonged in European hoops, and last night's game could be a similar awakening.
Marty Pocius was also assertive, powerful and direct, crucially keeping Madrid's offense going in the second half as they had the greater depth once Justin Hamilton and Chris Hill fouled out. Madrid still has defensive questions, but looks to be rounding into form very nicely indeed.
Rob Scott writes Switching Screens every Friday. Follow Mr. Scott on "The Twitter" at @robscott33.