By: Nick Gibson and Rob Scott
Most Thursdays and Fridays, we Euroleague fans gather around our computers and absorb the action through whichever streams are either the most legal or the least choppy.  But once a year around late March, my attention is drawn out of its European viewing lair, pinned in a steel trap and dragged away to the NCAA tournament's opening weekend.
Now, with the field whittled down to 16 and the second four-day basketball orgy upon us, it's time we pick an NCAA Champion the only way we know how: look at each school's alumni, find the players who made the journey to Europe (or any other foreign shore), then spread those résumés out on a table to see whose collections of talent belong in Atlanta.
We'll start in the Midwest, where Syrian basketball legend Samaki Walker gets hungry.
MIDWEST
#1 LOUSIVILLE vs. #12 OREGON
Lousiville: Taquan Dean, Jerry Smith, Samaki Walker, Kyle Kuric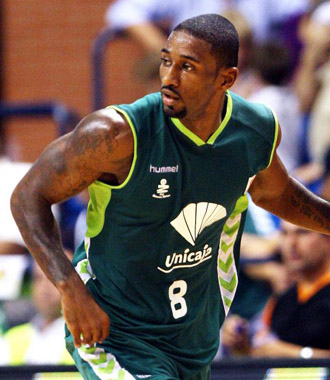 Let's hearken back to 2009-10, when Taquan not only blogged for Euroleague Adventures, but also captured the essence of American guard in Europe in a single season: nine Euroleague games in Unicaja early, a dash of Spanish League action before four more EL contests with Caja Laboral in the middle, and he completed his tour with Kavala for four Greek League games in April.  It's been four years since his last Euroleague sighting (Italy, Turkey, back to Spain, Italy again), but he once made seven threes and scored 30 against Orleans in 2009 and nobody-NOBODY-can take that away from him.
Jerry Smith got hurt after just four short Euroleague weeks with Cantu this season, meaning his biggest contribution thus far was giving us an extra dose of Jonathan Tabu down the stretch.  Kuric's greatest accomplishment to date is not scoring 22 against Caja Laboral or against Murcia as a rookie in Spain, but simply remaining on the roster for 26 weeks. For an American fresh out of school, that qualifies as staying power in the ACB.
And if you thought Samaki Walker was content with the NBA Championship ring he won with the Lakers in 2002, you're sadly mistaken.  The former ninth overall pick did tours in Russia (Unics Kazan), Lebanon, China and South Korea before leading Al-Jalaa Aleppo to a Syrian League title in 2011.
In that same banner year, Samaki proved you can have your weed and eat it, too.
Oregon: Malik Hairston, Maarty Leuenen, Luke Jackson, Bryce Taylor
Malik Hairston's Euroleague playoff debut didn't go too well: 10 points, four rebounds in a 48-point loss to Olympiacos.  Malik's team at the time, Montepaschi Siena, scored four points in the first quarter and somehow topped that with five in the second. That's nine at half; they finished with 41.  But Malik followed that up with scoring performances of 19 in game two and 25 in the fourth and Final-Four-clinching contest.  He laid an egg in the Final Four and has been putting up the occasional big number for a high-paying, non-contending Milano club ever since.
On a team full of 'glue guys' in Cantu, Leunen is often recognized as the club's gluiest. His entire existence is founded upon his contributions outside the box score, but here's one anyways.  A very Leunen-esque glue show, indeed.  Bryce Taylor put up 10.5 ppg in the Eurocup this season for Artland Dragons of Germany, meaning he has made the jump from web-footed fowl (Duck) to fire breathing medieval reptile.  He should be commended for this.
And Luke Jackson. Y'all remember him? Of course you do. He was drafted 10th overall to be LeBron's sidekick in Cleveland, and ended his career seven seasons later as D.J. Strawberry's sidekick in Jerusalem.
Advancing: Oregon. Mainly because Samaki was high off his ass.
#3 MICHIGAN STATE vs. #2 DUKE
Michigan State: Erazem Lorbek, Paul Davis, Alan Anderson, Kalin Lucas, Raymar Morgan
Has there ever been such a thing as an Erazem Lorbek highlight?  The Euroleague's Rising Star in 2004-05 doesn't do much actual, real-life rising, as his sneakers often seem loosely glued to the floor, but the Slovenian has certainly fulfilled his projection as a star.  Lorbek was an All-Euroleague second teamer twice, a first teamer once and has won national championships in Russia (CSKA Moscow), Spain (Barcelona), and Italy (Fortitudo Bologna).  And that hair is parted with the expertise of a strict Catholic mother.
Paul Davis parlayed his Sevilla success into a Euroleague gig with Khimki Moscow and based on his stupendous play there, he shouldn't drift too far from Europe's top league in the future unless it's a second shot at the NBA (just stay here though, Paul. Really.).  You could easily make the argument that he's been the best big in Europe since December.
Kalin Lucas tried to stick it in the Euroleague straight out of college and-as is usually the case-didn't make it through a season with Olympiacos. He's since landed on his feet with Banvit in Turkey, and seems to have 'what it takes' to make it in Europe. But what the Hell do I know?
Anderson found his way onto Euroleague rosters for four straight seasons with four different teams and somewhat amazingly averaged double figures for all of them.  His last European stop was with Barcelona in 2011, after which he took a backwards step and signed with the Raptors.
Raymar Morgan has been throwing down one vicious dunk after another all across Europe was cut from Netanya of the Israeli League in late February.
Duke: Trajan Langdon, Shelden Williams, Martynas Pocius, Daniel Ewing, Danny Ferry, Jay Bilas
The Alaskan Assassin could probably see Russia from his house growing up, so it's no wonder Langdon's best years as a pro were the five he spent with CSKA Moscow, where he made the Euroleague Finals an insane four times.  He won titles in 2006 and 2008, and was named Final Four MVP of the latter for scorching Maccabi for 21 points on just seven shots in the final.  I could rattle off some other accolades, but his spot on the Euroleague's All-Decade squad probably says enough.
There were only two other Americans on that All-Decade team (one and-a-half if we're taking J.R. Holden's Russian passport into account), and one of them was Shelden Williams' brother-in-law, Anthony Parker.  While the Landlord might never see Eurostardom like Candace's brother, he did pull down the third-most rebounds per game in the Euroleague regular season this year with Elan Chalon-sur-Saone.
Pocius has had an interesting road to Europe's richest and most championship-laden club: highly-touted recruit goes to Durham, plays sparingly, gets hurt, redshirts, skips his senior year to play for Zalgiris, plays his way onto the Lithuanian national team, wins bronze at the 2010 FIBA Worlds with them (and played in London this past summer), then gets the call-up to Real Madrid where he now enjoys all sorts of luxuries like having his jersey washed for him and getting paid on time.  And in international play, he's an equal opportunity rim rattler: North America, South America, Africa.
Daniel Ewing has stuck around on either Eurocup (Khimki, Azovmash) or Euroleague  (Asseco Prokom, currently with Besiktas) clubs since 2007, which is tougher to do than it may seem.  I miss the good ol' days when he, David Logan and Qyntel Woods actually won a few basketball games in Gdynia, Poland.
Know how badly Danny Ferry didn't want to play for the Clippers back in 1989?  He bolted to play for Roma after Los Angeles picked him second overall.  He then returned to Cleveland, where he played 723 games (or 677 more than Luke Jackson).
Jay Bilas' Wikipedia page says he was a 20-10 guy in both Spain and Italy, but I've found neither box scores nor Jeezy-themed tweets to support these claims.  I choose to believe this on faith alone.
Advancing: Duke.
-Gibson
WEST
#9 WICHITA STATE vs. #13 LA SALLE
Wichita State: Jamie Arnold, Maurice Evans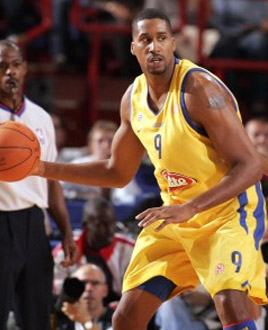 Arnold was part of DKV Joventut's 2004 starting frontcourt with Rob Scott's oldmancrush Zan Tabak, and Rudy Fernandez (another Scott favorite), so it should be tough to take out the Shockers in this pod.  The Israeli (check the passport) from Michigan averaged between 16 and 20 ppg in all three of his Eurocup campaigns (two with Joventut, one in KRKA Nova Mesto) and while he only averaged 7.5 in two seasons with Maccabi, he showed up big time against big, bad CSKA in the 2006 Final with 14 points in 17 minutes. You know who he backed up on that Maccabi team?  Maceo Baston, Wolverine. He might show up later.
You probably think Nikola Mirotic is pretty good, yeah? But look who's three points ahead of him on the Euroleague's all-time scoring list: Olympiacos' and Benetton's own Mighty Mo Evans, with ankle socks and bald dome ashinin'.
La Salle: Stephen Smith, Tony DiLeo
Green all in Smith's rang, but he mostly sat and just watched.  But, Smith's head was once used as a pillar of celebratory support for Dimitris Diamantidis' hand, which trumps being knighted around these parts.
Does that second name look familiar?  Think: other Big Five schools.
There it is. Temple. Tony's son T.J. is (or was; Temple lost to Indiana in the Round of 32) a senior guard for the Owls. But Daddy DiLeo did something far more novel than simply playing and coaching in Germany before becoming the Sixers GM.  He penned the European Basketball Handbook, designed to help American hoopers make the transition to Europe, complete with "information about insurance, differences in electricity, passports, types of contracts," and, I presume, other helpful stuff.
Hopefully he gets T.J. to sneak a copy into Khalif Wyatt's duffel.  I pray to Lord Darko for his prompt arrival on European shores.
Advancing: Wichita State. When you're rollin' with Tabak, watch out for the Shock, as they should say.
#6 ARIZONA vs. #2 OHIO STATE
Arizona: Joseph Blair, Robertas Javtokas, Loren Woods, Will Bynum, Robertas Javtokas (!), Miles Simon
The Blair Swish Project made the All-Euroleague second team with Scavolini in 2001-02 and then shipped off to Ülker the following year where he averaged 15.7 ppg and won the Euroleague's Regular Season MVP, an award which no longer exists but probably should. Blair also played for PAOK and Armani Jeans Milano and was second in rebounding average for the decade (2000-2010) and third in index rating.
But European Arizona Wildcats like to punch people in their faces.  The footage of Blair's hit has been deleted from YouTube (shucks), but here's the guy's face after the JoJo Fight landed his blow.  And only weeks earlier, the lanky Loren Woods whacked someone while with Zalgiris, and here's that video…uh, maybe not.  That one has been deleted, too.  You've won this round, Lute Olson.
So where were we? Robertas Javtokas.  The Hammerhead.  The buzz cut.  The stroker of threes three. The big Lithuanian played one season for Coach Lute in 1999-00, appearing in eight games and putting up a solid 0.8 points and 1.3 rebounds per before heading back to Lithuania to play ball for money.  Shame, if you're a Wildcat fan.  They could've used Robby J in their NCAA Finals loss to Duke a season later.
Especially if it had been played on a 12-foot rim.  Here's Robertas in the Lithanian League dunk contest with Lietuvos Rytas, where the big guy set a world record.
And Arvydas Sabonis didn't pass the torch to Javtokas.  Robertas committed armed robbery and took it, loudly.
We've already shown Will Bynum do this before, several times, and Miles Simon earns a spot here more for the incendiary run he, Mike Bibby and 'Zona made back in 1997, beating three No. 1 seeds en route to a championship, and less for the seasons he played in Israel, Italy (twice) and Turkey afterwards.  But Simon was born in Sweden.  Europoints awarded.
Ohio State: Shaun Stonerook, Scoonie Penn, David Lighty
Stonerook came right out on our podcast and said he'd pick his Ohio Bobcats over the Buckeyes every time out, so that sort of diminished the value of his illustrious career in this format. The recently retired Siena captain played two seasons for Ohio State before finishing up down the road in Athens, Ohio.  He played ten seasons in Italy, the final six of which were spent as a visual mainstay in the center of Montepaschi Siena's persistent defense.  And by visual I mean, Jesus, take a look at the man's fantastic locks.
Neither Scoonie Penn the player nor Scoonie Penn the name got any less cool during six Euroleague seasons for four different teams in four different countries, so that has to be considered an all-around success.
Lighty was cut from Cantu in the midst of the Euroleague season.  For the zillion and seventh time: BEWARE THE COLLEGE-TO-EUROLEAGUE JUMP. The chasm is wide, its depths dark.
Advancing: Arizona.  The guy who finds me an Arizona jersey with 'Javtokas' on the back gets the draft rights to my first-born child.
-Gibson
SOUTH
#1 KANSAS vs. #4 MICHIGAN
Kansas: Aaron Miles, Sasha Kaun, Kenny Gregory, Keith Langford, Micah Downs (transferred to Gonzaga)
The Jayhawks 'lineup' is up and down. On the up? Kaun has leapfrogged Nenad Krstic in Ettore Messina's affections and is the starting centre on one of the favourites to win this year's Euroleague. He also has a bunch of Russian and VTB League medals, but those kinda come with the territory at CSKA. On the other hand, Langford disappeared in the summer of 2012, last seen boarding a plane from Tel Aviv to Milan.
Fleshing out the rotation, Aaron Miles did a couple of Euroleague tours in 2006-07 with Pau Orthez of France and 2009-10 with Aris in Greece. Kenny Gregory was (British) BBL MVP in 2002-03 and followed that with a French Championship with Le Mans and four solid Euroleague campaigns, dropping a 30 index rating as recently as 2011. Granted, it was against Roma, but it still counts.
The last word, and first video highlights, go to Micah Downs. He transferred to Gonzaga after only a year in Lawrence, but since the Zags' upset loss to Wichita State would have robbed us of the chance to play not only this clip, but any Jeremy Pargo tape, we had to get it in somehow:
…oh, and then there was the time where he dunked all over Fran Vazquez. Twice. In one game.
Michigan: Maceo Baston, Louis Bullock, Rumeal Robinson
So, maybe Sasha Kaun gets that Euroleague championship this year, but you know what Maceo Baston has? Two of those bad boys. Back to back. Starting at centre on the classic Maccabi teams along with Anthony Parker, Nikola Vujcic and Sarunas Jasikevicius, they roasted Skipper Bologna 118-74 in 2004 and then downed a Tau Ceramica side featuring Luis Scola, Jose Calderon and Arvydas Maciuaskas the following year, 90-78, behind Baston's 18 and 7. In 2006 he returned to the Final with Maccabi and while they lost 73-69 to CSKA Moscow, Baston grabbed 15 boards, still the record for a Final in the Euroleague era.
The Wolverines also provided another of the more prominent Americans of the 00s in sweet shooting guard Louis Bullock. Most notable for his 2004-2010 spell with Real Madrid, he won an ACB title in 2005, with the Finals MVP to go with it. He followed that in 2007 with the ACB and ULEB Cup double. Oh, and a guy called Rumeal Robinson, whose career/life story in brief, from 1990 to 2011 goes: #10 pick in the 1990 NBA Draft, six year NBA career (7.5ppg, 3.5apg) Skipper Bologna, KK Zadar, jailed for six and a half years for bribery and fraud. But let's not let that spoil this baddass Louis Bullock clip:
Advancing: Michigan. #CountDaRingz
#3 FLORIDA vs #15 FLORIDA GULF COAST UNIVERSITY
Florida: Nick Calathes, Matt Walsh, Taurean Green, Alex Tyus
This is just as much of a mismatch in our imaginarium as it is in the real world. Calathes won a Euroleague title with Panathinaikos in 2011 as a key member of the backcourt. He really emerged in the epic playoff series defeat of Barcelona and recorded a career high 24 index ranking in the 77-69 semi final win over Montepaschi Siena. He also has a pair of Greek league titles and a bronze medal from EuroBasket 2009 with Greece. That all earned him a big money move to Lokomotiv Kuban last summer and he has led the Russians to this year's Eurocup final.
Walsh has had a decent if bumpy career this side of the pond, winning back to back Belgian titles with Spirou Charleroi from 2007-09 and league MVP in the second of those. He had a nice cameo with Union Olimpija the year after that, putting up 17.3 points per game in Euroleague, but hasn't cracked the real elite level of the European game.
Taurean Green won back to back NCAA titles but has floated around several of the smaller teams in the top European leagues. He's best known as a ringer for Georgia (the country) which probably doesn't go down too well at home as a Florida native and Gators legend. Alex Tyus did a pretty decent job for Mapooro Cantu before injury this year, but hasn't yet done much to write home about.
Florida Gulf Coast University: Alexander Blessig, Christophe Varidel, Filip Cvjeticanin
FGCU is on the Gulf Coast, which means it's probably a really pleasant place to spend four years at college. Certainly the trio of Europeans in this year's upset-merchants should be pretty psyched they get some national attention for their wins over #2 Georgetown and #7 San Diego State, and that they live near a beach. But other than that, Calathes alone is enough for this contest to be over quickly.
Advancing: Florida
-Scott
EAST
#4 SYRACUSE vs. #1 INDIANA
Syracuse: Leo Rautins, Andy Rautins, Preston Shumpert, Eric Devendorf, Kueth Duany
The elder Rautins recorded the first two triple doubles in Big East history with the Orangemen and spent some very successful years as a pro in Europe.  After the apple froze close to three in Central New York, Andy did a tour last season in beautiful Alicante, Spain, before relocating to Tulsa, Oklahoma this season to play for the 66ers of the D-League.  I know the former Knicks draftee wants back in the league, but ain't much wrong with Spanish sand.  I bet he saunters back our way before too long.
In Syracuse's thick, orange, non-NBA bloodlines, Preston Shumpert has been the most effective outside of U.S. borders.  Three EL seasons in Italy and another trio in Turkey, where he'd hit big shots and play tough defense.  Career highs include 26 against Olympiacos in 2006 when he was with Milano, and an index rating, also 26, while with Efes Pilsen in 2010.
The way Eric Devendorf throws hands, you'd think he went to Arizona.  First, he was suspended from the Syracuse team for an altercation (Devendorf claims it was strictly verbal) with a female co-ed several blocks away from where Sam and I were living at the time (Watson Hall, stand up), Then as a pro, he made a splash with the Waikato Pistons in New Zealand with a 49-point debut before getting in a bar fight, spending a night in jail and then finding out he was released (from the team) after he was released (from jail).
Rough day. Now he's in Ukraine with Dnipro Azot.  Guard your grills.
Kueth Duany played in Europe.  There. That's all either of us need to know in order to know enough.
Indiana: Bracey Wright, …
Wright was one of the first names that dilated my pupils when I dipped my toes into the Euroleague five or so years ago.  I loved him in college and he's been an underratedly-consistent scorer at all of his six European stops.  He put up 13.9 points a night with Cedevita Zagreb in the EL, combining with Mickeal Gelabale to make an occasionally dangerous tandem depending on the competence of the supporting cast, which varied quarterly.
I'm sure there's someone else of note. However, one glance at Indiana's opponent and I'm strangely dissuaded from conducting further research. So…
Advancing: Syracuse
#3 MARQUETTE vs. #2 MIAMI
Marquette: Dominic James, Joe Chapman, Travis Diener, Jerel McNeal
James hasn't risen through the ranks very quickly across the pond, and now plays for Evan Fournier's old team, Poitiers, in France.  Up north in England, Joe Chapman was once MVP of the British Basketball League.
Travis Diener probbaly tops this list of Eagle alums, and mainly for the season he had this year with Dinamo Sassari in the Eurocup: 15.2 points and 8.5 assists in six games. He had 15 dimes in this one.
And since you asked, he plays on the same team as his brother, Drake.
The Belgian beer wasn't enough for McNeal, who took a trip to Amsterdam in 2009 while playing for Belfius Mons-Hainaut and returned to test positive for Samaki Walker's snack of choice and get suspended.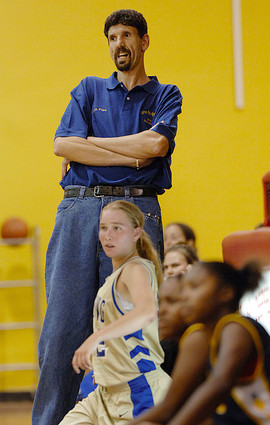 Miami: Tito Horford, Constantin Popa
Al's Daddy played in Spain, and would be one-half of a devastating alumni backcourt. Better yet: one-third. That's because Constantin Popa is a Romanian-born, Israeli-passport-wielding, 7-foot-2 inch collection of sharp knees, sharp knees, and garnished with a robust goatee who finished his career as the Hurricanes' career leader in blocked shots.  He split his professional years between Pau-Orthez in France and both Hapoel Jerusalem and Maccabi in Israel and suited up for the Romanian and Israeli national teams.
He was most recently seen crossing his arms disapprovingly at a middle school girls basketball game while sporting what were almost certainly custom-made Dad jeans.
Advancing: Miami. Look at the man.
-Gibson
Let's blaze through the rest of these like Jerel McNeal in a Dutch coffee shop on a lazy Sunday…
Elite Eight: Duke over Oregon in the Midwest, Arizona over Wichita State in the West, Michigan over Florida in the South, Syracuse over Miami in the East.
Final Four: Trajan Langdon inches past Joseph Blair in a battle of similarly accomplished and worthy opponents and Duke advances to the finals to face Michigan, who overpowers Syracuse with their Bullock-Baston inside-outside combination.
The Finals: Bullock and Baston pool their funds, bail Rumeal Robinson out of jail and put together a complete offensive effort against the Devils, who are led by Coach K and his Olympic Gold. And while Langdon choked late in the 1999 Final Four against UConn, remember: this is a European Final Four.  That's where Langdon lives. Duke takes it.