By: Slam
January 27, 2010 - Real Madrid vs. Efes Pilsen
Walking out of the Vista Alegre metro at night, you can feel the excitement of a Real Madrid basketball game  around you.  This the beginning of the Top 16 and a perfect platform for my first Real Madrid game.  I walk into player warmups, fans screaming, drums beatings, flags waving, as I like to say: "basketball at it's purest".  With tip-off on the near horizon I settle into one of the last media seats available and get ready for some Madrid vs. Efes Pilsen action.  It's sloppy. Not only the first quarter, but the entire first half of play.  Pilsen leads 33-30 heading into the break, but the highlight for me was finally seeing my crush Sergio Llull come in and nail a 3.
The 3rd quarter is just one long shooting exhibition as the teams match bucket for bucket.  What I've really come to enjoy is the bad calls made against the home team.  These are the moments when the fans just go bonkers and the arena is at an impossibly high decibel level.  Have to love it. A real home court advantage is fans making noise when they should, not just when the scoreboard tells them to.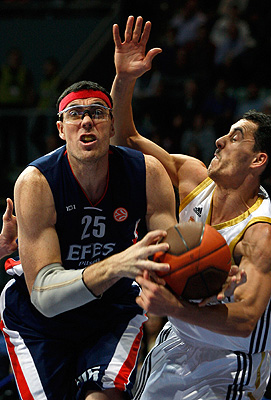 With the fourth quarter upon us, I finally get to see some serious scoring from the man that has taken over this Real Madrid team, Marko Jaric.  His ballhandling skills are some of the best around Europe, and when he gets it going he's as dangerous as anyone.  Bojan Popovic, Efes Pilsen's new point guard acquisition is finally getting some run, and is showing off his team management abilities.  Pilsen keeps it close all game but doesn't have enough fight left in them at the end, as Jaric takes over and Llull hits a dagger three to give Real the 77-70 win.
One thing I noticed from being at the game versus watching it on TV was that Pablo Prigioni is the true leader of this team, no doubt.  He is the starting point guard, and when things start going badly, Coach Messina tries to get him in as soon as possible to keep the team together.  Other noticeable things were that Novica Velickovic and Sergio Llull are the two players that when inserted seem to real bring the energy and give the crowd a lift.  This is only my first game, but what a magical experience it was and I can't wait to come back for some ACB action.
January 31, 2010 - Real Madrid vs. Unicaja
With one Madrid game under my belt, I now walk around here like a veteran.  This second game is a lot different than the first though because it is an ACB game against Unicaja on a Sunday afternoon.  While the arena is just as packed as the night Euroleague game, the atmosphere is not nearly as crazy.  The two story lines I'm looking for today are: 1) Which front court will be more productive? 2) How will Juan Dixon fit into this Unicaja offense? Right within the first few minutes I can already sense we got a run and gun, up and down, Slam style offensive game on hand.  Juan Dixon is everywhere with the ball but the Unicaja big men must have greased up their hands before the game because everything is slipping out.  Jaric is playing very well and Madrid takes a 22-16 lead going into the 2nd.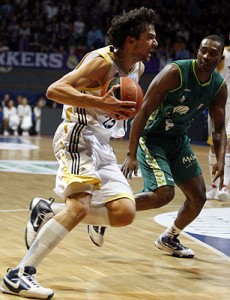 Some differences between a European basketball game and NBA game you will notice is that the scoreboard is not always changing like an NBA arena, it just stays the same with the rosters on the board.  This means there are no replays and there are no fake scales telling when the crowd when to get louder; they know when.  Lastly the games are basically twice as fast with fewer stoppages, timeouts, TV breaks, replays, and less extra entertainment.
New addition to Madrid Ante Tomic gets to show off his stuff in the ACB game, here in the second quarter.  He is crazy tall, long, and seems to have a real nice feel for the game.  He has a very nice hook shot followed by a very aware pass to Reyes in the lane for an easy 2.  We get to see Unicaja's youngster too as Rafael Freire gets in for a few minutes.  Freire would be the exact opposite of Tomic as he is a very little guard, but he shows some toughness with some good drives to the hoop.  The big personal disappointment for this game is that Unicaja's other young prospect Augusto Cesar Lima didn't make it up to Madrid for the game, and recently he has looked devastatingly good.  That's a small loss I'll have to move on from and Madrid goes into halftime with a 37-29 lead.
The 2nd half we see Unicaja finally get into some sort of offensive flow with Joel Freeland being the main man and throwing down some nasty dunks.  Dixon seems to be Unicaja's best perimeter player but he often settles for too many jumpers and can get out of control with the ball.  Nonetheless Unicaja works its way back to get a one point lead.  Madrid counters in the fourth with what I call their "Killer Lineup" with Pablo Prigioni, Sergio Llull, Marko Jaric, Novica Velickovic, and Darjus Lavrinovic.  Llull shines tonight as he goes scoreless entering the fourth then hits two 3's and finishes the quarter with 10 points.  He starts a 15-2 Madrid run that sees them pull away quickly and take the game 84-67.  This game was much closer than the score indicates but one thing is for sure, when Madrid's offense gets rolling they are close to impossible to stop.  This Real team is just too fun to watch and I wish my next match was sooner.