By: Freaknick
While folks are still buzzing about Dwight Howard's 9-block explosion the other night, another athletic forward was busy doling out the D in LA. Hint: his hair did not look like a bleach-stained windbreaker. Respect Serge Ibaka's pimpin'.
Lakers 95-92 Oklahoma City: Well, Pau played well, Kobe dropped 39, Artest shot poorly, Durant scored 32 and Westbrook was dynamic. That sounds like the formula for a 3-point loss to me.
Oklahoma City
Thabo Sefolosha: 2-7, 7 points, 4 rebounds, 3 assists, 3 steals
Nenad Krstic: 4-7, 10 points, 5 rebounds, 2 blocks
Serge Ibaka: 2-5, 6 points, 5 rebounds, 7 blocks (7 blocks! Let's get it, Serge.)
Lakers
Pau Gasol: 8-14, 25 points, 12 rebounds, 2 assists, 0 blocks
DJ Mbenga: DNP-CD
Sasha Vujacic: DNP-CD
Atlanta 96-86 Milwaukee: J-Smoooooove went for 21, 14 and 9 with 2 blocks.  JJ had himself 27 and 6 assists. You could make a Daily Top Ten from this game alone. Welcome to the Highlight Factory.
Atlanta
Al Horford: 8-13, 20 points, 10 rebounds, 1 assist, 2 steals, 3 blocks. Fill that statsheet, homie.
Zaza Pachulia: 0-2, 0 points, 3 fouls, 3 messages sent.
Milwaukee
Brandon Jennings (don't act like you're not curious): 3-15, 9 points, 4 rebounds, 2 assists, 1 steal. Haven't seen him play that badly since he was in Roma.
Ersan Ilyasova: 5-10, 13 points, 15 rebounds, 1 steal, 1 block. The best player on the floor tonight for Mil-town.
Carlos Delfino: 4-12, 0-4 from 3-pt, 8 points, 6 rebounds, 4 assists
Luc Richard Mbah a Moute: 4-8, 8 points, 4 rebounds
Primoz Brezec: 5:41 and nothing. Literally zero production. One foul though, so there's that…
Boston 106-77 Miami: Even with criminal Kevin Garnett on the sidelines, the Heat couldn't hang with the Boston. Ray Allen somehow scored 25. First volcanoes, now dinosaurs; are we in prehistoric times?
Boston
The city of Boston is anti-diversity and therefore employs no international players.
Miami
Carlos Arroyo: 1-6, 4 assists, 1 steal. I still legitimately feel as though Patrick Beverley will be starting at the point next season in South Beach. Mark it down in your legal pad.

Joel Anthony: 0-1, 2 points, 1 turnover. Your typical Joel Anthony game.
Jamaal Magloire: 0-2, 0 points, 1 rebound, 1 turnover. Remember when he was an All-Sta? Yeah, me neither.
Yakhouba Diawara: DNP-CD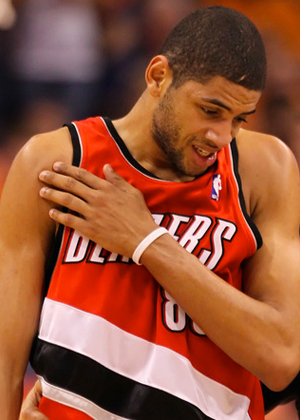 Phoenix 119-90 Portland: What the hell, Rudy? He's complained about his playing time all season and then gets a chance to start against a pretty free-wheeling defense and he scores 5 and then 5 again in around 28 minutes both nights. Last night, only got up two shots, both threes. When he drove he got fouled and made 5-6 from the line. Keep going to the hole young brother. Or come on back to Europe. Martell Webster ended up playing 35 minutes off the bench and led the Blazers in scoring with 16 to go with 5 boards. Uh-oh.
Portland
Rudy Fernandez: 0-2, 5 points, 3 rebounds, 2 assists, 1 turnover
Nicolas Batum: 4-8, 12 points, 3 rebounds, 1 assist. Batum left in the third quarter after jamming the same right shoulder that kept him out for 45 games last season. He'll get an MRI and said, "I'm sure I'm going to play the next game." I hope so.

Patrick Mills: 2-4, 1-1 from 3-pt, 6 points. Good for Patty, logging some playoff minutes.
Phoenix
Steve Nash: 5-11, 13 points, 16 assists, 1 turnover. I'd like to introduce you to Playoff Steve Nash.
Goran Dragic: 3-6, 2-4 from 3-pt, 8 points, 1 assist in 19 minutes

Leandro Barbosa: 3-11, 9 points, 2 rebounds