By: Freaknick/@euro_adventures
Firstly, I'd like to issue a disclaimer: this poll raises the question about my intelligence only as it pertains to my recent assertion that Greece is the seventh best team in the FIBA World Championships. I've already taken informal polls about my general intellect and results were, well, not encouraging.
With that said, I'm willing to stand behind my ranking and the accompanying comments concerning Hellas and their chances at this year's Giant Get-Together. It went like this:
7. Greece: Sofo and Bourousis play well off each other down low. Spanoulis scores, Diamantidis defends and the backcourt is set. But they can't keep entering tournaments without a single wing worth a damn. Seventh best ain't bad, but try telling that to the Greeks who'll be aiming their roadflares in my direction.
Those 'roadflares', as expected, have come disguised as words and laced with angry disbelief. The best ones:
-LOL, Greece at 7th with Turkey and Brazil of course ranking higher!!!!!!!

-LMFAO at Greece 7th. You obviously have no clue what you are talking about.

-You are either extremely lacking in European basketball knowledge or you are just trying to stir up hits for your website.

-Typical "american-blend" article. A team that has no NBAers does not have a chance right???
I'll stop short of defending my own sanity (filed under: lost cause) and say that all of these comments are valid. Greece is a damn good hoop squad. Their recent international résumé includes a bronze at the 2009 Eurobasket, 5th place in the Beijing Olympics and a Silver in the last FIBA World Championships in 2006. That's all well and good and I realize that neither Turkey nor Brazil—two of the most controversial inclusions in my top six—have come anywhere near this on the global level.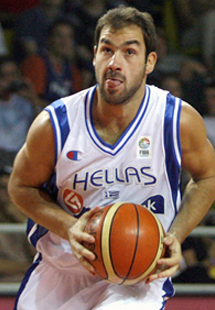 But I'd really rather cast aside past performances when making these lists. Or maybe we should boil up some formula to rank teams based on the past; oh wait, we have that list already and it's called the FIBA World Rankings. And they suck. Unless you think Angola and New Zealand are better than Croatia, Slovenia, Brazil and Turkey, in which case they're freaking brilliant.
Just because a team is perennially considered a 'power' by popular standards doesn't mean you (or I) are (am) required to go along with it. And in response to the comment about trying to drum up hits for my website with a cheapy shock value move: I'm stoked that folks are voicing their opinions but I legitimately believe Greece is in for a disappointment in Turkey. Is it not the elephant in the room that Stratos Perperoglou and Kostas Kaimakoglou are weak options at small forward? For my money, Kostas Papanikolaou might be a better fit for the team Greece is sending. At least—unlike Perperoglou—his length and athleticism comes with a hint of production and ability.
And let's say you're down and it's late. If it's not Spanoulis who steps up with some scoring, then who is it? If I'm playing Greece and they chuck it in to Sofoklis I send him to the line before he has time to bring the ball to his chest. And we've seen that Bourousis is a wonderful accumulator and complement to whatever scorers/drivers he plays with but still isn't much for creating on his own.
But in defense of Greece's defense, scoring on them might be about as difficult as it gets outside of Russia and Turkey. Even though I've thrown Perperoglou under the bus for his offensive shortcomings, he's one of the best the Euroleague has on defense and was huge as a change-of-pace for Drew Nicholas when the Greens lifted the EL Trophy two seasons ago. Fotsis and Tsartsaris add a little girth to Ioannis and Sofo, not that they needed any more of it, and what really needs to be said about Dimitris Diamantidis' effect on the opposing team's best perimeter scorer? In short, I've made it public that the Euroleague's Defensive Player of the Year Awar, won five out of six times by DD, should be renamed in his honor. Safe to say their defense will keep them from digging big, early holes for themselves, but on the off chance they do it'll be a slippery uphill climb without that extra killer from the outside.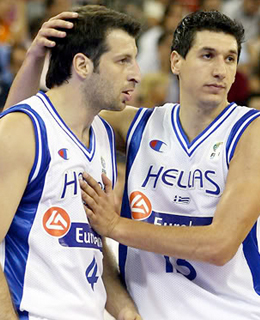 And lastly, let's consider the notion that the field has strengthened and deepened in recent years. More fact than notion, actually. It's true. A look at the Greek 2006 silver medalists reveals a very similar squad to the one they'll trot out this summer, minus Papaloukas, plus Bourousis and Calathes, but overall a stable core. That's a huge advantage to have on the chemistry side of things, but the other 23 teams haven't spent the past four years writing haikus about Greece's staying power. They've been busting their butts in an effort to become a globally relevant basketball program. If good for nothing else on this issue, my status as an American gives me permission to testify against complacency when it comes to these sorts of things. Sleep on the competition for just 17 minutes and Sofoklis Schortsanitis has gone 6/7 for 14 points and you're flying home from Japan dejected and confused (2006 World Championships for those who don't remember. I wish I didn't.). This is not to say I think Greece is complacent—on the contrary, they're one of the more focused teams year after year—but I really wish that one of two things would've happened:
A) Theo Papaloukas had decided to play one last event. Lead by example, go out on top, all that good stuff.
B) Greece had added some incendiary talent to their roster, if only for short bursts and momentum swings. Doesn't need to be a great player, just an exciting and energetic one.
But enough talk. Let's get down to the poll that will surely produce embarrassing results. Again, thanks everyone for commenting and I hope I haven't heard the last of them.

Loading ...