By: Nick Gibson and Sam Meyerkopf / @euro_adventures
Hakeem Olajuwon, David Robinson, Alvin Robertson and Nate Thurmond. Those are the only four NBAers to ever officially record quadruple doubles. In the Euroleague's modern era, only Nikola Vujcic has even gotten his mitts around a triple double (twice). But the quintuple double? Impossible.
Until now. Join us as we run through one hot topic after another, taking turns rattling off our top—or bottom—five for each. Since it's August 1st and we're staring down EuroBasket's barrel, the starting point was a no-brainer.
First up: Which guys need to elevate their games the most for their teams to find success in Lithuania?

1. Mantas Kalnietis | PG | Lithuania
You're the starting point guard for the world's most disproportionately basketball mad nation one summer after leading your team to a bronze medal at the World Championships. Oh, and you're hosting EuroBasket. Think there's any pressure on Mantas? Martynas Gecevicius and Tomas Delininkaitis are undersized combos, at best, leaving the ancient Sarunas Jasikevicius as Kalnietis' only associate in the ball handling department. When he slows his game down and shoots his gaps wisely, this Lithuanian team is dangerous. When he bounces around recklessly, you'd better change the channel.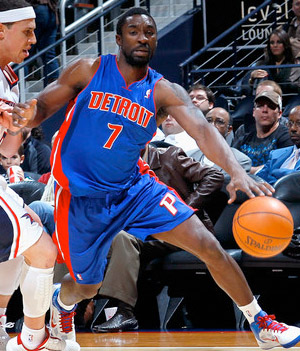 2. Novica Velickovic, Serbia | F | Serbia
This spot might've been reserved for Nemanja Bjelica, a youngster whom Dusan Ivkovic expects to play a key role in Serbia's future, but surgery on his broken hand has hindered him the past few months and kept him out of rigorous training. With Nemanja inching back to health, former Euroleague Rising Star Award winner Velickovic needs to burst out of the gates with the same fire that he's always shown in international play. This Serbia team has plenty of leaders—Ivkovic being the most iconic—but Milos Teodosic wouldn't mind having a Go-To Guy No. 2. Novica's star, which has faded in his two years with Real Madrid, might yet ascend to glory.
3. Ben Gordon, Great Britain | G | Great Britain
Do you hear that? It's people in Great Britain starting to ignore basketball less. After all of the talk of will he or won't he, it looks like BG's suiting up for GB, who could sure use the scoring punch outside. But if he lays an egg in Lithuania, you can knock the Olympic Anticipate-o-Meter down at least a few notches. Not to mention that a scoring onslaught at Eurobasket could earn Ben back some street cred, something he's sorely lacked since moving to Detroit and fading into obscurity.
4. Oleksiy Pecherov | C | Ukraine
All this attention surrounding Mike Fratello's new coaching gig has been a good, if not fantastic thing for Ukrainian basketball. Reason #1: People now acknowledge that yes, Ukraine has a basketball team. Now it's up to the Czar's battery to make the most of this token attention and give the world a show. My eyes, and presumably Fratello's, will fall upon Oleksiy to kick this young team into gear in time to snatch a top four spot in the anemic Group D. Simply advancing would instantly make it Ukraine's finest EuroBasket performance ever. It's well within reach.
5. Lior Eliyahu | F | Israel
In the past two seasons with Maccabi and Caja Laboral, Lior's best outings have arisen out of necessity. In Vitoria, he waited until Tiago Splitter went down with an injury before opening his cage and opening eyes. Back with Maccabi last season, he let Doron Perkins, Chuck Eidson and Big Sofo dip their toes in the waters before he and Jeremy Pargo dove in. In a two-week tournament on an Israel side without much comparable talent, he won't have that luxury. If Lior bides his time while Omri Casspi and Yotam Halperin have their fun, Israel could be making an early exit.

1. Ante Tomic | C | Croatia
After an average performance in Turkey, Ante finds himself here. He has been on the Best Young Bigs in Europe list for a while, and now it's time to cut the kid stuff and become a man. This Croatian team has a chance to do big things in Lithuania, but it all starts with Tomic being a more consistent scorer, game in and game out. Once he starts putting in buckets at a highly efficient rate, double teams will come, giving Bojan Bogdanovic, Marko Tomas and the like more space to dial it up from distance.
2. Danilo Gallinari | SF | Italy
Danilo needs to STEP UP! There, I said it. He has turned away from European competitions for the most part of his young career, and this Eurobasket could be a defining tournament for the young Italian squad. Italy's best player (sorry, Andrea) needs to be a top five competition scorer and set the tone for future Italian basketball teams. With Danilo playing well, Italy shall no longer be a "Line 5" team when drawings are held again.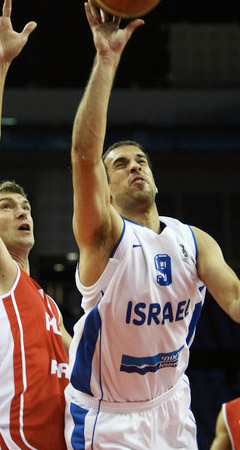 3. Yotam Halperin | G | Israel
Maybe this is personal, maybe it's not; either way Yotam needs to pick his game up. Not only is he the guard that gets the Israeli offense going, but he needs to be a force as a scorer too. Lior Eliyahu and Omri Casspi can't carry this team all by themselves and the experienced Halperin is the best person in line to help him.
4. Milko Bjelica | PF | Montenegro
We know Nikola Pekovic is going to show up for Montenegro, but will his fellow frontcourt mate? Bjelica needs to make a home on the elbow and play off of Pekovic's beast-like presence deeper in the paint. Nikola isn't a board master, so if Milko wants to stroll back into Podgorica proudly, he best gobble up as many weak side rebounds as he can.
5. Anton Ponkrashov | PG | Russia
With young talent all around him, Anton is the key to how well this Russian team can grow together. With tons of ability and great size for a point guard, Eurobasket could become a great résumé builder for his impending season with CSKA Moscow. He was second overall in assists two years ago in Poland, and a spot atop that category this time around could ensure Russian success.