By: Freaknick/@Euro_Adventures
Will Bajramovic continue to get into the lane at will? Can the greens count on Mario Delas to play big down low? Can Rimas Kurtinaitis out coach Marcus Salenga? Can Zalgiris keep a guy in Gecevicius' face at all times? Will Zalgiris be able to beat Rytas in Siemens Arena for the third time this season? Will Rytas take the crown and earn a spot in the Euroleague?
There are a million little factors that will come into play on Monday evening in Vilnius, Lithuania, but once they jump it off at center court the only question that will matter is this: how badly do you want that trophy? It's been a long season for both teams and either way, in 24 hours it will all be over. Some will be going home with a smile and a bonus check, the others with empty pockets and emptier looks on their faces. So instead of watching passively tomorrow, log on to Euroleague Adventures and join the conversation. I'll be blogging the game live, so leave your comments, questions and complaints at the bottom. It's going to be a great night.
Anyone else fired up?
…
Here we go. Prediction time: Zalgiris wins by 4. Jump ball…
FIRST QUARTER
-Zalgiris comes up with it and it's Mantas to the hole. No hoop, but the harm. Hits both free throws and the tone has been set: tonight's winner will be the one who plays the toughest.
-Kenan Bajramovic hits one to put Rytas up 6-4. The two times he's scored 20 in this series, Rytas has won. Clearly the X-Factor for Rytas, if not the entire series.
-Eventually Travis Watson is going to have to start finishing inside. But I guess if Tadas "Cleanupthemess" Klimavicius is in there he'll be gravy. Tadas finishes off the rebound.
-Other way now: Martynas Gecevicius misses a wide open three from the corner. There's your warning Zalgiris: somebody get on him. Not saying he's easy to guard, but he's the last guy who should ever roam free. Put 1.5 people on him if you need to. It's been seven games and they seemingly haven't found an answer for him.

-Watson must have been watching that Lakers-Suns game last night. Pulling out some Amare-type moves. Very assertive since the tip. Now he just needs to put in 40 more to match Stoudemire.
-Here's something I didn't need to see to understand: Mario Delas is not strong enough to guard Bajramovic. Two possessions, two fouls on Delas, and now he's at the charity stripe again. Either A) they need to switch Pocius/Salenga onto Kenan or B) Vladimir Romanov needs to secure some steroids and ready the syringe for halftime. Mario needs a heavy dose.
-Every time Aron Baynes hits a shot, somewhere a kitten dies. You don't want that on your conscience, Zalgiris.
-At the end of a 17-minute first quarter, Zalgiris leads 16-15. If they keep this pace up, my Zalgiris +4 will be right on the money. Rather, right on the Lytas.
SECOND QUARTER
-So apparently if you use this 'Mennen Power of Nature: Volcano" deodorant, the pupils of your eyes light up with fire and then half-naked women ambush you while you're in your Hanes boxer briefs. I can't speak Lithuanian, but I'm 97% sure that's what the advertisement was telling me. It's eBay.lt time.
-Travis Watson playing like a man possessed. Nice move and a bucket to open the quarter, next time down he misses a chippy, grabs the board and puts it in. If he played with this kind of effort every game, he could be an All-Euroleaguer. And I'll stand behind that.
-The Milkman delivers. Milko Bjelica scores back-to-back field goals in about 20 seconds and Rytas pulls it to 21-25 with under 5:00 left in the first half.
-Zalgiris panicking a bit now on offense. Any rhythm they had has been temporarily lost out there. This time it's three seconds in the lane on Travis and it's Rytas ball. This time LR capitalizes with a Gecevicius field goal. Points off turnovers are a head coach's best friend.
-I understand Arturas Milaknis is a shooter, but when you grab a rebound directly under the basket and you're all alone, it's not against the rules to put it back up off the glass. Oh well, Watson gets fouled anyways, makes both and Zalgiris is up by a point.
-Not anymore. After hitting a triple to take the lead last time down, Bjelica throws one down to retake the lead. Seesaw time in Vilnius.
-Remember two bullets ago when I said 'I understand Milaknis is a shooter'? Yeah. About that, well, he is. Strokers on deck from damn near NBA range.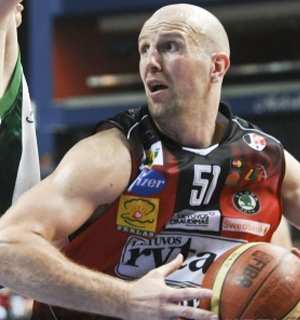 -In a shocking turn of events, the coach has run onto the court and taken two free throws. He hits them both to put Zalgiris up 34-33 with 41 seconds until halftime, where two youth teams will undoubtedly take the court and duke it out. I've got money on it.
-Bajramovic  drops one in and Rytas takes a 35-34 lead. By the way that was Bajramovic's 11th point. Multiply that by two and that's…yup. You know what that means.
HALFTIME
Time to respond to my commenters below:
@Arwyta - I think Gecevicius might have the Ebola virus. Why else would everyone be so damn scared to put a body on him? It's the only logical explanation.
@Os - I guess your LR +6 is looking better than my Zalgiris +4 right now. What happened that second quarter? And I'm loving these commercials; especially the ones for laxatives.
@Rob - Props on the 'nun's tits' line. I might have to steal that one from you.
Anybody got any second half predictions? Here are my five keys…
Five Keys to the Second Half

5. Should Zalgiris switch to a zone?
…Well, if you do you run the risk of giving up your biggest strength thus far: rebounding. Zalgiris is outrebounding Rytas 20-12 right now, and with a zone you jeopardize that advantage. Also, you'd have to run somebody with Gecevicius at all times.
4. Can Zalgiris start hitting some outside shots?
3. How can Rytas keep Watson off the boards?
…Baynes is too foul-happy and Bajramovic needs to preserve himself for the offensive end.
2. Who's going to be help out down low for Zalgiris? Delas is clearly overmatched today, so it needs to be on Pocius and/or Salenga to crash on defense and offer some assistance.
1. Who wants it more? That's really been the question from the start, and in the Lithuanian Finals, I'd expect nothing more. Forget the X's and O's. Time to battle.
THIRD QUARTER
-Huge fastbreak lay-up by Mantas Kalnietis. He looks great in the open floor but panics if you stop his momentum. Lietuvos Ryats did not.
-What did I say about Kalnietis with space? Disrupt his flow and he's 1000% more mistake-prone. Turns it over trying to thread the needle on the break.

-A bigger line-up on the floor for Zalgiris with Pocius/Salenga at the 2/3. No Marcus Brown, who is without a field goal at this point. New group working well so far; Salenga bucket gives them 40, one more than Rytas' 39.
-I mean, if Vidas Ginevicius is going to beat you deep, you have to live with it. But if he gets hot like he did against Siauliai in the Baltic League semifinals, it's over. Period.
-Gecevicius hits a—get this—wide open jumper in transition.  This is baffling to me. Hound his ass before it's too late. 47-40 and the door is closing quickly.
-A traveling violation on Rytas erases an easy lay-up. Zalgiris needed a break like that. Badly, badly, badly.
-Capin drives in and shovels one to Klimavicius who lays it in as time expires. Or did it leave his hands too late? Replays indicate it did and it looks like the refs made the correct call. They could've used that one. It's 54-43 heading into the fourth now. Time for sexy volcano commercials.
FOURTH QUARTER
-For such a physical game, foul trouble really hasn't played much of a role. Delas has four for Zalgiris, Watson with 3; only Milosevic has three for Lietuvos Rytas. Unless Watson gets one early in the quarter, it doesn't look like 'coaching decisions' will come into play too terribly much.
-Kalnietis showing the sort of talent that earned him a spot as the starting Lithuanian PG in last year's Eurobasket. Bucket…and one. He's had a solid series. Now if he can just put together an entire season's worth of steadiness. If he can will his team to a win tonight, it would be a great way to get it going.
-No scoring in the second half thus far for Bajramovic, but it doesn't matter. Milko Bjelica just put in his 18th, 19th, 20th, 21st and 22nd points. Clearly the most efficient player of this game: 6/9 2-pt, 2/2 3-pt and 4/5 FT.
-Martynas Pocius misses his first 2-point attempt of the evening. It's taken him 17 minutes to find the opportunity. Pocius' lack of offensive involvement is proof that Zalgiris has stopped swinging the ball. Nobody looks to attack more than Pocius—especially on that baseline—and the ball finds the corner in two situations: 1) swing/skip pass on the perimeter or 2) kick out from the post. Let's just say 'kicking it out' is not in Watson's vocabulary.
-Coach Brown sheds the suit and tie for a second and tries to get something going for Zalgiris. He still hasn't hit a shot the entire game. All six points coming on six free throw tries, and we're 36 minutes into this one. 63-63.
-Anyone who ever wants to talk sh*t about Mark Cuban or Jerry Jones—annoying, overbearing owners—should take a look at the Zalgiris bench right now. The man responsible for this mess sits in the midst of the players he's betrayed and tries to feign concern. Vladuimir Romanov is a sociopathic egomaniac. Does that about cover it?
-Huge three for Mantas Kalnietis keeps Zalgiris in it, at least for the moment. It might be over already, but every hoop  keeps the dream alive.

-Capin's three brings it to 74-64 but Zalgiris has to foul the wrong guy—Gecevicius—on the inbounds. Not surprisingly he sinks them both and it's a 12-point game. Capin hits the lay-up this time, but Babrauskas to the line now for two…hits the first…buries the second. 12-point game still: 78-66 with just over a minute to play in the LKL Finals.
-Some sort of smoke bomb thing id going off and it actually looks like the Zalgiris fans are to blame. It is a green flame, after all. Despite all this craziness in the last few weeks of the season, that green flame will continue to burn. Not even a depraved lunatic like Romanov can keep Zalgiris down. They're one of the proudest organizations in international hoops for a reason.
-And here come the red flames now. And the buzzer. And the confetti. And there goes Bajramovic's shirt. Soon, the trophy and then the rings. And in October, the most special gift of all: a bid to play a second straight season in the world's most intense European competition, the Euroleague.
-A year after winning this same trophy last year—in addition to the Lithuanian Cup, the Baltic League and the Eurocup—will Lietuvos Rytas be able to keep their team together and add enough parts to make them competitive in the EL? Last year they had to say goodbye to their two most outstanding players: Chuck Eidson (to Maccabi) and Marius Petravicius (to Armani Jeans Milano). Will Gecevicius, Bajramovic and Bjelica come back next season? I think so. Will that be enough? I think not. They'll need to make some moves in the offseason. Luckily their front office situation isn't as screwed up as Zalgiris' right now.
-Below, Slam says he wants fireworks in American arenas. I say screw fireworks, just give me Melissa Etheridge ballads. 'Simply the Best.'
-OK, Romanov's press conference consisted of a 12-second statement and no questions. Can somebody please tell me what he just said? I am dying to know.
-I must say, although I picked/was rooting for Zalgiris, it will be nice to have the world's best basketball country represented by two teams in the Euroleague next season. With all of the Zalgiris shenanigans, they should at least have some salary to burn. I'd say an experienced point guard—plus the continued development of Kalnieitis—and another athletic big guy and they'll be a tough out. Especially with Mindaugas Kuzminskas coming over to play for them on the wing (unless he goes in the first round of this year's NBA Draft…but don't count on it). For Rytas, it wouldn't hurt to get a point guard themselves so Gecevicius can slide off the ball; maybe Popovic feels like a return trip to Vilnius? And they could use an athlete on the wing. Not too many finishers on the roster for Rytas at the moment, although LithuaniaBasketball.com reports that they've already reached an agreement with Australian swingman Brad Newley of Besiktas Istanbul who put up 18 points and 5 rebounds per this season. Rytas knows what they need, and I applaud them for being proactive.
Lietuvos Rytas leaders: Bjelica (24 points, 6 rebounds), Bajramovic (15 and 5), Gecevicius (15 and 4 assists)
Zalgiris top performers: Mantas Kalnietis (13 points, 6 rebounds), Watson (8 points, 9 rebounds), Capin (15 points)
My LKL Finals MVP: Martynas Gecevicius, Lietuvos Rytas. Although Bjelica played an incredible Game 7 and Bajramovic was the most physically dominant player for either team over the course of the series, Gecevicius was the rock. Ever since Bojan Popovic left for Turkey, Gecevicius—normally a spot shooter—has had to run the point. Although he hasn't run the PG spot in the traditional sense, only averaging 2.8 assists in these finals, he's managed the game beautifully. Never out of control and always making the right decision, MG played within himself this entire series and still torched the nets for almost 17 ppg in the finals, including a 28-point performance in Game 3 when Rytas took the series lead and captured the momentum. For a 23-year-old to play all 40 minutes of a championship game and lead his club to a Lithuanian League championship, he needs poise. No word better illustrates the reliability of Lietuvos Rytas' combo guard.
So with that, I thank you all for joining me here tonight to share your thoughts on one of the world's most hotly contested national championships. If you're a regular here at Euroleague Adventures, thanks for following along these last few weeks as we chronicled the wild times in Kaunas, and if you're a first-timer then welcome aboard; we're glad to have you. Keep checking all summer long for NBA Draft coverage and of course, more insight on the FIBA World Championships than anyone else on the web. A special thanks to Os Davis of BallinEurope.com for joining us on the comment board and remember that LithuaniaBasketball.com is the spot to grab your postgame report. I hope everyone had as much fun as I did. Until next time…