By: Nick Gibson and Sam Meyerkopf / @euro_adventures
After bringing you ten guys who need to elevate their games come EuroBasket and ten NBA players who don't matter as much as you might think, we finally have found something we semi-agree on: the young boys who need to man up and break through. See which guys we both like to bust through and the four others who made their way onto only one of our lists.

1. Sergiy Gladyr | G | Ukraine (21 years old)
Mike Fratello's up to his neck in strange names and new faces, but there's one wrist he'll see flicking more often than any other, and it belongs to Sergiy Gladyr. Only one of the other six guards on the 21-man preliminary squad was born before 1988, so the 22-year-old Gladyr is actually an elder statesman in the Ukrainian backcourt. The 2009 Atlanta Hawks draft pick isn't afraid to let it fly though, putting up 4.6 threes per game last season in Manresa. Without an equal on the perimeter, the little chucker that could will get a green light from the Czar. And if he doesn't, he'll keep on shooting and blame it on the language barrier.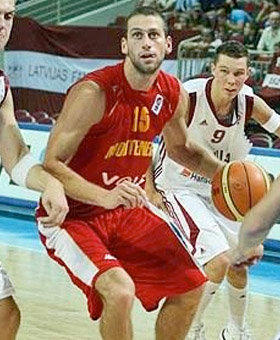 2. Vladimir Dasic | F | Montenegro (23 years old)
With Pekovic inside making life difficult for the other team and Omar Cook pinballing through the defense, Vladimir Dasic's job will be simple in nature: play a more mature brand of basketball. That means accepting the midrange J; it means staying out of foul trouble; it means knowing when to pull it back out when the numbers aren't there.  The Elite Prospect Club revoked his membership before the start of last season after a stagnant stint in Spain, but a move to Roma has revitalized his career, pushing him back into European relevance. Montenegro needs him to see that trajectory through to stardom if they want to do some damage past the first round in Lithuania.
3. Giorgi Shermadini | C | Georgia (22 years old)
Giorgi spent last season with Union Olimpija, on loan from Panathinaikos. No Euroleague crown for him, thanks; but that's a trade he'd gladly make again. He spent the second half of the Euroleague season upping his minutes and scoring (11.1 ppg over his last five in 23 minutes) with similar trends in both the Slovenian and Adriatic Leagues, and now he'll step into an even larger role with a Georgi team that's about as shallow as any in the tournament. He's got the skills; now Zaza needs to rub off some of that toughness. And he should probably just stay away from Nikoloz Tskitishvili as a general rule.
4. Kostas Papanikolaou | SF | Greece (20 years old)
No Spanoulis. No Papaloukas or Diamantidis. Calathes has ankle issues. Mavrokefalides is a 'no' and now Big Sofo says he'd rather watch on TV. That's terrible news for Greece, excellent news for Papanikolaou. I defy  you to find someone who plays harder per minute than this guy, but don't confuse his effort with recklessness. Kostas always seems to have a handle on not just his next move, but what'll come afterward. That sort of foresight should've prepared him for this moment, because make no mistake: it's his for the taking.
5. Nihad Djedovic | SF |  Bosnia (21 years old)
If you're in the market for a sporadic bunch-scorer, Nihad can be had for a fair price. Mustache contests or arm wrestling: I'd look elsewhere.

1. Bojan Bogdanovic | SG | Croatia (22 years old)

Seems obvious. Too easy, almost. Well this will be Bojan's first European Championships with the senior squad, so he qualifies for the list.  Bogdanovic isn't going to just breakout this summer; he's going to demolish everything in his path.  One of the Euroleague's top scorers last year and the recent New Jersey Nets draft pick has very big things nestling on his horizon.  But screw the future; Bojan wants to produce right now.  Book him for leading group play in scoring and taking this Croatia team to the next level.  Squeeze up on his jumper. Really, go ahead. Bojan has been working on his dribble drive game all offseason.  Without the pressure of carrying an entire team (cue Cibona) Bojan will be comfortable focusing on offensive domination.
2. Vladimir Dasic | F | Montenegro (23 years old)

Dasic has been a slight disappointment as a young, tall, shooter so far in his career.  Then he changed his fortunes by being a key cog for Lottomatica Roma and establishing himself as a legit rotation player last season.  Now it's time to take that next offensive step, and there's no better platform than EuroBasket.  With zero basketball EuroBasket appearances to date, this could be a big tournament for Montenegro.  With Nikola Pekovic demanding double teams in the post and Omar Cook consistently penetrating into the lane, there will be plenty of room for Dasic to operate.  He'll end up being second on his squad in scoring, and bring some of the spotlight back.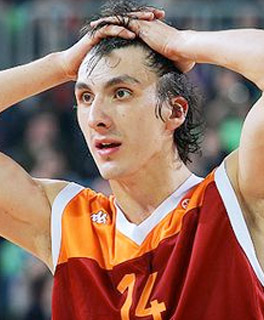 3. Nihad Djedovic | SF | Bosnia (21 years old)

Another Lottomatica Roma player finds himself in the breakthrough player list.  What kind of food are they feeding these guys that's helping them develop?  Even if it's just pasta and pizza, Nihad will need all the energy he can get if he wants to propel this Bosnian squad to the next round.  Henry Domercant and Mirza Teletovic will take enough jump shots for all of Group C, let alone the Bosnian team, so Djedovic will have few plays called for him. When given the opportunity he needs to attack the hoop and provide some toughness (he just needs to follow Ratko Varda's lead there).  Playing in a veteran starting lineup should give Nihad the security to make mistakes and learn from them.  To spice things up, he'll also be going head to head against fellow Roma teammate/fellow ELA breakthrough candidate, Vladimir Dasic.  The fight for both Montenegro and Bosnia and Herzegovina to advance depends heavily on the emergence of these young scorers.  This is just a primer for Nihad though, he's ready to score at will next season.
4. Kostas Papanikolaou | SF | Greece (20 years old)

With many Greek legends looking to chill this offseason, Hellas needs to look upon some youth if they plan on making another trip to the podium at EuroBasket. This means calling up young Papanikalaou to the big leagues, after leaving every youth tournament in his path trashed.  He took home a Gold Medal and MVP honors at the Europe Under-20 Championships in 2009 and followed it up with a Silver Medal and All-Tournament team selection in 2010.  Greece is hurting with injuries right now and the time is ripe for Kostas to be pushed into a rotation role.  With a 17-point performance against Unicaja and a 12-point showing vs. Brose Baskets in the Euroleague, he showed us that when given the burn, he can ball with the best.  Is it too early for this 21 year old (his birthday was Monday) to get big national team minutes? No. Kostas is ready to through a wall for Hellas, so get the Hell out of his way.
5. Antoine Diot | PG | France (22 years old)

Damnit. The most likely word to come out of Antoine Diot's mouth when he heard Tony Parker was going to playing for Les Bleus this summer.  Yes, Diot has winning first in mind (Tony helps there), but he could have taken over the reigns as starting point guard this summer.  Even with Eva's ex taking a majority of his minutes, Rodrigue Beaubois is still recovering from various foot problems and that will allow Diot to have a real role on this French team.  During French and Eurocup play, Diot ran the Le Mans offense and gained true lead guard experience.  His passing has been hyped for a few years on the international circuit, and now it's time to match production with skills.  Diot will be the best guard off France's bench and allow the team to move Parker over to the 2 at times, so Antoine can get more court time.