By: Sam Meyerkopf / @euro_adventures
When Lietuvos Rytas got knocked out of the Euroleague Qualifying Round, there must have been a collective celebration by every under-22 year-old in the EL.  With Jonas Valanciunas out of the way, the most sought after award for up and comers was now up for grabs. Here are the five making the most of it:
But first, a disclaimer: Nikola Mirotic had only seen one minute and 41 seconds of court time this time last season, and he ended up winning this trophy. It's possible we haven't even seen the future winner in action yet.
1. Tornike Shengelia, F, Belgacom Spirou
Points: 9.5   Rebounds: 8.5   Assists: 2.0
Shengelia is impressing everyone so far with his toughness and willingness to play all over the court.  He's one of the main reasons Spirou was able to go into Istanbul last week and come out with a victory over Anadolu Efes.  He's very tough for his size and has been doing much of the dirty work for a Spirou team that has its fair amount of chuckers to control (Caleb Green and Demond Mallet to name a couple).  The only way Shengelia has a chance to stay in this race is if Spirou advances, but his eight rebounds in 16 minutes last week is a good way to help get them there. He's third in the Euroleague in boards.
2. Furkan Aldemir, PF, Galatasaray
Points: 3.5   Rebounds: 4.5   Assists: 1.5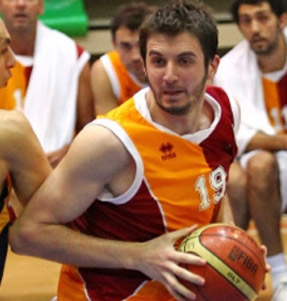 The young Turkish big has been getting just enough minutes so far to be productive.  His efficiency is off the charts and rebounding has been solid so far.  If he can continue to factor into Galatasaray's front court rotation and go off from game to game scoring wise, he'll be right in the hunt for the trophy.  Aldemir still has a couple years left to win this award, so expect him to come along slowly as the season progresses.
3. Nikola Mirotic, PF, Real Madrid
Points: 6.0   Rebounds: 2.5   Assists: 1.5
The 2011 winner is back for more.  Mirotic has been slightly better than average in the Spanish League  (10.2 PPG & 4.6RPG), but hasn't been able to get comfortable in the Euroleague.  Rudy Fernandez playing next to him takes pressure off of Mirotic, but it also takes away his offensive importance.  With scoring weapons all around him, Mirotic now needs to develop other parts of his game.  We know he's a terrific shooter and a dynamic power forward, but his rebounding, defense, and passing abilities can now be highlighted and improved.  Real Madrid is going to be in the thick of the competition for the next few months, but if Nikola wants a repeat performance he needs to take his game up one more level.
4. Donatas Motiejunas, PF/C, Asseco Prokom
Points: 12.0   Rebounds: 4.5   Assists: 2.0
Ever heard this name before?  Dunking Donatas has been quiet to this point, even though his stats have been decent.  Asseco Prokom is an absolute mess on both sides of the ball and Motiejunas has looked timid in most aspects of his game. On the flip side, his shot looks smoother than ever and he's had a drive or two that could foreshadow more aggression.  This Asseco team is thoroughly screwed up, but there was a time in the second quarter versus Barcelona where the game was tied and Donatas could have been the one to force some action. Instead he looked lazy.
Enough with these little nibbles of bacon, Donatas. I want a whole piece.
5. Davis Bertans, SF, Union Ulimpija
Points: 6.0   Rebounds: 3.0   3-Point FG %: 50.0
Bertans plays for another team that can't get out of its own way so far: Union Olimpija.  Right now his role is basically that of a three point specialist, but this Union team is still searching for its real rotation and Bertans has a chance to be so much more.  He had 12 points last week when they got thrashed by Siena, but he was one of the few guys that looked like he was still fighting after they got down by 22 in the first quarter.  Bertans' game isn't complete by any means, but Mirotic won this award last year by merely putting up points for a winner.  The scoring part, Bertans can handle. But a Final Four? They'll be lucky to reach the Top 16.