By: Nick Gibson / @euro_adventures
More signings. Imagine that. Let's put them in their place.
Marcelinho Huertas, Barcelona via Caja Laboral
Oh, dear. What are we going to do without Ricky Rubio? Find the one team that's had our number the last two seasons and pluck their most important player away. If Huertas thinks he had weapons in Vitoria with Logan, San Emeterio, Teletovic [cringes] and Barac/Batista down low, wait until he gets a load of Barca's toys. Eidson, Mickael and Joe Ingles on the wing, Fran Vazquez running to the rim for the alley (you hear that, Mirza?) with Perovic, Lorbek and N'Dong accepting his donations in  the paint. And I feel like we're missing someone.
Oh. Yes. Juan Carlos Navarro. Forgot about him.
Vlado Ilievski, Anadolu Efes via Union Olimpija
Quick: Who led the Euroleague in minutes per game last season? If you said our boy Vlado, you'd be correct.
Along with Kenny Gregory and for stretches, Goran Jagodnik, Vlado was Ljubljana's heartbeat last season. Dental floss thin at the point position, Ilievski had to sweat out 34 minutes each time out, ultimately leading Union Olimpija to their best EL season in years, advancing into the Top 16. With fellow veteran Kerem Tunceri re-upped in Istanbul (Kerem's 32, Vlado's 31), he won't  have to worry about much more than 20 minutes per night. After Efes made headlines for a weak Turkish League finish last year, they've been making just as many for their big splash signings this offseason. And though Ilievski doesn't have the glitz and glam of Ilyasova or Vujacic, his contributions will be felt just as intensely should anything happen to Kerem Tunceri.
Kyle Hines, Olympiacos via Brose Baskets
It's impossible to watch this man play a half and disapprove of his effort. A beefy four who's not afraid to face you up, he'll sweep the rock right past you, lower that shoulder and blaze a trail right to the rim without asking if you're OK with it. Now with only one year of EL experience under his belt, Hines takes a major step up in clubbage to be one of Olympiacos' leaders. Or at least, Spanoulis' lead blocker.
Julius Jenkins, Brose Baskets via Alba Berlin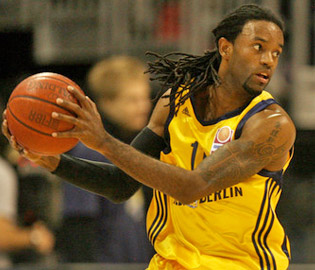 If you can't beat 'em, sign with 'em. One of the most exciting players I've ever seen in person, Jenkins might have been the only reason I was pulling for Berlin to make it through EL qualifiers last October.
Aleksander Capin, Union Olimpija via Zalgiris
The only thing he loves more than locking down the guy in front of him is jacking up stupid triples early in the shot clock. If he can reel in his energy to a less flammable level, he could make a coach very happy someday. More playing time should wear him down, make him less rambunctious and more useful.
Kalin Lucas, Olympiacos via Michigan State
I hope nobody in Greece paid for ESPN's college basketball package last season. Knowing how persnickety the Reds' fans can be when it comes to signings, they'd likely throw silverware across the kitchen in disgust. I wouldn't entirely blame them, as Kalin went from super sophomore and Big Ten POY to hobbled upperclassmen with a ruptured Achilles tendon and DNPs. And as much as Kalin might be to blame for the Spartans' less than stellar '11, he's still a guy who can—unlike Capin—slow the game down and make smart, sometimes boring decisions. If any conference gets you prepared to play a grind-it-out brand of hoops, it's the Big Ten. Or maybe the Pac-10. Or is it the Pac-12 now?
Whatever. You get the point, and Olympiacos got theirs, too.
Gianluca Basile, NGC Cantu via Barcelona
Barca letting Basile and team Captain Roger Grimau walk only proves that nothing is sacred. Now, the modern Euroleague three-point king (more makes since 2000 than anyone) gets to push his new teammates to the side and show them how this Euroleague thing is done.
Yogev Ohayon, Maccabi Electra via Hapoel Jerusalem
His 5.3 assists per game in the Israeli League are impressive, but the Jordan Farmar signing turns his arrival into a side note. Jordan, Pargo, Perkins and Scheyey should see reps ahead of him.
Tremmell Darden, Unicaja via SLUC Nancy
He's won league titles in Australia, Belgium and most recently France, where his 17 ppg earned SLUC Nancya trip to the Euroleague this season. He's bigger than Gerald Fitch and not as much of a specialist as Uros Tripkovic, so he should find a niche as a physical scorer rather quickly in Malaga.
Hakan Demirel, Fenerbahçe Ülker via Erdemirspor Belediyesi
At the risk of sounding overly simplistic, Hakan's basically a worse version of Emir Preldzic.
This list is starting to feel pretty heavy:
Rank #colspan#
Player #colspan#
Team #colspan#
He's here because... #colspan#
Last DLU #colspan#
1
Milos Teodosic
CSKA Moscow
The EL's most clean cut franchise adds the Shooting Stoner to a backcourt that just lost a pair of legends in Trajan Langdon and JR Holden. Good thing Milos' brain doesn't process pressure.
1
2
Ioannis Bourousis
Olimpia Milano
Can't wait to see him play extended, consistent minutes. The most efficient big in Europe is about to get a big test.
2
3
Nicolas Batum
SLUC Nancy
Batum alone can't make them a contender, but he can make them watchable. Now it's time to go get some help.
4
4
Marcelinho Huertas
Barcelona
With Marcelinho in the fold, arca's starting line up looks more like an All-Euroleague team.
-
5
Jaycee Carroll
Real Madrid
The two-time ACB scoring champ is ready for his EL debut. He won't be able to sneak up on the Spanish teams anymore, but everyone else: hide your kids, hide your wife.
3
6
Maciej Lampe
Caja Laboral
Ever since he vanished from Maccabi's roster two seasons ago, I've been itching to see him in the EL again. He's primed to explode.
5
7
Bojan Bogdanovic
Fenerbahçe Ülker
You won't find many 26-year-olds as mature as Bojan (still just 22); now it's time to be assertive and create a role for yourself, big guy. As the star.
6
8
Ersan Ilyasova
Anadolu Efes
Welcome back to Turkey, my friend. It's not quite the Barcelona team you left a couple seasons ago, but it might be even more stacked.
8
9
Nenad Krstic
CSKA Moscow
Boston's trash is CSKA's treasure, as Krstic will add to Moscow's already stellar defensive front of Khryapa, Kaun and now Darjus Lavrinovic.
7
10
Stanko Barac
Anadolu Efes
A 24-year-old center who rarely makes mistakes and still has room to grow. Yeah, OK. We'll take him.
9
11
Esteban Batista
Anadolu Efes
Indifferent to pace or pairings, Stevey Bats gets boards as well or better than the rest. If he and Barac can figure each other out, it's lights out for the rest of Turkey.
10
12
Malik Hairston
Olimpia Milano
With a frontcourt of Bourousis, Radosevic and Fotsis and Omar Cook at the point, all Milano needs to fall in with the elite is a dynamic small forward. Well, damn.
11
13
D'Or Fischer
Bilbao Basket
Bizkaia. Bilbao. Basket. Blocks. All start with B's. Weird. But not really.
13
14
Sasha Vujacic
Anadolu Efes
"Stop telling me and show me, Sasha."

-Everyone
12
15
James Gist
Fenebahçe Ülker
His enthusiasm is neither a front nor compensation for a lack of skill. Ülker's no Partizan, fan-wise, but they're getting there. A couple oops from Gist should accelerate that process.
14
16
Julius Jenkins
Brose Baskets
After two seasons, he's back in the Euroleague where he belongs. Excellent.
-
17
Dusko Savanovic
Anadolu Efes
Don't expect another All-EL season from Dusko, but be ready for some big shots in some big moments. And sweat. There will be plenty of sweat.
15
18
Ben Woodside
Union Olimpija
Put Davis Bertans on the floor with Woodside and watch the shots fly up. Neither one's what I would call bashful.
16
19
Acie Law
Partizan
For the first time in three seasons, Partizan can build a core around a PG rather than throwing one into the mix once the train's left the station.
18
20
Luka Zoric
Unicaja
This Nesterovic clone was built for the index rating. Spain should be kind to him.
17
21
Martynas Pocius
Real Madrid
Excuse me, I've lost Real Madrid's weakness and was hoping you could help me find it.
19
22
Martynas Gecevicius
Olympiacos
This Olympiacos team is going to look very un-Olymoiacos-y, but they'll have a lot less ego and only a slight shortage of talent and experience.
21
23
Drew Nicholas
Olimpia Milano
Former EL scoring champ came to personify Panathinaikos' consistently unspectacular dominance. Italy's a different story, and we'll see if he still has some 20-point games left in the tank.
20
24
Kyle Hines
Olympiacos
This bull sees Red.
-
25
Leon Radosevic
Olimpia Milano
A bright star in a dimly lit organization last year, now he'll be a key piece in the Italian Renaissance.
22
26
Henry Domercant
Unics Kazan
The hefty hoister seems to be right at home in Russia. Now, after five Final Four-less EL seasons and in a starring role, he'll be hungrier than ever.
23
27
Sonny Weems
Zalgiris
Props to Sonny for making the leap, and props to Romanov for welcoming the Raptor with open arms. Think Weems has any idea what he's gotten himself into? Not a chance in Hell.
24
28
Nathan Jawai
Unics Kazan
I hope restaurants stay open late in Kazan. Nathan strikes me as a fourth meal fiend.
25
29
Pat Calathes
Panathinaikos
Don't be surprised to see the Calathes Bros account for 40% of the starting line up next year. Pat's a perfect complement to Batiste's bruiser mentality.
26
30
PJ Tucker
Brose Baskets
Casey Jacobsen has somebody to do the dirty work for him while he wets things up from outside.
28
31
Jon Scheyer
Maccabi Electra
With his vision fully restored, the cultural adjustment is all that stands between him and an instant impact.
27
32
David Lighty
NGC Cantú
The new kids on the block get proactive and pluck one of college's most well-rounded, pro ready swingmen. Me like.
29
33
Jordan Farmar
Maccabi Electra
I'm not so easily enamored by the NBA names if they don't seem to fit.
31
34
Vlado Ilievski
Anadolu Efes
The reigning EL minutes leader will fall into an important back up role behind fellow vet Kerem Tunceri, who's had a history of nagging injuries. Stay ready, Vlado.
-
35
Tarence Kinsey
Anadolu Efes
An extremely reliable an oft forgotten scoring threat. He just hangs around, ends up with 12 or 13.
30
36
Shawn James
Maccabi Electra
Who needs Serge Ibaka when you've got Shawn James? If you think that's a stretch, check the stats. (OK, so maybe it's still a stretch.)
33
37
Matt Howard
Olympiacos
Printezis, Kyle Hines, Matt Nielsen and he make up one of the tougher forward threesomes in the EL. Interesting change for team not usually renowned for its physicality.
34
38
Milko Bjelica
Caja Laboral
The milk man delivers. Plain and simple.
35
39
Thomas Huertel
Caja Laboral
Huertas is out, Huertel is in. Let's hope Thomas can process all of this newly acquired pressure.
39
40
Milovan Rakovic
Zalgiris
Tatted up, shaved down and ready to beat your ass.
36
41
Tremmell Darden
Unicaja
He'll be ranked higher if Unicaja asks him to assume the role he had in France last year.
-
42
Gianluca Basile
NGC Cantu
Gather 'round, children. Listen to the old man's stories.
-
43
Kalin Lucas
Olympiacos
Olympiacos fans won't have any patience with Kalin if he can't remember how to be an elite, efficient PG.
-
44
Robertas Javtokas
Zalgiris
He should sell his house and just move into an ice tub to be safe.
32
45
Marcus Slaughter
Brose Baskets
If you watch this man play, his last name starts to makes sense.
38
46
Federico Bolzonello
NGC Cantu
I guess Mr. Lighty needs somebody to get him the ball. Let's see how it pans out.
43
47
Marko Cakarevic
Partizan
After extending super vets Bozic and Kecman (again), Partizan better hope Cakarevic can provide some bounce on the wing.
41
48
Aleksander Capin
Union Olimpija
He needs to calm down and play smart. Neither is his specialty.
-
49
Raul Lopez
Bilbao Basket
The ACB finalists finally have a new face on the bench, and it's one of experience. It's also one, however, of considerable age and injury.
37
50
Hakan Demirel
Fenerbahçe Ülker
A toned down playmaker who can do a little bit of everything. Always nice to have those guys around.
-
51
Yogev Ohayon
Maccabi Electra
He's playing behind a fat stack of PG's.
-
52
Ermal Kuqo
Anadolu Efes
You might not notice him when he's out there, but his opponents will feel him the next day. (Does that sound weird? Yeah, I think it sounds weird.)
40
53
Jaka Blazic
Union Olimpija
I wish my last name were Blazic. It would make introductions more fun.
42