By: Sam Meyerkopf / @HoopLikeDrazen
Other off-season writing this week:
Building on a Budget: Trying To Do More With Less In Serie A
Probably the most unique player and coolest signing that happened since I've been following Euro Ball is when Bamberg signed Kyle Hines who was playing in Legadue with Veroli for his first two seasons.  So in honor of Kyle, I'm grading a bunch of unique off-season signings based on him.  The Scale is based on 1-5 'Hines' Heads' with 5 Heads being the most unique signing that I think will work.  The number of heads will be at the bottom of each profile.
The Candidates
Dominique Sutton: Santa Cruz Warriors (D-League) ⇒ Trento (Serie A and EuroCup)
Dominique was one of the most refreshing players to watch in the D-League this season.  Sutton has only one speed on his energy meter: as high as possible.  At 6'5″, few players play bigger than Sutton.  He's a very aggressive straight line driver, who finishes strong at the hoop, and cleans up on the offensive glass.  Defensively he can guard almost everyone on the floor depending upon the match-up, but will naturally because of his size, be matched up mainly with 3's or 4's.
The thing is, he can't shoot.  And he doesn't even try to shoot outside.  Everything is at the rim.  It can be astonishing how effective he is even though he can't shoot.  But Sutton is a grinder and figures out ways to be effective and makes a lot of plays without scoring.  It's the D-League but he was a key part of Santa Cruz winning the championship last season.
The big question is what position does he play and where does he fit.  This isn't Sutton's first time in Europe either, he had a fairly solid season with Ikaros in 2013-14.
Some say Sutton is a 3/4 or 4/3 or a 4/5 or just try him as super small ball 5.  In Trento, veteran leader Davide Poscolo plays a lot at the 4 and they signed a very good wing shooter in Trent Lockett, who will play mainly 3 and some 2.  So it looks like there is an opportunity for Sutton to play some 3 and 4, with it more and more likely as the season goes on that he moves up in position.  As an expert finisher and total non-shooter, Sutton needs to be moved up.  And as a last piece of info, check out his shooting chart from the D-League last season below.
Sutton's 14-15 D-League Shooting Charts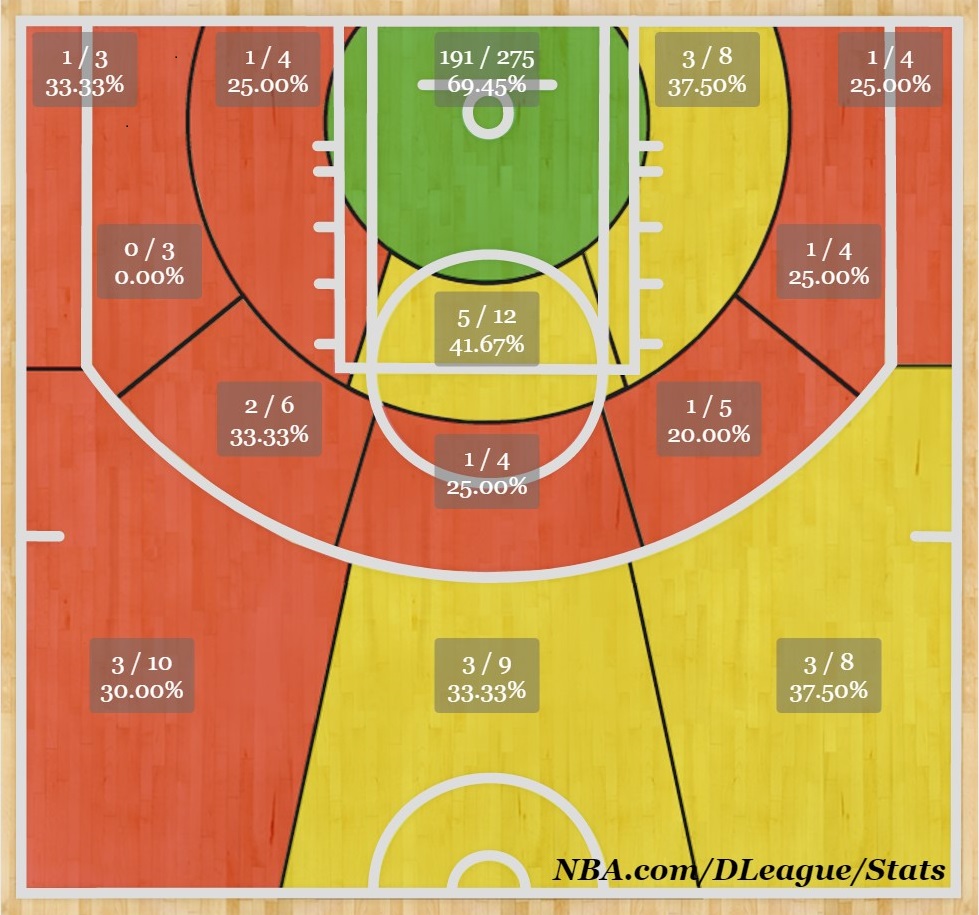 Ekpe Udoh: LA Clippers (NBA) ⇒ Fenerbahce (Turkish TBL and Euroleague)
Udoh going to Fenerbahce will be a another very interesting NBA to Euroleague test case.  There is no question he fits the modern center mold and should not to be asked to be a 4/5 like he was often asked to do in the NBA.  He should just be a full-time 5 in Istanbul.  Udoh was the 6th overall pick in the Draft only 5 years ago. And Udoh did have some slightly productive years in the NBA but there is still some mystery as to how he will do with Fenerbahce.  This is no slam dunk signing.  Udoh has never proved himself in Europe and as an undisciplined player the fit with Coach Obradovic could be troubling.  Do they really need Jan Vesely and Udoh?  The combination of rotating those two in and out at center with all that athleticism and length does sound a bit terrifying for the opponent but they are fairly similar players and they both can be a bit wild.
Udoh was a huge money deal and it's just going to take a while for him to get used to Europe.  With Gigi Datome and Pero Antic coming back from the NBA this year, Jan Vesely last year, and Udoh dropping into Europe for the first time, Fenerbahce and Maurizio Gherardini are going all-in on the former NBA frontcourt.
Nicolas Lapravittola: Flamengo (Brazilian NBB and Liga Americas) ⇒ Lietuvous Rytas (LKL and EuroCup)
Probably my favorite signing of the whole off-season. Laprovittola is a joy to watch.  The Argentinian playmaker has been on Brazil's top team the past 2 seasons (Flamengo) while gaining some experience with the National Team.  He had standout performances vs Maccabi Tel Aviv in the Intercontinental Cup in September, signaling that his South American success could possibly translate to Europe.
Laprovittola is special because of his balance of creativity and patience.  He has incredible court vision, able to dart passes to the shooter on the drive or pull the opposing big man defender out of the paint and drop off an easy pass to his center.  Laprovittola has incredible ball and body control.  Coming off ball screens he does a great job at holding his defender on the back of his hip, using his physicality and body control to draw a foul at anytime or create space in front of him for his floater (which he has great touch on) or a pass.
He is a very good pull-up shooter and can shoot from deep behind the three-point line.  He is often able to make shots without his feet totally being set and even if his body is off balance he still makes the shot.  His shooting percentages in Brazil were very high (From Three-Point: 43% in '14-15 and 42.8% in '13-14).
Laprovittola can be a little wild sometimes, he has such an imagination that he tries a lot of different passes and drives that can get him into trouble.  He is also coming from South America to Europe and there will be a transition both on and off the court.  Facundo Campazzo played fairly well for Real Madrid but there were some hiccups and adjustment time needed. Laprovittola with an Argentinian coach in Marcelo Nicola to help him adapt, should have a smoother transition.
He also has a much, much fluffier beard now but the video below gives you a good idea of how he plays.
Gabriel Olaseni: Iowa Hawkeyes (NCAA) ⇒ Brose Baskets Bamberg (BBL and Euroleague)
Can a rookie that played 18 MPG as a senior in college make enough impact in the Euroleague?
Bamberg spent all their money on guards this off-season.  They re-signed Brad Wanamaker and Janis Strelneiks and brought over Nikos Zisis who wasn't exactly starving for food off of his UNICS and Fenerbahce salary last season. They also brought in Nicolo Melli (Italian coach, Italian GM, needed an Italian player), Yassin Idbihi, kept Elias Harris, Daniel Theis, and Darius Miller, and signed Olaseni. So Olaseni was the lower budget front court move that allowed the rest of the signings to work.
Olaseni plays with incredible energy, he's always involved defensively and sprints the floor hard. It's nice to see a big who's not even the undersized kind at 6'10", working as hard as he does and playing active defensive.  He wouldn't be most people's first pick to be one of the only rookies in the Euroleague this year but the promising thing about him is that he has a college role that can translate directly to Bamberg.  They don't need 30 minutes out of him, they need 18-22 hard fought minutes.  Olaseni will get in foul trouble at times and look offensively out of his element but since those guards are so good and his main goal is to contribute on defense, he could find his role.  It just might take a little bit into the season to get there.
Also check out Rob Scott's pre-Draft interview and article about Olaseni: Gabe Olaseni: The Skill Of Playing Hard All The Time
Chris Wright: PGE Turow (Polish TBL and Euroleague) ⇒ Maccabi Rishon (BSL and FIBA Europe Cup)
It was a bit of a wrong time and place in Turow last year for Wright.  Although he was somewhat productive and they did almost win the Polish championship (forcing Stelmet Zielona Gora to six games), Turow had Damian Kulig and Vlad Moldoveanu already taking up a lot of minutes at power forward.  So this forced Wright to play a lot of small forward and for me, Wright is not a 3/4 in Europe but a 4/5.  And Israel is the perfect league to experiment him like that.
Rishon has also signed Tyler Stone who is a 4/5 (who reportedly was close to signing but is not on the team website roster) and Darryl Monroe, who play mainly as undersized bigs.  So the frontcourt is a slightly crowded again but once Wright gets going he can play next to either one of those players and should be the best of the three.
Wright is a freak athlete.  He's crazy strong and has ridiculous leaping ability.  He's best in the open court with room to attack the basket. All a guard has to do is run the ball down the court, close his eyes and throw it towards the basket and Wright will probably convert the alley-oop.  Defensively he can guard all over the court and also use those hops to provide some rim protection.  Overall he's a cool player and I like the fit in Rishon and playing in the BSL.
And when a player can do stuff like in the video below, I want him up on my frontline.