By: Freaknick/@euro_adventures
The next time we see LeBron, D-Wade and Chris Bosh together on a court they'll be wearing matching uniforms. Unfortunately for Mike Krzyzewski and Jerry Colangelo, the fronts will read "Heat" and not "USA." Likewise, Kobe Bryant's next two points will come in defense of his NBA title and not in an effort to pluck FIBA gold from Pau Gasol's Spaniards.
The rest of our Beijing Gold medalists?
If the Bulls have their way Carlos Boozer will spend his summer in a protective bubble, Carmelo's getting married and Dwight Howard is…well we're not quite sure his reasoning, but he won't be in Turkey either. Maybe shooting T-Mobile commercials or something. Meanwhile Jason Kidd and Michael Redd were left off the 31-man roster due to age and fragility, respectively.
And then there were three, kind of. You see, though Tayshaun Prince was in Beijing and was invited to Turkey, his 'athletic role player who defends' days are behind him, and Lamar Odom's stated desire to play and his back-to-back NBA championships give him an edge in the auditions for 'veteran leader.'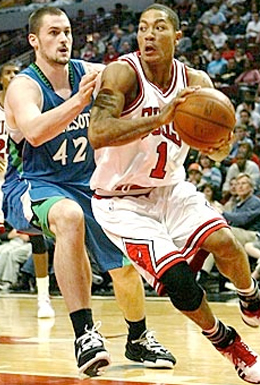 The two remaining holdovers would be 2005 draftees Deron Williams and Chris Paul. I hate to be the bearer of demoralizing guesstimation, but I'll bet you 1,000 Turkish Lira—hmmm, Google just told me that'd be $644—make that 10 Turkish Lira that neither of them will be sharing drinks with me in Istanbul, and not just because airport deodorant is overpriced. With Boozer out in Utah, Jerry Sloan needs D-Will even more this season, and Paul missed 37 games last year with various ailments—ankle sprain, torn meniscus in his knee, ligament in his finger—and I'm guessing the Hornets would rather he lay low. But as history has a habit of repeating itself, I'm probably dead wrong about both of these guys. In fact, only days after being sidelined for the season Paul's eyes were focused on FIBA: "I definitely want to play with the USA team," Paul said. "All the time that I've missed during the season, I feel like I've got a lot of game left in me."
But let's say I'm right about Prince, Williams and Paul. Let's say the team we send to Turkey has as much in common with our Beijing bunch as it does with the original Dream Team. Frankly, I hope it happens. After consecutive disappointments in 2004 and 2006, Team USA has gathered and redoubled their efforts to construct a true national program rather than a ragtag group of guys thrown together every other year. Wiping the slate clean and draping the red, white and blue over 12 new bodies would be a testament to the solidarity of the new Team USA while showcasing the firepower we have waiting in the wings.
The preliminary roster included 31 names. Seven of them have already declined and I'll spoil the surprise by letting you know ahead of time that Tayshaun Prince will not garner any consideration as I select my starting 12. Time to lay forth the roster and make my picks:
| Name (Last, First) | Age | Position | Height | 2009-10 Club Team (League) |
| --- | --- | --- | --- | --- |
| Gay, Rudy | 24 | Small Forward | 6'8" | Memphis Grizzlies (NBA) |
| Odom, Lamar | 31 | Forward | 6'10" | LA Lakers (NBA) |
| Billups, Chauncey | 33 | Point Guard | 6'3" | Denver Nuggets (NBA) |
| Curry, Stephen | 22 | Guard | 6'3" | Golden State Warriors (NBA) |
| Durant, Kevin | 21 | Guard/Forward | 6'9" | Oklahoma City Thunder (NBA) |
| Gordon, Eric | 21 | Shooting Guard | 6'3" | LA Clippers (NBA) |
| Granger, Danny | 27 | Small Forward | 6'9" | Indiana Pacers (NBA) |
| Green, Jeff | 23 | Forward | 6'9" | Oklahoma City Thunder (NBA) |
| Iguodala, Andre | 26 | Shooting Guard | 6'6" | Philadelphia 76ers (NBA) |
| Love, Kevin | 22 | Center | 6'10" | Minnesota Timberwolves (NBA) |
| Rose, Derrick | 22 | Point Guard | 6'3" | Chicago Bulls (NBA) |
| Westbrook, Russell | 21 | Point Guard | 6'3" | Oklahoma City Thunder (NBA) |
| McGee, Javale | 22 | Center | 7'0" | Washington Wizards (NBA) |
| Chandler, Tyson | 27 | Center | 7'1" | Charlotte Bobcats (NBA) |
| Rondo, Rajon | 24 | Point Guard | 6'1" | Boston Celtics (NBA) |
Point Guards
Chauncey Billups: The only guy on this team with memories from the 1970's, 33-year-old Chauncey just came off a career-best scoring year of 19.5 ppg while still nailing his career assist average of 5.6 right on the head. And whether by craft or crash, CB found his way to the free throw line seven times per game—also a career high—knocking down 91% of them. That's fourth best in the Association. It appears the Rocky Mountain air agrees with him. I hope Coach K will agree with me that the man who clearly stated his intentions way back in April should wear the captain's sleeve.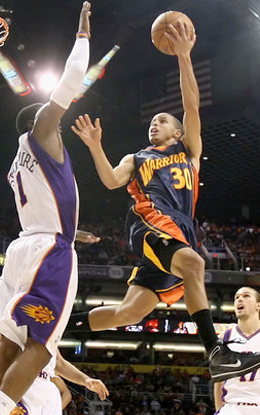 Stephen Curry: At Davidson, he played off the ball for two years, on for one. With Don Nelson's Warriors, he's played on, off, in, around, inside of, on top of and perpendicular to it. No matter his orientation relative to the leather, it seems to find his hands right before assaulting the bottom of the net. A late addition to the roster, Curry's arrival would make him the best US shooter since Allan Houston, Steve Smith and Ray Allen rained triples in Sydney. More than anything, I just want to see the world's reaction to the Babyfaced Assassin. His very appearance—narrow shoulders, wispy 'stache and slippery athleticism—contradicts the physical dominance Team USA has used to win past contests. The headscratchingly smooth way in which he dominates is nothing short of enlightening. I'd like to share that with the world.
(Also of note: younger brother Seth Curry will play for Coach K at Duke this season after transferring from Liberty, so Steph should make the cut if only to avoid three years of awkward silence.)
Derrick Rose: His dedication to Calipari's dribble drive offense makes him the prototype for the modern-day NBA point guard, but expect international schemes to make him a bit claustrophobic. Still, it would be unwise to snub the NBA's best young point guard. (Best young willing point guard, that is. Rajon Rondo was asked and declined. Patriotism at its finest.)
His stroke from distance needs grooming (23% and 27% in his first two seasons) but he takes under one per game and prefers to get things going toward the rim. His selection to the team would easily make him the most athletic point in Turkey, and he'd get the call defensively when going up against Leandro Barbosa, Vassilis Spanoulis and any other ball handler who had a notion to penetrate.
Wings

Tyreke Evans: Before we continue, check the following stat lines:
Season A: 20.9 points on 42% shooting, 5.5 rebounds, 5.9 assists, 3.5 turnovers, 1.7 steals

Season B: 20.1 points on 46% shooting, 5.3 rebounds, 5.8 assists, 3.0 turnovers, 1.5 steals
Season A is the 2003-04 Rookie of the Year season of LeBron James. Season B belongs to Evans, who became only the fourth rookie in NBA history to average 20+ points, 5+ rebounds and 5+ assists with his ROY campaign. The other three? LeBron and then two fellas named Oscar Robertson and Michael Jordan. Not bad company, if you ask me.
The reason for listing him first under 'Wings' is that I'd like to keep him as close to the 'Point Guards' as WordPressibly possible. A bulk of Evans' season was spent at the point and depending on the situation, there's no reason to think the 6'6″ King couldn't play back on the ball where he's more comfortable going to work. A tandem of him and Curry makes the most sense; Curry's got the feathery touch and feathery frame that would let Evans drive, dish and then go defend the shooting guard while Steph marks the point.
Kevin Durant: In Durant's first three seasons in the league his scoring has gone from 20 to 25 to an NBA best 30 and it wouldn't surprise me if it jumped up another three or four next season. Constantly improving without ever seeming to gain an ounce, the Durantula should lead this team in scoring without much effort, just as he did in the NBA last season. And while LeBron took an entire hour to let ESPN know he was a cowardly attention whore, KD thundered up through Twitter without making a ruckus:
@KDthunderup Exstension for 5 more years wit the #thunder….God Is Great, me and my family came a long way…I love yall man forreal, this a blessing!
And as everyone praised him for not only closing his deal without ESPN holding his hand through a TV-special, but remaining loyal to a glamour-less city in the Midwest (what up, Frankie), he deferred with class:
@KDthunderup I really don't deserve this praise for handling my deal the way I did…plenty of guys did it the way I did…
No, brother. You deserve every word of it. Coach K's gonna like you just fine.
Rudy Gay: At first, I had O.J. Mayo's name penciled in here. Then a reminder of Rudy Gay's max contract scrolled on the bottom of my television and I thought it had to be a sign. I then stopped and considered why I was limiting my choice to the Grizzlies backcourt when I had a perfectly good Andre Iguodala just sitting on the shelf. Mayo would give me the shooting—38% in his two NBA seasons from 3—while Iggy would give me more distribution (6 assists per game not too shabby for a shooting guard) and probably two or three of the tournament's craziest dunks.
But then there's Rudolph. A quiet and oft-overlooked superstar whose game at 6'8″ has a Grant Hill-type fluidity to it. Yes Mayo takes/makes more threes and Iggy's game is more polished than all of them, but in a format that emphasizes strategy, Gay stands alone on the USA's roster as a guy who can guard five positions, meaning he'll never be hung out to dry when someone misses an assignment or runs into one of Big Sofo's screens. Too convenient to pass up.
Danny Granger: Another under-publicized star due to the conservative city in which he plays, DG has averaged 25 ppg over the last two seasons, doing his work from the perimeter though he stands a full 6'9″. Can't say I've ever seen an interview with him or heard him mutter a word on air, though his Twitter suggest he's an amiable chap. Has no visible tattoos, doesn't give himself nicknames, dance like a pansy on the sidelines or refer to himself in the third person. Keep in mind this is the guy Larry Bird has decided to build around. Not a bad endorsement. Maybe Legend will let Danny wear his Dream Team #7.
Bigs
Amar'e Stoudemire: Whether fairly or unjustly, Stoudemire has always been labeled as selfish and immature. When he pulled his name out of contention for the Beijing Games in 2008, most people—myself and Jerry Colangelo included—said good riddance. Well to the brand new Knickerbocker's credit, he went through his own avenues to reach out to Jerry and land another chance (I, however, am still waiting for my phone call). To top off his refreshing display of humility, he volunteered to organize the phone tree which would convince other big names to cram their knees into a Turkey-bound jetplane. If I were him, I'd drop my Blackberry into the toilet 'accidentally' and go be the dude in the paint this summer. Gitcher shine on.
Lamar Odom: If Tayshaun can snatch up one of the remaining Kardashians before August 26th I'll be forced to reconsider.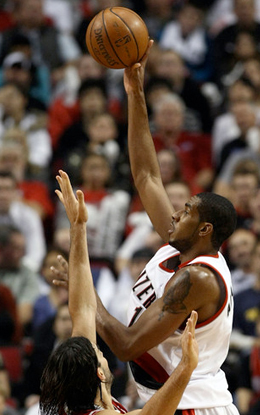 LaMarcus Aldridge: If given governance of this process, I would dive into Amar'e's toilet, retrieve his phone, excavate Channing Frye's number and ask if about his summer plans. This way I'd have a large man with a nice threeball to spread the defense and generate that space that Derrick Rose and Tyreke Evans so desperately need to be effective. As it is, that Blackberry has probably washed up on the Gulf Shore by now, covered in black sludge, and Team USA is left with LaMarcus Aldridge to grab boards, set screens and knock down mid-range J's. All in all, I'm probably much better off with Aldridge—the more astute rebounder and shotblocker—than Frye, who hired a Space Jam alien to steal Mike Miller's range for himself (remember what happened to Charles Barkley? It's no laughing matter). His 3-pointer jump—11 in 2009 to 172 in 2010—is the largest in NBA history.
David Lee: So you've got a guy who averaged 20 and 12, knocks down 54% from the field and 81% from the line and just recently mastered the art of the 15-footer, huh? Eehh, it's a generous offer but, uh, I think we're looking to go in a different direction this year. Do you have somebody…I don't know…whose game is less impervious to a change in venue, system or pace of play? We're not in the market for superstar talent blended with a roleplayer's grit.
Kevin Love: White, smiley and a little chubby. Lets his ass get him rebounds, not always his legs. Would rather grab it off the glass and fire an outlet than swat one into the stands. Pretty much Amar'e on opposite day (a holiday still officially recognized by the United Nations). This Ebony and Ivory post combo would be unstoppable. Make it happen, Jerry. Plus—and it's the darnedest thing—turns out Amar'e also has an Uncle in The Beach Boys. Is that a wild coincidence or what?
And since I've always been terrible with wrap-up/conclusion-type paragraphs, I'll just leave you with this awesome video featuring the stylings of Kevin Love's upper body strength and Bill Raftery's prominent vocal chords: