By: Nick Gibson, Sam Meyerkopf and Rob Scott
(For the rest of April, we'll be taking a look at the dozen teams who couldn't make it from the Top 16 to the Final Four. They are: The 75%.)
Long known as Efes Pilsen, Istanbul's co-chair entered the season with a little shake-up, adopting the name of the beers's parent company, Anadolu Efes.  After ending said season with five straight losses, they sure could use an ironic pint.
Better make it a Michelob Ultra for Esteban.
Regular Season: Five wins, five losses, third place in Group C
Top 16: One win, five losses,  fourth (last) place in Group E
Sexiest Win: 73-84 at Partizan, October 20. First game of the year. A little early to be peaking, don't you think?
Ugliest Loss: 104-84 at Real Madrid, November 17. Orange cones have played better defense.
(Thanks to Zurkark in the comments for showing us the error of our ways; losing 96-57 in Tel Aviv is about as un-sexy as it gets.)
Why It Broke
Nick: Well their point guard, Kerem Tunceri, delivered five negative PIR performances in 15 games; Ilyasova wasn't ersane enough to average double digits during his eight-game stay (9.5 ppg…we round down around here); Tarence Kinsey's injury derailed a perfectly good All-Euroleague campaign three weeks in; the button on Sasha Vujacic's passing machine was apparently broken; and five of their six wins came against teams with losing records.  So not much.
Sam: For starters the chemistry on this team was putrid.  There was so much change in the offseason and some of the players added played decently individually, but made weak efforts in terms of making their teammates better.  This manifested as a talented team that only managed to score 70+ points five times in the Regular Season and not once in the Top 16, when it really mattered.  The team's only reliable passer, Tunceri, hindered the team whenever he decided not to pass, shooting 32.7 percent on twos and 25 percent from beyond the arc.  This offense and team never seemed fluid or consistent.  Not just game to game, but possession to possession.
Rob: Where to begin? In his eight Regular Season games, Ilyasova showed only flashes of the Ersanity that would follow in Milwaukee, but the bigger loss was Tarence Kinsey. Injured between weeks three and four, they never replaced his perimeter defense, and by the time he returned in the Top 16, this team was out of its depth. It was too easy to score on a rotation that heavily featured all-no-defense candidates like Sasha Vujacic and Dusko Savanovic.
How They Fix It
Nick: Diamantidis, Spanoulis, Huertas, Teodosic, Shved, Navarro.  You cannot win in the Euroleague without elite—not good, but elite—guard play.  The EL's a world where possessions are protected like firstborn children, and Tunceri/Vujacic proved an unfit parenting duo.  Tunceri is careful, but not dynamic.  Vujacic is careless…but also not dynamic.  Sinan Guler ate a hefty portion of minutes for the Beermen when Kinsey was hurt, but his best work is done in a bench role, where he can check in and irritate the other team's chief perimeter threat for four or five minute stretches.  The pedigree is there down low even if the results were not, so Efes would be wise to fidget with the point before running down the rest of their to-sign list.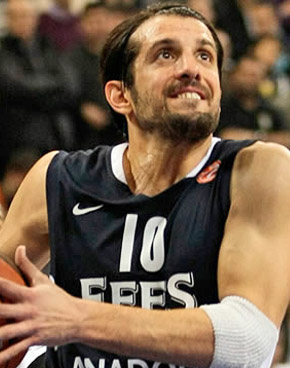 Sam: This group of Efes players didn't play well together, but plugging in a ton of new players won't exactly speed up the team chemistry process either.  Find a few core players from this group and keep them around for a little while.  You know, so maybe they can get comfortable playing together?  Then, find a point guard.  Oliver Lafayette seemed to play well once brought onboard, but the team didn't win any more Euroleague games with him than they did without him. Figure out who your team's quarterback(s) is (are) are going to be before the season starts; it's usually a tough position to plug-in midseason.
Rob: It's difficult to see what shouldn't change. They already swapped in Elias Zouros for Ufuk Sarica in the coaching chair, but retained Sarica as an assistant. That seems like either an admission that Sarica wasn't ready for leadership, or an unwillingness to pay off his contract. Why wait until they were eliminated? How can they win without keeping a coach for more than a year? So many questions. With a budget of circa €20 million, that's nowhere near good enough.
Who They'll Target
Nick: Just across town in Galatasaray is a man named Jamon Lucas who does something that might look very odd to Efes fans: he crouches down, spreads his arm, and guards people.  The Euroleague steals leader would be a welcome infusion of energy and muscle outside, but plucking him away from their rivals won't be easy.  If Anton Ponkrashov is still sitting atop the CSKA scrap heap, he could also be a decent source of size and assists for the Turks should be care to leave Mother Russia.
Sam: They need to find some more we-first players, fewer me-first.  They should go after Spartak St. Petersburg's Patrick Beverley with every Turkish Lira they have, but if they can't bid high enough they should grab the undervalued Jayson Granger from a potentially relegated Estudiantes team in the ACB.  He's only 22 and is already his team's leader.
Rob: This is where it gets messy. Savanovic, Batista and Barac are all signed for another two years—not only did they add two bigs who didn't play well together on their previous team, they gave them long term deals. They have an option for another year of Kinsey, which they should pick up, but after that, it's back to square one. They took Kinsey from Fenerbahçe Ülker, and given the financial problems there, maybe they should buy something else from Ülker Arena if there's a clearance sale. Luckily, The Machine came with a one-year return warranty, which they should definitely use.
Next up on The 75%: Bilbao Basket.