By: Sam Meyerkopf / @HoopLikeDrazen
The Beginning
Standing back to the basket, energy convulsing through him, the game seemed to be easy.  Two dribbles, a slight spin, a body contort around his defenders, and then a long reach, as long as the arm could possibly extend to gently drop the ball through the net.  A pass received mid-lane and with the most effortless flick, another swish. 
Sitting in Palacio Vistalegre watching a young big man break out, Ante Tomic became Europe's softest big man, both in touch and body, right from the go.  February 25th, 2010 Tomic, in his third Euroleague game ever (Real Madrid's 14th of the season), put up 12 points, nine rebounds, and three assists to lead Real over Siena 77-69 in what proved to be a deciding game for a Playoff spot.  That night the offensive genius of Ante Tomic was exposed and as I sat just a few feet from the court, it felt like someone who was going to have a lasting impact.
Tomic and I arrived in Madrid the same month, January 2010.  And we were both there to do the same thing; study, except Tomic had a much better teacher than me, Ettore Messina.  Arriving after winning an Adriatic League MVP award the year before, Tomic was young but ready to be groomed by Messina. 
Tomic's touch on offensive was remarkable from the moment his first shot lofted in the air.  He could play with his back to the basket or face up.  His arms, when stretched out, seemed to be able to touch both sidelines at the same time.  His footwork was advanced; able to wiggle around bigger defenders and make space to shoot over shorter ones.   He was a smooth operator on offense with a laundry list of moves to choose from and an incredible defensive liability who was abused on the defensive glass on the other end.  Ante Tomic didn't come into this Euroleague world perfect but he came incredibly advanced in a few areas with the hunger to grow.
Over the rest of that 2009-10 season Tomic grew up right in front of me.  While he would still get pulled from games from time to time because a post opponent was pounding his frail frame for easy scores, he overall seized the moment.
His feathery touch on offense gave Real a true low post presence on offense it was severely lacking with Tomas Van den Spiegel out for most of the year, Felipe Reyes hobbled, and Darjus Lavrinovic refusal to leave the high post.  He was a breath of fresh air for an oddly put together Real team and every time he caught the ball with space to score, Tomic took advantage.
In his first Euroleague season Tomic averaged 11 points, 3.6 rebounds, 1.1 blocks, and shot 61.6% from the field in nine games.  Real eventually got tossed around by arch rival and eventual Euroleague champion Barcelona in the Playoffs but Europe's most offensively skilled young big man held his ground.  Tomic put up 15.3 points, 3.3 rebounds, and 1.5 blocks up against Barca's gigantic front line.  He wasn't prefect by any means, but special at scoring.
Laso and Tomic's Chaotic Relationship 
After Tomic's freshman Euroleague season he came back strong for Real.  Even though Ettore Messina left the team mid-season, they came together as a group under Emanuel Molin and were able to make the Final Four in Barcelona.  Tomic continued on his opening performance the season before by averaging 10 points and five rebounds in Euroleague action while bringing home an All-ACB Team spot for his play on the weekends.  After the 2010-11 season though, there was more change brought on in Madrid and Pablo Laso was hired as the new coach for Tomic's third season.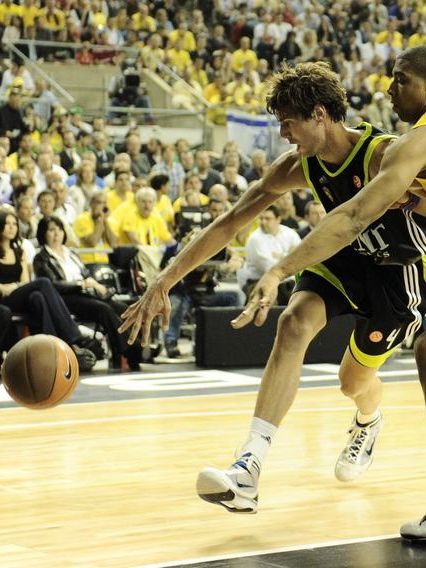 When Pablo Laso took over Real the basketball world was in flux.  The NBA lockout was going on and Rudy Fernandez and Serge Ibaka were added to Real.  The team wasn't sure who was staying or going.  From the start Laso wanted to run more and he needed a rim protecting, rebounding, and outlet-passing center to get those breaks started (see Marcus Slaughter/Mirza Begic combo this year). 
During that spring, Real rolled into Barcelona for the Copa del Rey.  Even with Barcelona as the home favorite, Real tore threw the tournament and easily dismantled their Catalan rival in the Finals.  Tomic scored two points that day.  Even as Real sprung some new life midseason, Tomic had no part in it.  As I sat in the Palau Sant Jordi, seeing Ante for the first time since his opening Euroleague campaign, it was tough to see where he fit into Real's future and with his current baby soft playing style, how he'd fit into any team's.
Real was unceremoniously knocked out of the Euroleague in the Top 16 and Tomic finished the season with his worst numbers ever; 6.7 points, 3.7 rebounds, and under one block and assist per a game in just 14 minutes a night of action.  Real's ACB season ended with a heartbreaking Finals loss to Barcelona.  Tomic had maybe his best five game stretch of the season averaging 10 points and 7.6 boards in that final series.  His opponent noticed.
Redemption 
Xavi Pascual by the end of the 2012 ACB Finals knew Tomic inside and out.  He'd seen him for three years playing for Real in regular season games, Euroleague Playoffs, Copa del Rey's, and now the ACB Finals.  He was losing his three centers (Fran Vazquez, Boni N'Dong, Kosta Perovic), all who were imposers on defense but vastly hurt the incredibly shaky Barcelona offense.  An offense that managed to score over 75 points just twice in the Top 16, Playoffs and Final Four combined. 
Even with a stellar ACB Finals, Laso wanted no part of Tomic in his system.  Tomic then pulled the ultimate knife into his former teams back and signed with Barcelona in the offseason.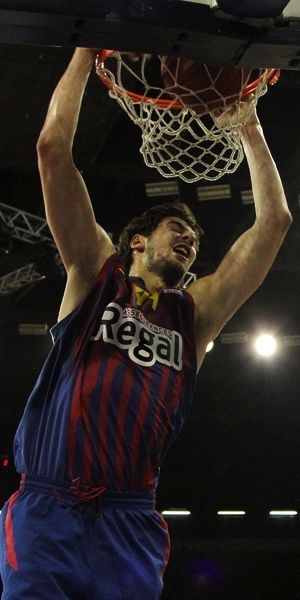 At first it seemed odd, if not impossible.  Yes Tomic is offensively skilled but he was possibly the softest big man in terms of wanting contact and getting dirty on defense in the league.
How will he be able to succeed in a defensive oriented system when he just struggled so badly in an offensive one?
On a team like Barcelona, which more than anything else pushed the ideals of hard working defense and rim protecting for it's bigs, it seemed Pascual might tear Tomic apart.
What happened was the opposite.
Tomic became much more active on defense, finally using his supreme length to it's full advantage in Barcelona.  He moved quickly in the paint, coming over to help from the weak side and getting to guards before they were able to penetrate deep into the paint.  His ramped up activity combined with a Pascual mindset and quick basketball movements turned Tomic into finally, a two-way player. 
Tomic is a threat not just from the block but from the high post too.  He can shoot from the elbow, craft passes to cutting wings, or simply take two steps and flick it over his shoulder for an inside hook.  He currently is second in the Euroleague among centers in Shots Created (assists + unassisted field goals) at 5.4 per 28 minutes.  Crushing the league average of 2.7 for a center. (Stats thanks to In-The-Game.net).  
His pick and roll game with Marcelinho Huertas and Juan Carlos Navarro has become stifling.  After setting the pick, Tomic usually dives quickly to the basket, not stopping till his nose is touching the rim, waiting for an entry pass or getting in position to get the offensive board.
This year he seems to be cutting a lot harder to the basket, especially off the pick and roll.  He has an extra push in his step and fights for deeper paint positioning.  Going at the basket, the same shot last year he might of quick shot floated, he now takes a jump forward and finishes with a strong drop in or a dunk.
Don't worry; he still has the fluff game too.  This is still Ante, he still is the master of the quick shot floater with ultra touch but he now posses almost as strong a power move off of it.  He's going up stronger and going through contact, instead of fading away from it.  Instead of stopping mid-lane to get a pass, he's trying to get a front row seat as close to the basket as he can.  The results show, he's shooting a career Euroleague high of 63.3% from the field.
As exciting as Tomic's offense has been, it's his new defensive attitude that is the most startling.  With 22 blocks already this season (1.4 a game), he's already pummeled his former Euroleague high for a season (13).  Whether it's a post player trying to go over their shoulder or a wing skying in from the perimeter, Tomic hands are stretched out, as far as they can, going after block shots.  He's using that same intuition he has for scoring the ball, to stop other from doing the same thing. 
The Copa del Rey Reunion
Tomic had played against his former mates already this year but a Copa del Rey opening match was on a different level.  A chance to finally serve it up to Laso and everyone in Real who thought his once tissue paper softness was something that couldn't be fixed. 
As the game came down the stretch, legs got tired and the intensity increased.  Tomic was a man on a mission.  Hunting down guards who dare go in his paint, slamming his body against the offensive glass, and going right at the rim whenever he got the ball.
40 minutes of basketball wasn't enough*, as both teams needed more time to fight for Copa advancement.  As the first overtime started and not only physical but mental fatigue set in, Tomic stayed at the top of his game.  He seemed to be running even harder, playing even more aggressive.  As Real clung to a two point lead, Erazem Lorbek stepped to the free throw line.  Down two he needed to miss the second free throw, hoping his teammates would get the rebound (4:00 mark of video).
*If you want more reading on this incredible 2 OT game check out In-The-Game and Euro-Step.
With only a few ticks left, as the ball flew in the air, Tomic's eyes turned into daggers.  If missed, no matter the chaos, no one else was getting this ball.
As the ball dodged off the rim, as the seconds were scrolling away quickly with his team down, Tomic raised up higher than anyone.  With his reach, no one else could reach the highest point that Tomic could.  He pushed through the Euroleague's best rebounding team to secure another chance for Barcelona, a last fighting breath.  As he squeezed the ball tight, Tomic jutted a quick pass to Lorbek who swished through a short jumper to force another overtime.
In the second extra period, Tomic would not be stopped.  He still swatted shots, went after the offensive glass, and slammed home some clinching baskets as Barelona beat Real Madrid in double overtime 111-108 and went on to win the Copa del Rey.  The most important game though was the double extended affair.  Tomic finished his game against his former team with 20 points, 11 rebounds, four blocks and a silent middle finger to anyone who ever doubted the player he could become.