By: Freaknick
"If you want to watch basketball, just tune in for the fourth quarter."

-A simplistic fellow
Keeping in line with this wisdom, I made the unconscious decision to sleep through my alarm this morning, missing my bus from Madrid to Vitoria. By the time my non-air conditioned four hour romp through Northern Spain dropped me off at the bus station. The game had already tipped off. One taxi, one shower, one shave and one chocolate stain removed from my white dress shirt was all that stood between me and the first Eurocup semifinal game between Power Electronics Valencia and Panellinios. When I popped open the Mac and fired up the Wi-Fi, the buzzer had just sounded for the end of the third quarter. Looks like I timed it perfectly.
- 4 minutes to go and Matt Nielsen strokes one from deep to put Valencia up 9. The once loud Panellinios cheering section shuts its collective mouth.
- But wait! Stocky sensation Roderick Blakney comes back down and nails one himself. It's back at 6 points.
- Don't you love European basketball's love affair with the triple? Another Valencia 3 puts it back at 83-74. I have no idea who hit it because as it left Player X's hands, I was typing the previous bullet point. Damnit, you guys. Always distracting me.
- Matt Nielsen, he of the original 3-pointer (see above for details) just clanks 2 technical free throws. Very unappetizing, those shots of his.
- Rafa Martinez drops in two more to bring him to a game total of either 9. Or 10 or 11. Gotta check on that.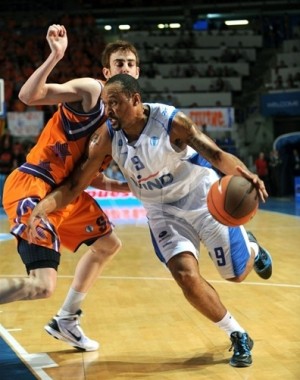 - Once upon a time, Kosta Perovic was open after setting a beautiful high screen. He, the two-handed jam and a trip to the Eurocup Finals lived happily ever after.
- 87-74 with the teo-minute warning looming.
- Interesting lineup Power Electronics has had in there over the past few minutes, aka Crunch Time. No Victor Claver and more surprisingly, no All-Eurocup first teamer Nando de Colo. As I said, interesting.
- About that last bullet point, it should be noted that the Finals are tomorrow, so maybe a little rest for de Colo was in order. Still tough, it was a 6-point game.
- European journeyman Thomas Kelati enters the game with 52.4 seconds left, no doubt for free-throw shooting.
- An "M-V-P" chant just broke out in the Valencia cheering section (well, in about three of them) when Marko Marinovic stepped to the line for his free throws. The little dude only has 10 points people. Chill, Valencianos.
- 92-80, final. It's all over. Power Electronics Valencia is heading to the Eurocup Finals.
- So now Nando de Colo is being interviewed and here come the "M-V-P" chants again. Little Marko must feel cuckolded.
- Valencia's top hoopers: Nando de Colo (20 points on 5/8 3-pt shooting, 4 rebounds, 1 steal, zero assists…which kind of blows), Rafa Martinez (13 points, 5 assists, zero turnovers…which doesn't blow in the slightest), Kosta Perovic (13 points, 7 rebounds). Matt Nielsen had 16 and Thomas Kelati chipped in with 14. Good for you, Tommy Gun.
- Panellinios' best: Roderick Blakney had 15 points and Vasilis Xanthopolous added 10, but the real story is Devin Smith, whose 29 points were the fifth most ever scored in a Eurocup Semifinal game behind only Willie Solomon (Hapoel Migdal '04), Mario Austin (Hapoel Migdal '06), Igor Rakocevic (Valencia '05) and Pete Mickael (Makedonikis '05). Only Mario Austin's scoring came in a losing effort like Smith's.