By: Jordan White / @JordanSWhite
Soft. Slow. Unathletic. Terrible defender.
These were the words often attributed to European players who came to the NBA. American players would dread being labeled with a "Euro" game, because it was really a snarky euphemism for "good, but never great."
It was just assumed that, for whatever reason, European players wouldn't have the intangibles or skills necessary to be "the man" on a championship team. Within the past few years, however, that way of thinking has begun to erode.
The abolishment of using the term "European" as a negative really began with Pau Gasol, with Dirk Nowitzki driving the final nail in the coffin. Kobe Bryant may have been the star, but Gasol was the best player on the Los Angeles Lakers during their back-to-back championship seasons in 2009 and 2010. Gasol proved a European player could have just as much, if not more, toughness as an American player.
Before last season, Dirk could never shake the European stereotype. He was great, but you couldn't win a championship with him as your best player. He'll wilt under the spotlight. He's afraid of the big moment.
Nowitzki crushed those sentiments while leading the Dallas Mavericks on an improbable championship run, contributing what has to be considered one of the best playoff performances in NBA history.
And while those two players are certainly the patriarchs of the modern Euro movement, other recent European imports have done their part in tearing down the European stereotype.
Take Luis Scola for example (born in Argentina but chiseled and polished in Spain from 1998 until he made his 2007 Rockets debut). Not only is he one of the most consistent performers in the NBA, you'll also be hard pressed to find anyone who considers him "soft:" he's only missed eight games in his career.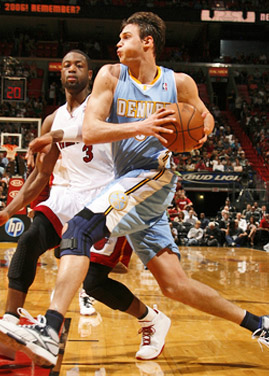 Unathletic? Tell that to Jan Vesely, one of the most athletic rookies who will make a great running/alley-oop partner with John Wall for years to come.
A lot of people think Danilo Gallinari is just a shooter, but last season he attempted nearly as many shots at the rim (3.1 per game) as he did from beyond the arc (3.9 per game).
Maybe offense isn't your thing. Maybe you're all about defense. That's fine. Serge Ibaka and his 4.3 blocks per 48 last season have you covered. Pau and Marc Gasol ranked third and fourth, respectively, in defensive win shares last season, and scouts drooled at Ricky Rubio's defensive potential as much as they did at his offensive sorcery.
American NBA players have even started to incorporate a bit of European flair into their game. The euro-step was the new chic move last season, and its popularity has carried over into this season as well. Kevin Durant spent his offseason trying to master Dirk Nowitzki's patented one-foot off-balance turnaround jumper.
The point is this: the stigma once attached to European players has now diminished to the point of near nonexistence. Maybe it's because these European players have adapted to the American game, or maybe it's as simple as talent winning out. Either way, the title of "European" is no longer a burden.
Jordan is ELA's NBA writer. His Ballingual blog appears weekly. If you want more Jordan, follow him on Twitter at @JordanSWhite.