By: Freaknick/@euro_adventures
The Bucket List is a heartwarming story about two old dudes whose wicks are burning low on lives that seem incomplete. Morgan Freeman's character coaxes Jack Nicholson's character into writing down these lists of crazy shenanigans they'd like to perform before they book the rest of their lives in Hotel Cemetery. They hunt, they skydive, they race cars, they call their inner child out of retirement.
Or so Google Images tells me they do. I've never seen The Bucket List; however, I have looked at Argentina's final roster, and these guys better grab a pen and paper. Eight guys will have celebrated their 30th birthdays by the time they tip things off against Germany in Kayseri on August 28th. Only one of the four players under 30 on the roster—Carlos Delfino, 28—figures to start, while the other four starters average out at 32 (ELA starting line up: Pablo Prigioni 33, Delfino, Andres Nocioni 30, Luis Scola 30, Fabricio Oberto 35). So their collective Bucket List looks, in order, like this: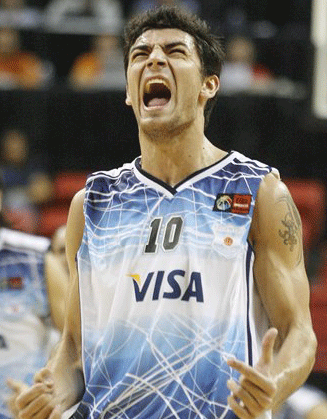 1. Make it through the tourney without slipping a disc or throwing a hip out of alignment.
2. Win the World Championships.
The second seems more likely, and not because Turkey is famous for their joint lubricants. This team's core has as much as experience as any in the world and their starting five, when healthy, has no holes. Pablo Prigioni is one of the finest quarterbacks you could ask for and every continent Luis Scola has ever played on has yielded to his strange efficiency. But can a team be too experienced? If you fail to mix in the saplings with the oaks, then the answer is yes. For Argentina, it's now or never.
The 2004 Olympic Gold Medalists dropped two spots to the Bronze in Beijing while adding a 2004 4th place finish to a Silver at the 2002 FIBA Worlds. Amassing finishes of 1st, 2nd, 3rd and 4th in an 8-year span is nothing to sneeze at, but if you plot out their performances on a graph then it's clear this team is growing old and sliding downward with no reinforcements in sight. Here it is, Sergio Hernandez's final 12:
| Name (Last, First) | Age | Position | Height | Club Team 2009-2010 (League) |
| --- | --- | --- | --- | --- |
| Gonzalez, Roman | 32 | Center | 6'11" | 2.11 m | Asociacion Atletica Quimsa (Argentina) |
| Prigioni, Pablo | 33 | Point Guard | 6'3" | 1.91 m | Real Madrid (Spain) |
| Cantero, Juan Pablo | 27 | Point Guard | 6'0" | 1.84 m | Asociacion Deportiva Atenas (Argentina) |
| Delfino, Carlos | 28 | Shooting Guard | 6'6" | 1.98 m | Milwaukee Bucks (NBA) |
| Quinteros, Paolo | 31 | Shooting Guard | 6'1" | 1,86 | CAI Zargoza (Spain) |
| Kammerichs, Federico | 30 | Forward | 6'8" | 2.04 m | Regaras (Argentina) |
| Scola Luis | 30 | Power Forward | 6'9" | 2.07 m | Houston Rockets (NBA) |
| Gutierrez, Leonardo | 32 | Power Forward | 6'7" | 2.00 m | Penarol Mar del Plata (Argentina) |
| Gutierrez, Juan Pedro | 26 | Center | 6'9" | 2.05 m | CB Granada (Spain) |
| Nocioni, Andres | 30 | Small Forward | 6'7" | 2.00 m | Sacramento Kings (NBA) |
| Jasen, Hernán | 32 | Small Forward | 6'6" | 1.99 m | Estudiantes (Spain) |
| Oberto, Fabricio | 35 | Center | 6'9" | 2.07 m | Washington Wizards (NBA) |
The scariest part of it all is that they're flying to Turkey without their nation's deadliest weapon and most visible superstar, Manu Ginobili. His absence, plus a distinct lack of youthful infusion, leaves Argentina among the least improved teams in the tournament, having added only a pair of impact players since their 2008 Bronze in Beijing:
Hernán "Pancho" Jansen's been a staple for Madrid's Estudiantes of the ACB for nine years now, averaging around double figures for the last seven and 12.9 this past season. He's 6'6″ and could defend three positions in his athletic prime but again, in his advanced age he's stepped out of the paint and pushed his three point attempts up to 3.5 per game over the past three season; he only chucked 2.3 per game in his first eight ACB campaigns. His rebounding has also dropped by 1.5 per game in the past few seasons but he's still effective and can take over for quarters at a time, so his presence takes on an added importance if Nocioni isn't 100%.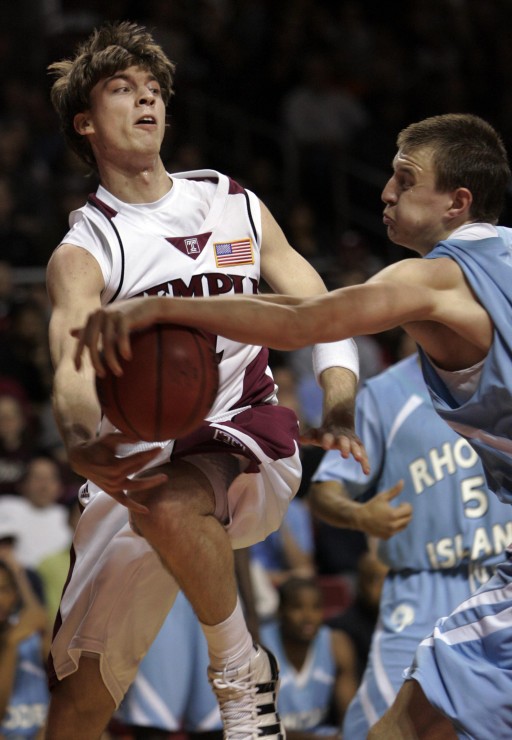 Juan Pablo Cantero is one of the rare twenty-somethings on this roster and also stands as the Argentinian with the most to gain from his Turkish August and September. He's coming off a crazy line of 18.5 ppg and 5 assists per in the 2010 South American Championship and seems to be about the only new source of pure excitement we should expect out of the blue and white. (Am I the only one who misses Pepe Sanchez?).
Two things that dampen his appeal: we think of him as a young Argentine talent yet at 27 he'd be Serbia's oldest player. Number two: he's not Manu Ginobili.
And neither is Juan Fernandez, but you need to get this kid on your team if only because his youth leaves him easily molded into the player they'd like him to be in London and beyond. In college basketball circles he's often pigeon holed as a "shooter", but that has more to do with his last name than his shot selection. People love dubbing international players as specialists but Fernandez is one of the more well-rounded combo guards in the NCAA who just happened to hit 45.3% of his 161 three-point attempts to go along with a steal per game and a 2:1 assist/turnover ratio.
And for those who cast his dismissal aside as "He's just a kid. We have proven veterans who deserve spots on this team", consider the fact that veterans aren't immortal. They have birthdays like everyone else and as they grow older, players a decade younger turn from kids into men, men into ballplayers. You could've molded a 20-year-old prospect into a 22-year-old stud by the time London rolls around. The reality is sending a team full of fading stars to Turkey before facing the inevitable overhaul down the road. Having leaders is a wonderful luxury, but what's a leader worth if there's nobody around to follow?