By: Freaknick/@euro_adventures
SLAM Magazine informs me that Kleiza has signed a four-year, $20 million offer sheet with the Toronto Raptors, leaving his ex-girlfriend the Denver Nuggets seven days to match it. Olympiacos can only turn and wave bye-bye, or αντίο to their one-and-done stud. Does this mean the NBA's most internationalized-est-er roster becomes the absolute most internationalized-est-er-est? After last year's article I'm running low on superlatives. Maybe in the Canadian spirit I'll toss some French in there to mix it up.
All right, so maybe this headline's a bit misleading; these two are certainly not interchangeable. They are not equals. I mean, only one has led his league in scoring, and only one has led his team to the finals. And to be fair, only one has been named an All-League first teamer in his career so the exchange is a bit one-sided if you ask me.
Yet with the scale clearly tilted in favor of the Lithuanian, Mr. Kleiza's offer sheet with the Raptors would have him making $11 million less in 2011 than Mr. Bosh. So while I mourn the fact that the NBA's only player who resembles his mascot—don't believe me? Check out the raptor and then the Raptor—will be leaving sunny Canada in favor of frigid Miami (and, uh…what exactly does a 'Heat' look like? Maybe something like this?), I can't help but think the Raps would be getting a steal.
Whether or not they know it, they've successfully talked Kleiza into forfeiting an extra $1 million+ this season by leaving Piraeus. You see, his deal was worth an estimated $12.2 million for his two seasons with the Reds and unless my Mac's calculator widget is betraying me, half of that is still more than $5 millie. In fact, if you bring the Greek tax exemption into the picture he might be coughing up two or even three million this season (my accountant took the day off to prepare for the LeBron special tonight so I'm left to my own devices).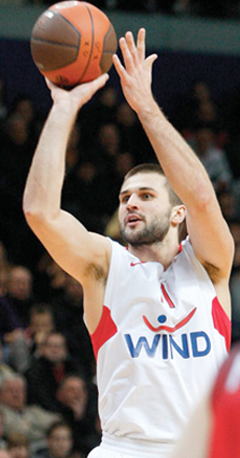 But if one thing has dawned on while this whole "biggest summer in basketball history" business swirls around me is that situational comfort trumps a couple million. (Note: this statement only applicable if you already have a Swiss bank account with an excess of zeroes. I and anyone I know would gladly be miserable millionaires if the opportunity presented itself.) For a guy who's 17 ppg in the Euroleague is worth around 23 in the NBA given the same percentage of touches and opportunities, it might be well worth it for him to swap continents yet again and make his hey in the land of 'O'. Still just 25—crazy, right?—he has a chance to get out from George Karl's at-times discriminating wing and shine for a team whose supposed star Hedo Turkoglu blew the big one last year and who's up-and-comer DeMar DeRozan literally made leaps and bounds as the season grew older. And if you still consider the possibility of a Bosh-for-Beasley sign and trade with Miami, the mix n' match combinations afforded by Kleiza, Beasley and Turkoglu would make for some strange match-ups for the opposition. And if Beasley stays put, then that just means an extra seven minutes and four points per game for Kleiza. Neither of which are bad things. I am certain of this: if Linas finishes the season in Toronto, Bryan Colangelo will demand Amir Johnson treats Kleiza to dinner every other day to even out their payscales. You have my word that he'll be a top three scorer; Bargnani should best him, Turkoglu needs some volts to the chest and if DeRozan scored 12 per then it'd be considered a more than substantial increase. They may not win games, but for a guy who clearly enjoys 'getting his', there will be plenty of getting to be gotten.
I'd be astounded if Denver matched this deal, as 2011 should be all about pinching pennies and gathering expiring contracts in order to ink Carmelo to a silly deal—3 years and $65 million is the extension currently lying on Melo's coffee table—while signing a running mate like Tony Parker or Al Horford to bring the Rich Creamies closer to a 'ship. Considering J.R. Smith's contract is up after next year also (Karl's tears: a mixture of pain and unrequited joy), a four-year deal for Kleiza doesn't top the Rocky Mountain priority list.
In a side note, there is absolutely no word on whether this return to the states will affect his presence in Turkey. Kleiza played for the national team in last year's Eurobasket debacle and logic tells you that he'll make a return trip next year when it's hosted in his home country. Turkey, though, is still up in the air. When I found out, I'll be sure to tell you. Or rather, when our friends LithuaniaBasketball.com tell you, then I'll link to them and pretend like I'm giving you new information. Crazy thing, this blogosphere.
So go now, Linas, and don't look back. You—much like Scola and Ginobili before him—will be sorely missed in the Euroleague. Every time I see someone furrow his brow or scoff at a sissy flop I'll yearn for your Eurorevival. We only beg of you one thing, good sir: tell our story. Tell a tale of brave men who fought hard for inconsistent paychecks, of warriors whose only wish was for a players union to regulate fickle owners, and of students of the game whose idea of fundamentals were not gleaned from And 1 mixtapes downloaded illegally from Napster in 1999.