By: Nick Gibson / @euro_adventures
In today's tapas, Mirza goes down, Rubio draws Pistol Pete comparisons and Boki Nachbar has a new gig. Eat up.
Asselin, Downs beat Teletovic, His Elbow
Usually when you lose 65-76 to a team that's clawing for a playoff spot, you tip your hat and shrug it off.
Usually.
But what if you're playing at home, you only get five points out of your newest signee, Matt Walsh (he only had 11 minutes to work with), watch Fernando San Emeterio go 2-11 and let Josh Asselin and Micah Downs combine for 51 of Manresa's 76 points.
Not a fun night in the good ol' Liga Endesa. Now consider that Mirza Teletovic, Caja Laboral's active leader in scoring, rebounding and blocked shots, suffered back and elbow injuries after a big fall late in the game.
Now, the MVP candidate from Bosnia and Herzegovina is doubtful for Caja Laboral's showdown against Real Madrid next Sunday.
The injury brought Mirza's abysmal shooting night to an end; Teletovic had only made one of his 11 attempts from beyond the arc.
Pitching the ball through the rim was not quite so difficult for Asselin and Downs, who made a collective 23-29 from the field and contributed 67 percent of Manresa's total.
The win takes Manresa to 12th place with a 7-9 record, but they're only a game back of Valencia, Zaragoza and Fuenlabrada, whose 8-8 records have them in the 7th, 8th and 9th positions, respectively. Caja Laboral falls to 12-4 and fourth place in the ACB.
UNICS Kazan Brings in Bostjan Nachbar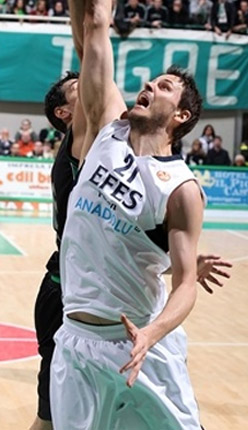 Maybe you think UNICS Kazan's 7-3 record is a fluke; they feasted on the league's two weakest teams in Asseco Prokom and Union Olimpija and snuck a Siena-shaped cookie out of the upset jar thanks to some clutch shooting and a little bit of luck.
Or maybe you think they're for real. Maybe you think Kazan's league best 41 percent three-point shooting is just prolific enough to stave off defeat, and that Henry Domercant deserves some serious MVP consideration.
No matter how you classify Kazan's season to date, they're in the Euroleague's Top 16 while regulars like Caja Laboral and Partizan watch from the bleachers.
Today, they signed 31-year-old Bostjan Bachbar and sent a clear message: we're not here to take pictures.
The signing is major news, but mostly in name only. On paper, Nachbar was a first round draft pick in 2002, played six seasons in the NBA, went to a Euroleague Final Four with Benetton and suited up for two World Championships and three EuroBaskets with Slovenia.
The 6'9″/2.06 m forward hasn't moved too comfortably in two seasons with Anadolu Efes and had cartilage removed from his ankle in August. He missed out on this summer's EuroBasket and hasn't played a minute of pro ball since.
Still, adding such a decorated veteran is a positive thing, and perhaps Boki's got a few clutch threes left in him after all.
Kyrie Irving's Decision Down Under
Kyrie Irving. Australian for point guard? That may be the case at the Summer Olympics in London.
Irving, born in Australia while father Drederick played pro ball there, told the Akron Beacon-Journal that he's pondering a run at the Boomers' roster, a move that would put him on the court this summer but ultimately could end up limiting his choices down the road should Team USA ever come calling.
"Really it will come down to whether or not I want to give up my whole summer," Irving said.
You and I might have different definitions of give up, Kyrie, but I say you go ahead and snag your one shining moment. Hell, grab a few.
If it's about preserving your free time and resting that awful toe of yours after a 66-game rookie season, that's one thing. But if it's the thrill of Olympic competition you seek, lock up a spot with Australia and guarantee some stories.
London now, Rio in 2016 and then Kyrie will only be 27 when 2020 rolls around. With that sort of Olympic overdose staring you in the face, I imagine it'd be pretty hard to say no.
Ultimately, however, FIBA would hold Kyrie's fate. Irving has played for Team USA' junior squads and would have to request official permission to swap senior team allegiances.
 Tapas Variadas
-After a month-long stint with UCAM Murcia, Marko Popovic's contract has run its course.
No, not that Marko Popovic. Different guy. Happens all the time. Marko Popovic is basically the Joe Smith of the Balkans.
Maybe if the Zalgiris guard of the same name (but Croatian descent) played for Murcia, they wouldn't be 4-12 and on relegation's doorstep.
-Here's a story about Dominique Wilkins comparing Ricky Rubio to Pistol Pete. It's a mighty generous, if unoriginal complement from the Hall of Famer.
Now here's the game—a loss to Hawks—that made 'Nique spew such kudos:
-Finally, Os Davis over at BallinEurope has some good stuff on Adam Morison's debut for Besiktas, in which the two-time NBA champ rattled off a whole two points and two rebounds.
Canción del Día (Song of the Day)
In honor of Martin Luther King, Jr. a little deviation from the norm. Today, we're replacing our canción with a discurso. (That means a speech.)
Make a little time for a certified pimp.
Hasta mañana, folks.