By: Nick Gibson / @euro_adventures
Several thoughts on EuroBasket's third day. Well, only about Serbia-Macedonia and Lithuania-Latvia really.  For all the box scores and standings from these and other games, check FIBA's EuroBasket 2013 homepage.  It's a dandy.
Lithuanian Postal Disservice
These things happen over a span of four possessions: Donatas Motiejunas has his shot blocked in the post, collects the miss on the left block, spins baseline and lays it off glass; Mantas Kalnietis dumps it inside to Linas Kleiza in the heart of the paint, who turns and can't hit the fallaway; Jonas Maciulis gets the ball on the right block, backs his man down and then whips it to a cutting Motiejunas underneath, who would've caught it had he finished his cut.
The result of these plays notwithstanding (one basket, one miss, one turnover), this little chunk of action is just a sliver of the versatility Lithuania's personnel possesses out of the post.  There are options aplenty from 12 feet and in, and Lithuania seems intent on exploring them all.   Add Jonas Valanciunas' PnR finishing + back-to-basket game and the Lavrinovic Bros' collective contributions and Jonas Kazlauskas has a long list of good reasons to send it into bigs in Slovenia.
But it seems their stark advantage in the paint has led to them neglecting ball movement in the perimeter, and discouraging cuts down the middle.  Kalnietis has his definite limitations as a shot creator for others, so it's up to offensive ingenuity and clever management of space if Lithuania wants to get looks without putting the ball on the floor.
More like this sequence: Darjus Lavrinovic hits a three.  A couple trips later, he anchors his man up near the elbow, haunting him with the clear and present danger of a Darjumper; Marty Pocius holds the ball on the wing, level with Lavrinovic, as Tomas Delininkaitis cuts in between the two for the rim.  Pocius waits a tick and then hits him wide open underneath the rim for an easy two off the glass.
Instead of leaning on a predictable strength, Kazlauskas needs to put an emphasis on squeezing some variety out of it.  Against a team with more formidable size than Latvia (See: Most, almost all. Montenegro, for one.), Lithuania won't be able to bully their way through an 18-turnover game.
Blums Away
Lithuania's border mates took a decidedly different approach.  Thirty-one of Latvia's 61 shots were threes (LTU only shot 12 of 49 total FGA), they pressured the ball and forced clumsiness.   They achieved the rare 2:1 turnover margin by only turning it over nine times themselves.  If they'd made more than eight of those 31 threes, Latvia could very well have stolen a win here and would sit atop Jesenice with a spotless start.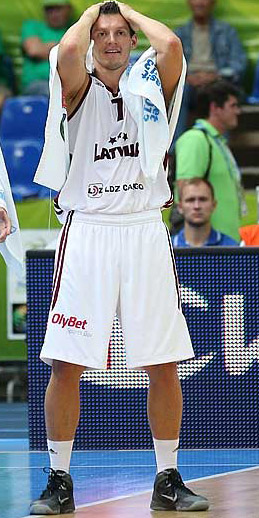 Rihards Kuksiks and Janis Strelnieks endeared themselves to me forever (for September) by playing with floor-divingly consistent braggadocio.  And let's also acknowledge the phantom foul that knocked Janis Blums out of the game, defusing the last real hopes of a Latvian comeback.  Maybe the foul happened, but here are two reasons I don't know:
1) The alleged foul happened away from the action.  That's why everyone was surprised with the call. Because it hadn't had an impact. But mostly because…
2) It seems that the likelihood of us seeing a particular play is inversely related to its potential to create controversy.
So give these guys six fouls already, if only to groove the screws of human error.  But Janis Blums is fouling out is not at all why Latvia lost the game.
But losing the rebounding battle 48 to 26 probably did it. Today's Latvian team may have longed for Andris Biedrins more than any team has longed for Andris Biedrins in quite some time.
Stay Low, Pero
This was Pero Antic's finest hour.  The perfect blend of banging inside, barking at teammates, and boarding that makes FYROM its best FYROM.  (Which is what it probably sounds like when Lil' Wayne says firearm, if you like mnemonic devices with your acronyms.) His 14 boards easily make up for his eight missed threes in nine attempts, and hopefully the contrasting 4-of-5 from inside the arc will make him reconsider how he can best spark a Macedonian medal run.  In between Pero's bouts with hero ball, he found the sweet spot in the center of the floor where he can draw defenders down enough to create space for shooters, and he showed the willingness to kick it to the perimeter in the name of a clean look.  And it's not like Pero will have to limit his perimeter looks with a more inside-out approach-the more the ball swings, the more Bo drives, and the more Bo drives, the more shots start opening up for whomever wants them.  In fact, his looks might actually be clean once he backs out of the fray or leaks to the wing for a three.  The current method of shot-seeking involves setting high and then higher screens for ball handlers in hopes that he can drift over a few feet unnoticed.
But we see you, Pero.  We all see you.